The Viking lodge is hard to find, hidden behind an unmarked shop door in the industrial fringe of West O Street.
Inside Valhalla's Gates, Jethro Hopkins and others have built four ax-throwing lanes, a battle ring, a gas-fired forge for making weapons and armor, and a space to bring other Norse-minded enthusiasts together for classes on mead-making and herbal medicine.
The club is private, but paying members get the door code that grants them access whenever they want, like a 24-hour gym — but with hatchets and knives, and targets made with two-by-fours.
"A lot of guys show up after work, throw axes and go home," Hopkins said during an open house last weekend.
Since it opened in early December, the club has attracted about two dozen paying members, he said. It hosts an armored combat team, whose members wear heavy, medieval-style armor and battle with heavier (but blunt) weapons. The Husker Saber Academy practices its Star Wars-inspired choreography here.
But Vikings sometimes like to drink while they Viking, and Valhalla's Gates' position on alcohol — bring your own but be responsible — could draw police into the ring, too.
Valhalla's Gates slowly started opening last year. Hopkins had leased the 1,200-square-foot shop on West M Court with a different use in mind, but that business idea fell through.
And at some point after that, he was visiting with a friend.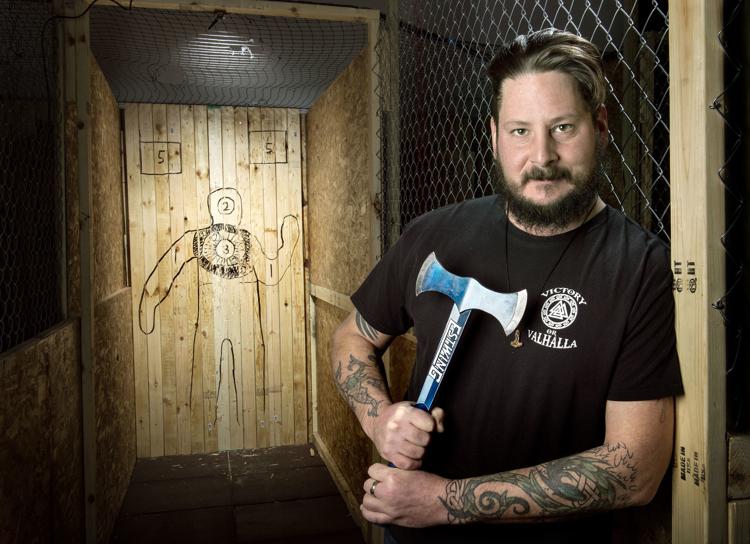 "We're drinking around a fire and we're talking about the space," he said. "We talked and drank more and he said he always wanted a place to have a forge and make knives."
Hopkins had an interest in Norse mythology, its parallels to Greek mythology and its influence on Western civilization.
"The gods are interesting," he said. "The fables are interesting to read."
So they got to work. By his count, nearly 10 inches of lumber separate the ax-throwing targets from the wall of the auto shop next door. They assembled the battle ring floor from foam squares. They hooked up the gas to the three-burner forge, in a fireproof room with an anvil and blacksmithing tools, and club members are learning how to coax knives and armor from pieces of scrap steel and old auto springs.
Their creations are still a little rough, Hopkins said, but they're all learning.
He hopes to eventually field an armored combat team to compete regionally, even nationally. And he plans to continue to grow the club.
"Every dollar this place makes pays its bills and goes back into it," he said. "We do it because we love it, not because we're going to make money on it."
Dan Martin joined the club after getting hooked on the History network's show "Vikings." The 26-year-old tries to show up several times a week to practice throwing.
It's not all that different than bowling or darts, he said.
"How many other places can you go and throw axes?" he asked.
You have free articles remaining.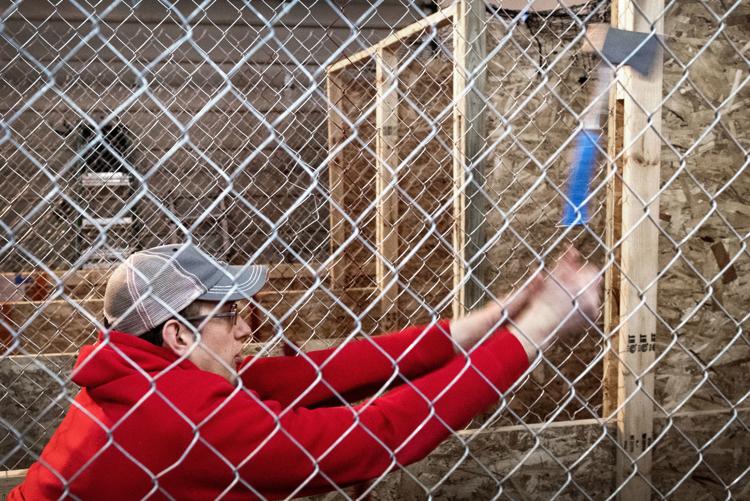 Lots of places, just not yet around here. Ax-throwing bars are opening all over the country — in Brooklyn, Baltimore, Detroit, Dallas. Utah's alcohol commission last month amended its state liquor laws to allow a Salt Lake City ax-throwing business to serve beer, recognizing the activity as similar to bowling and billiards.
And a website is advertising a pay-by-the-hour ax-throwing venue in southwest Lincoln, but a call to Craft Axe Throwing wasn't answered.
Still, Valhalla's Gates is different from all of those, Hopkins said: It's only open to dues-paying members, not walk-in or one-time customers.
"We're a membership organization. We're not an ax-throwing bar."
The police heard about Valhalla's Gates before it opened in November, when officers saw a posting that invited members to bring their own alcohol.
They talked to Hopkins, said Capt. Anthony Butler.
"He understood what it was we were talking about. We explained legally he couldn't do that."
Despite its membership structure, the club is still considered a public business — and would need a liquor license, said Brian Hoefer, the department's investigator in charge of liquor enforcement.
"It's only a private club if there's something unique about why it's private, like a VFW," Hoefer said. "Just buying a $20 membership because you want to throw an ax doesn't make you a member of a private club."
But it's not as clear to Hopkins. He doesn't provide alcohol, he said. His members must be 21 or older. He remembers the police telling him he's in a gray area.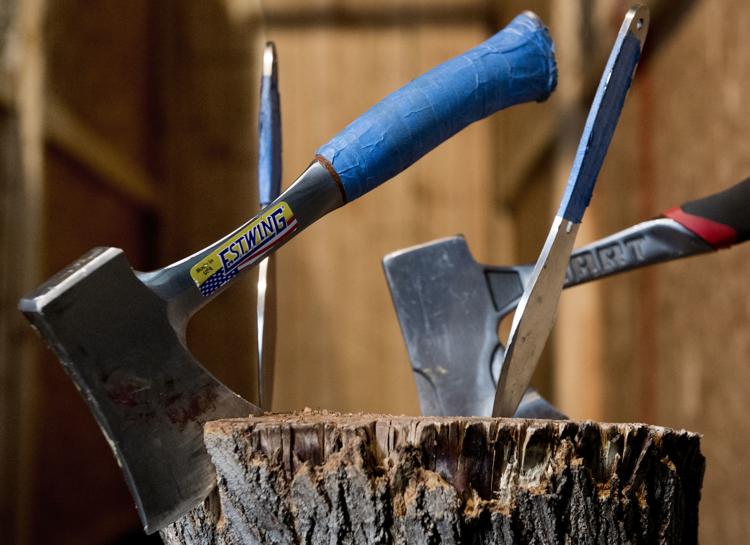 To him, it's no different than a football tailgate party, where guests bring their own bottles.
"My club is BYOB. If my members want to bring a six pack of beer, I don't care," he said.
But to Hobert Rupe, executive director of the Nebraska Liquor Control Commission, Valhalla's Gates appears to be a club, and open to the public. Both of those situations would require a license under state law.
"If someone would bring that business model to the commission, we would advise them to apply for a license," Rupe said.
Still, club members continue to bring their beer and their bottles. Guest instructors give classes on making mead and the mildly alcoholic kombucha.
Hopkins has only had one problem so far, he said: A member was drinking too much and cut his hand with a knife.
That person isn't a member anymore.
"It's kind of the honor system," he said. "But if I catch you doing something stupid, I'll kick you out."