In Lincoln, the most that most of us have had to sacrifice to the historic Nebraska flood of 2019 has been a flush or two of the toilet.
Or a long, hot bath, a clean load of laundry, a newly washed car.
But that doesn't mean citizens haven't gone out of their way to lend a hand to fellow Nebraskans in ways big and small.
Giving to the Red Cross, the Salvation Army, the church offering plate.
Here is a sampling of the ways:
Much help from Muchachos
Nick Maestas was scrolling Twitter on Saturday when the depth of the disaster got him thinking.
Maestas has a day job at Archrival, but started up a food truck business on the side a few years back. Muchachos serves smoked-meat tacos and tostados and hash chili, inspired by his love of barbecue and his grandparents' cooking.
Usually, he serves his fare at breweries and weddings and local events, but Sunday, he found himself at the fire hall in Plattsmouth, feeding 35 to 40 volunteer firefighters who had been working nonstop filling sandbags with no end in sight.
"You could see the looks on their faces," Maestas said Tuesday. "Just to be able to enjoy a hot meal with each other, enjoy life for a couple of minutes."
Maestas had planned to shoulder the cost of the meal himself, but when his Twitter followers got word, he ended up with $1,000 (and six volunteer servers who made the trip with him).
The eight trays of pulled pork, buns, chips, bottled water and dessert he carted to Plattsmouth were enough for 300 people.
Leftovers for days to come, he said.
"They'll probably be sick of pork."
The food truck owner has money left over and plans to use it.
"We're going to go out again this weekend, probably to Valley or Fremont."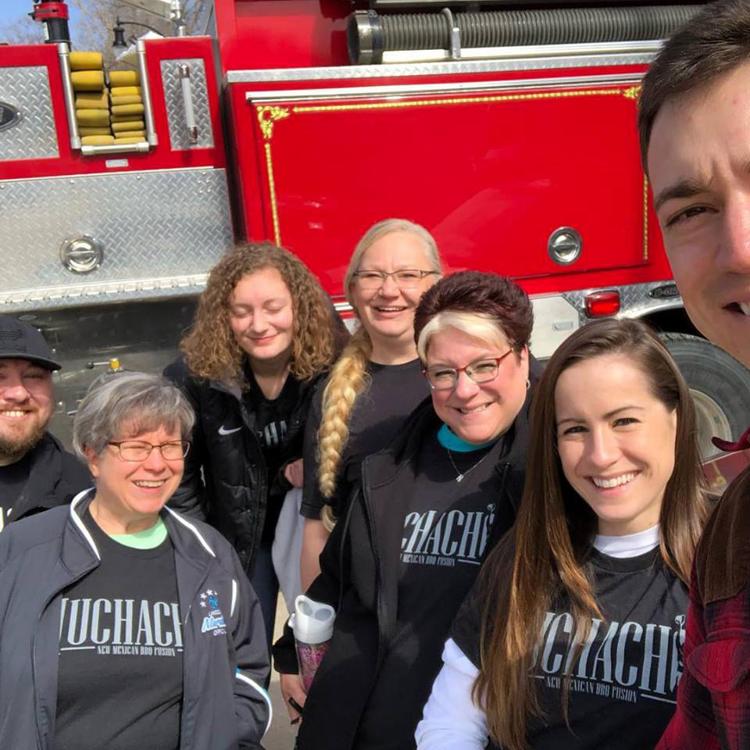 Runners to the rescue
It started with a Monday morning post on the Lincoln Running Co. Facebook page.
Store manager Ann Ringlein was heading to North Bend to deliver supplies. "My daughter is the grade school principal there and the town needs help," she wrote. "If you can donate anything we'd be glad to take it for you!"
Two days later, Ringlein had enough supplies dropped off at the store on Q Street to stuff seven cars. Everything from diapers to disinfectant to buckets and brooms.
"This is why I love Lincoln," Ringlein said via email Tuesday. "One FB post on our page and BOOM!"
Stuff the bus
The Skyview Learning Academy did more than stuff a bus last weekend when it set up in the Super Saver parking lot at 56th Street and Nebraska 2.
The private Christian school south of Bennet handed out flyers to shoppers as they entered the grocery store and nearly every cart stopped with a donation on the way out.
"So far we have filled two semis, a 26-foot U-Haul and three trailers," said Michele Ray, school director. "We have another semi that we're rolling out on Friday."
Total in pounds: 128,000.
The school is continuing its collection efforts from noon to 7 p.m. daily at 57th Street and Old Cheney Road — next to the Juice Stop — with supplies making their way north and west to Rock, Burt, Boyd, Cherry and Keya Paha counties.
"We will be open every day from now until the urgent needs have diminished," the school wrote on its Facebook page. "PS — We need contact solution donated to us badly!!!"
School volunteers will also be at the south Menards location Saturday and Sunday, collecting supplies for rebuilding.
In solidarity with the Santee Sioux
When the Dandelion Network — a group of community organizers brought together by concerns over climate change and social justice — thought about ways to be of service during the flooding, they reached out to the Santee Sioux Tribe in northeastern Nebraska.
"Disaster aid isn't always equitable," said Dandelion member Ella Durham. "It seemed like a natural place for us to have an eye on."
The network organized quickly Monday, after discovering a member was heading to Sioux City on Wednesday morning and was willing to ferry supplies to Santee, where flooding temporarily knocked out electricity and repairs to the water system are needed.
Collection sites include the Hot Mess bar on 11th Street (through closing Tuesday) and until 8 a.m. Wednesday at Goldenrod Pastries, 48th and Prescott Avenue.
Supplies will leave Lincoln at 9:30 a.m. Wednesday from The Hub, 1037 S. 12th St. The tribe is in need of baby food, diapers, menstrual supplies, Ensure for elders, bottled water, disposable diapers, baby wipes and formula.
And there's more
The Center for People in Need sent a truckload of supplies off to Fremont Baptist Church on Tuesday. B&R Stores and Super Saver are teaming with Cornhusker International Trucks through Friday to fill school buses with flood relief supplies and ship them to the Salvation Army for distribution. Volunteers from Good Shepherd Presbyterian Church filled 75 cleanup buckets and hygiene kits over the weekend, with 25 more to go.
#NebraskaStrong photos, videos