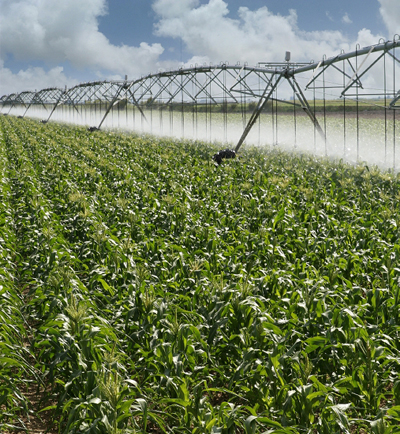 Feeding a global population that is projected to hit 9 billion by 2050 will require more water for agriculture, especially in such poverty regions as Sub-Saharan Africa, where water is scarce.
Researchers estimate that growing those crops will require 13 million cubic kilometers of water annually, compared to the 7 million cubic kilometers used now.
Jeff Raikes, CEO of the Bill and Melinda Gates Foundation, made it simple to imagine that amount of water: Think of a river one kilometer (about 3,280 feet) deep and one kilometer wide, flowing around the circumference of Earth 300 times.
"If we don't take a creative and interdisciplinary approach to water, we are not going to feed the world," he told an audience at the Water for Food conference Monday at The Cornhusker Marriott Hotel.
Raikes called on scientists and educators to work together to address a looming crisis. Some rivers around the world already have run dry, he said, and groundwater tables are falling.
He pointed out that about 1.1 billion people in the world live on less than $1 per day, 70 percent to 75 percent of them in rural areas.
"The same places where hunger is the worst are the same places where water is scarce," Raikes said, and those regions are going to get much drier in 50 years.
Farming more land, finding more water sources, using wastewater and water conservation will only alleviate some of the pressures facing an increasing demand for food, he said.
Nearly 75 percent of the world's water is used for agriculture, 10 percent is used by households and about 15 percent by industry, he said.
One way to help feed the world is through a "more crop per drop" program supported by the Gates Foundation, the world's wealthiest private foundation.
"We have to get more food on land with the same amount of water," said Raikes, an Ashland native who retired two years ago as top executive in Microsoft's business software division to run the Gates Foundation.
Finding innovative ways to store and manage rain water is part of a sustainable solution, he said, adding that such practices could meet about 80 percent of the world's food demand by 2050. And improving irrigation methods could account for 50 percent of the food demand.
"I believe very strongly that we have to pull all the levers ...," he said. "With the technology we have today we could potentially feed the world, but there are barriers."
Among the needs, he said, are improved seeds, better soil management, efficient irrigation, collective watershed management and education and training of best practices for the farmers who do the work.
Implementing those best practices, he said, could save 4 million cubic kilometers annually.
Raikes said the global Water for Food Institute at the University of Nebraska could play a major leadership role. The multi-campus center for research, education and policy analysis relating to the use of water for agriculture was created by a $50 million gift last month from the Robert B. Daugherty Charitable Foundation.
During a question-and-answer session, Pedro Sanchez with the Earth Institute at Columbia University told Raikes it's difficult to implement an interdisciplinary approach among scientists, researchers and educators.
Citing the innovative Jeffrey S. Raikes School of Computer Science and Management at UNL, Raikes said the key element is leadership.