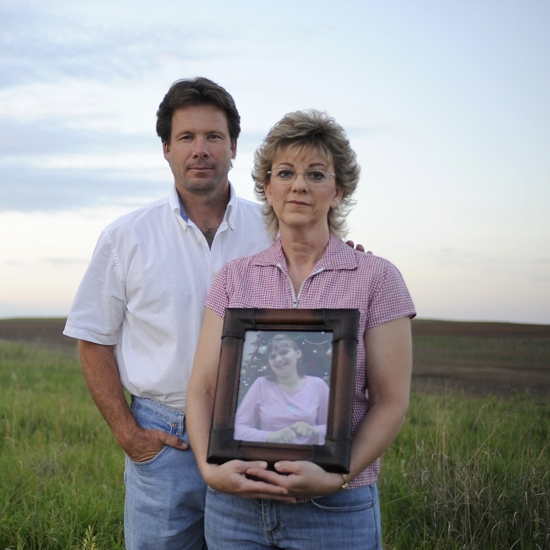 It was nearly 3 in the morning when the sheriff knocked on the door.
Tina Manes woke up, opened the door and was told by the Pawnee County sheriff to call the Beatrice hospital.
She and her husband, David, thought something was wrong with David's parents. Or maybe a friend had been in an accident.
It did not occur to them there could be a problem with their 18-year-old daughter, Olivia, who lived about 40 miles away at the Beatrice State Developmental Center.
But when they called, a hospital employee told them Olivia had had a major seizure - and that they'd worked on her for a few hours but she went into cardiac arrest.
"I said, 'She's not dead is she?'" David said.
The answer would set off a series of events that would rock the 124-year-old state-run institution for people with developmental disabilities.
Within five months, the center would lose part of its medical license, the state would order 47 residents removed, and parents and guardians would launch a legal battle to return them to the center on the east edge of Beatrice.
The center's director would be reassigned, its medical director would leave, and the man in charge of developmental disabilities for the state would announce his resignation.
Olivia Manes was about to become the latest chapter in the story of BSDC, her parents thrust into a debate over the quality of care at the institution that had evolved from a haven for "imbecile" children to an overcrowded warehouse to a national model.
But now its reputation - its very existence - was on the line as the feds were poised to jerk half the funding needed to operate the institution.
Within a month, David and Tina Manes would find themselves in a lawyer's conference room facing four TV cameras, two radio reporters and two newspaper reporters, trying to explain why - after everything they'd been through - they still loved the Beatrice State Developmental Center.
The cluster of red brick buildings east of Beatrice could pass for a small college. Except here, lessons include how to tie shoes and use a fork.
There is an indoor swimming pool, barbershop, café, chapel, gym and dentist office.
Some residents work on campus - simple jobs, like assembling shoe display racks - and others work in town, delivering the Beatrice Daily Sun, for example.
The institution is neat and clean, but it's a relic of the past, when people with developmental disabilities were shuttered away.
Lawmakers created the Nebraska Institution for Feeble-minded Youth in 1885 to house "imbecile or feeble-minded" children and to develop them intellectually "as far as possible for usefulness in society."
The city of Beatrice put up $4,000 for 40 acres, and lawmakers kicked in $100,000 for buildings and equipment, according to "Learning for Living," a history of BSDC.
The first resident was a 13-year-old girl from Superior. By the turn of the century, nearly 500 people had been admitted.
And by 1921, the center was admitting people of all ages.
Lawmakers wanted residents trained in agriculture and mechanics. In its early years, the cost of caring for its residents was half that of other state institutions, thanks to profits from whatever they could grow, including oats, peaches, cherries, dairy cattle, hogs.
In 1909, for instance, the center produced 3,000 heads of cabbage, 1,000 bushels of corn and 4,000 gallons of milk.
Many employees lived on campus and were on call 24 hours a day, until the 1950s.
In the '60s, residents formed basketball and softball teams, competing in city leagues. Hundreds took up bowling in Beatrice.
There were square-dancing teams, wheelchair parades and roller skating.
One big happy farm, it seemed.
In the late 1960s, David Manes' brother, Mark, moved into BSDC.
He was 6, one year older than David, but he had Down syndrome, and he seemed like a younger brother.
They were inseparable; they'd sit on a couch and rock, back-and-forth, until crashing into a coffee table.
But then Mark started wandering off, and there were few options other than BSDC.
David remembers his mother crying over Mark for a long time after that.
State officials struggled to control the population of mentally retarded people, both at the institution and in Nebraska.
The Legislature had passed a sterilization law in 1915, and by 1966, the state had sterilized 752 people at the institution.
The Lincoln Star applauded such efforts, writing in 1920: "Nothing can be more horrible than the thought of permitting the birth of children destined to be feebleminded or criminal or insane, unnecessarily. Why not quarantine against the germs of human degeneracy?"
During the 1920s and 1930s, mentally retarded people were considered such a menace to society that some relatives asked that the names of deceased residents not be put on their tombstones in a Beatrice cemetery. Beginning in 1934, they were identified only by number, according to the 2002 book "Out of the Darkness and into the Light." The practice ended years later.
By the late 1960s, the state had squeezed 2,300 residents into an institution built for 800.
In the 2002 book, psychologist Roger Harper recalled visiting the center in the late 1960s. He saw a boy wearing his clothes backward in an outdoor hog-wire cage - staffers said he was prone to stripping and running away.
He saw kids strapped to beds and pictures of Jesus on walls in every building.
Karen Statham of Lincoln visited as an undergrad in the '70s, and can't shake the memory of a child with hydrocephalus (marked by an enlarged skull) in a caged crib with a lid.
And she remembers a ward with "crib after crib with children and adults."
"The smell was atrocious, the noise was deafening."
David Manes remembers being intimidated when he visited his brother at his new home in Beatrice.
"It seemed institutional and cold," he said. "I always felt bad because Mark had to be there and I got to live at home."
The Maneses were among thousands of Nebraska families forced to make an agonizing decision: Continue to care for their developmentally disabled child, or entrust her to the state.
Olivia was born with Dandy-Walker syndrome, a congenital brain malformation. She never learned to walk. Her care got harder as she got older. She wasn't eating, drinking or growing well, and she was having as many as 20 seizures a day.
As a baby, she wouldn't clasp your finger. As she grew older, she'd pull away.
In 1997, she was accepted into BSDC. She was 6.
David and Tina say they kept Olivia home as long as they could; probably longer than they should have.
"You get to the point when you know you can't be selfish," Tina says.
Olivia learned to eat properly. Her doctors found medicine to control her seizures. She blossomed from a prickly girl to a loving teen who would hold her parents' hands for long periods.
And at the center, things had changed greatly from the late '60s, when her uncle Mark arrived.
Lawsuits nationwide had forced institutions to go beyond just feeding and keeping residents alive. Judges decreed that developmentally disabled people had every right to live in their own homes, apartments or group homes. They should go to school, get jobs and do as many "normal" things as possible.
In the early 1970s, Bruce Mason was a law school student who became interested in the plight of people in the Beatrice institution. He wrote an exposé of the half-century of forced sterilizations at Beatrice. In summer 1972, he joined an advocacy group investigating abuse and neglect at the center.
He saw people being hosed down in group showers, a naked boy tied up in a closet, residents staring at a blank TV screen.
"It became a tremendous dumping ground," Mason said. "It was a warehouse."
He wrote a report on conditions there and gave it to Gov. Jim Exon, who refused to meet with his group.
On behalf of five residents of the center, Mason sued the governor, alleging residents' constitutional rights were being violated.
In a recent interview, Mason - who still advocates for people with developmental disabilities - recalled a BSDC dentist saying during a deposition in the 1970s he didn't give residents anesthesia, because "these people don't feel pain."
Nebraska settled the case in 1975, after the federal government joined the class action suit. The state agreed to improve conditions, reduce the institution's population from 1,200 to 250 within three years and fund community services.
The state also agreed BSDC residents who could live in the community should be moved as soon as possible, regardless of parental or guardian opposition.
Some parents and guardians are still fighting such moves today.
Tina and David Manes resisted efforts to move Olivia out of BSDC. They didn't want to put their teen in a cramped group home with a bunch of adults, overseen by people making minimum wage.
At BSDC, she lived in a building with a hospital on the first floor and 24-hour nursing care.
They thought she was safer there.
When Olivia arrived at BSDC in 1997, it was nearing the end of its heyday.
Jill McConnell began working at the institution as a speech therapist in 1976, and she says the Mason lawsuit brought an influx of money and attention from the state.
She and other employees say Hugh Sage, CEO from 1980 to 1994, was a strong leader who attracted talented managers, got the money he needed and demanded excellence.
By the 1980s and into the '90s, representatives of centers around the nation and world were visiting BSDC to see how it had moved from warehousing people to engaging and teaching them, McConnell said.
The Beatrice center was considered the "gold standard," employees say, but that gold would be tarnished within a decade.
The institution struggled to find good employees. Sage left, and a succession of less effective CEOs came and went.
As the federal government stepped up its oversight, the institution fell further behind its peers.
The U.S. Department of Justice investigated conditions in 2007, and concluded employees were violating residents' civil rights by abusing and neglecting them, and failing to prevent injuries.
BSDC had a "cultural undercurrent that betrays human decency at the most fundamental levels" and "basic human dignities are violated with considerable regularity," the feds said.
Almost half the residents exhibited physical aggression, and too often they were disciplined with restraints, sometimes tied to a bed with leather straps for hours. In one case, a man's arms and legs were restrained for 23 hours and 41 minutes.
A federal psychology consultant said BSDC was using restraints with the highest frequency and duration he'd ever seen, which he called "alarming and disconcerting."
In a one-year period between 2006 and 2007, BSDC's own records showed about 200 abuse/neglect allegations, more than half of which were substantiated.
Among abuses documented by the Justice Department:
* Staffers played a game of "canine catch," in which staffers would toss a bottle across the room and instruct a resident to fetch it.
* Staffers sometimes failed to check or change residents, leaving them soaked in urine and unmonitored or repositioned. In several cases, staffers slept while on duty, or watched TV or played cards rather than work with residents.
* A staffer stomped on a resident's forearm - requiring surgery - after he touched an electrical outlet.
* In November 2006, a male staffer obsessed with a 20-year-old shaved her pubic area; the incident wasn't reported for five days.
* BSDC was not appropriately investigating deaths to determine whether they were preventable. Investigators said the mortality review process "appears to be designed primarily to excuse from further scrutiny the BSDC health care providers involved in the care of the deceased resident."
* The institution was averaging more than one medication error daily and there weren't enough nurses or clinicians to provide adequate physical, occupational or speech therapy.
* Too many residents were on such psychotropic medication as lithium to treat mental disorders. An expert in psychopharmacology working for the feds said dosages were the highest he'd seen, sometimes double the necessary dose.
To people like Bruce Mason, BSDC was never a model institution.
"There was no golden age," he said. "There was a period of less scrutiny."
When an institution is in a remote area, tucked away from the prying eyes of the public, without enough staff to really habilitate people, he said, "the aberrant becomes the norm."
"It has lost its way," Mason said. "You need a complete culture change."
Olivia Manes's parents had heard some of the stories about BSDC, so they began popping in unannounced. They'd bypass the office and go straight to Olivia's room. Or David would stop in late at night, on his way home from working in Colorado.
How had BSDC fallen so far, so fast?
Certainly, understaffing was a major contributor. At times, more than a quarter of all front-line positions were vacant, which meant employees were forced to work overtime, sometimes multiple 16-hour shifts per month.
Employees told a panel of lawmakers last year they were regularly "frozen" - expected to stay beyond their shift or face discipline.
They also told lawmakers that when an allegation of abuse was made, they were suspended without pay for the first six days, fueling a climate of fear.
The federal agency that administers Medicaid gave the state repeated chances to correct problems, but by late 2007 found the center so far out of compliance it was decertified - meaning it would lose $29 million in federal funding, half its budget.
The center is still receiving federal funds while the state appeals that decision, but Nebraska is expected to lose this year.
When John Wyvill took a job as director of the Division of Developmental Disabilities in fall 2007, he spent 17 of his first 20 days dealing with federal regulators at BSDC.
He and other employees say former Gov. Ben Nelson's consolidation of five state departments into one in the mid-1990s created a disconnect.
"Checks and balances were not in sync," Wyvill told lawmakers last year.
BSDC lost control over staff development, human resources, personnel and financing, former CEO Ron Stegemann told lawmakers last year.
"Why weren't we paying attention during that period of time? There just didn't seem to be any clear direction for the facility," Stegemann said.
The institution rested on its laurels, he said, and stopped looking outward for ideas and information.
"We excluded ourselves to a certain degree … and said, 'Well, we can do this on our own. We've done it before.' And we have to change that. We need to get up to speed with the rest of developmental disabilities across the United States."
Judy Braun, a 27-year employee and now a union leader, called the HHS reorganization a turning point: The center disappeared into a bureaucratic behemoth and lost its strong leaders.
"That's when they started ignoring us," she said. "From that point on, we could not get attention (from the state)."
About a dozen federal inspectors showed up at BSDC's door in fall 2006, investigating for about two weeks.
They found the center to be out of compliance with seven out of the eight "conditions of participation" and slapped it with 431 pages of citations, including three of the most serious "immediate jeopardy" citations.
Investigators were concerned that young residents were dying of typically preventable health problems.
In 2006, 15 residents died, according to a U.S. Justice Department report. Three were in their 30s, and one died from aspiration pneumonia. Pneumonia was also the cause of death for other residents.
The Justice Department said health care at the center was too often reactive, not proactive, which posed a grave threat to people at risk for pneumonia and seizures.
Mason said BSDC had an inordinate number of cases of aspiration, pneumonia and gastrointestinal infections, primarily in people who couldn't walk.
People like Olivia Manes.
For several days in January, Olivia was not eating well. And she was tired. Wanting-to-sleep-all-the-time tired.
That was uncharacteristic for the girl who loved Shania Twain songs and giving bear hugs and being pushed around in her wheelchair.
She couldn't tell people what was wrong. She was blind, mentally retarded and unable to do more than babble, coo and say a few words.
Something was wrong, but her parents say nobody called them - even though they normally got word if Olivia so much as scraped her knee.
They later learned her dose of anti-seizure medicine had been cut in half months earlier - without their consent, as required.
And they say nobody told them a doctor ordered her seizure medicine stopped altogether on Jan. 12.
Had they known, her parents say, they would have intervened. They considered Klonopin a miracle drug for Olivia, who went from having 15 to 20 seizures daily to none. She hadn't had one in a decade.
So the night of Jan. 15, the Maneses took their son to an AC/DC concert in Omaha, not knowing Olivia was about to go through three hours of violent seizures - that her life was in the hands of employees who were not trained to help her when she most needed them.
Supporters stand firm, despite repeated problems
Many parents and guardians of BSDC residents refuse to believe the institution is a dangerous place for their loved ones.
They and some employees contend the feds are nitpicking and dinging the facility for such minor infractions as restricting a resident by engaging a wheelchair brake.
They recite less egregious cases, like the time a 28-year employee was suspended for 30 days after being accused of using the word "frickin" with a resident.
Former CEO Stegemann said problems at BSDC have been exaggerated and most staffers are "extremely dedicated and caring."
"I certainly don't think it's as bad as it's been portrayed," he said. "You won't find any organization where there isn't some level of abuse and neglect."
Wyvill, who recently announced his resignation, said hundreds of cases of abuse and neglect sound ugly - but people don't understand the feds' definition of abuse: If someone raises their voice or speaks disrespectfully, that's abuse, he said.
Only a small percentage of cases were serious, he said.
"None is acceptable but … bad things are going to happen occasionally," Wyvill said.
But it is unusual to fall this far out of favor with the feds.
On average, 5 percent of similar institutions are out of compliance with one or more of the feds' eight "conditions of participation" nationwide. Only one other institution in our 10-state region failed to meet seven of the eight criteria.
In most cases, facilities are given 90 days to show improvements; Beatrice got 500, and was still noncompliant in three areas.
Jill McConnell, the longtime BSDC employee, seemed to see the crisis coming. She wrote a letter to then-Gov. Mike Johanns in 2003, warning that inept management and loss of control because of mandated restructuring of the Health and Human Services Department gave her a sense of "foreboding that it will end in tragedy" for clients.
"I'm driven to write this out of deep regret over the deterioration of BSDC from a once-proud facility, with every reason to be so, to a very scary place for all."
On the night of Jan. 15, Olivia's tiny body was beginning to seize in her room. Her arms jerked upward and she struggled to focus.
David and Tina Manes would later learn what their daughter went through that night by reading the results of a state investigation:
One staffer said it looked like "every muscle in Olivia's body was spasming like crazy."
The front-line workers - who don't typically have medical expertise - waited as long as 15 minutes before calling a licensed practical nurse.
About half an hour after the seizures began, the LPN called a doctor, who told her to verify in person Olivia was having a seizure.
Three minutes later, she wrote in the chart that Olivia was having a seizure, but erroneously wrote that she'd been on Lorazepam, an anti-anxiety drug, until three days before.
In fact, it was Klonopin, the anti-seizure drug.
Five minutes later, the LPN called the doctor and was ordered to administer Lorazepam and check her in 30 minutes.
While the LPN attempted to administer the Lorazepam, she broke the first needle off in Olivia's leg.
All the while, nobody monitored Olivia's vital signs, according to a subsequent investigation by state health officials.
And the Maneses say nobody called them.
Olivia was still convulsing after 30 minutes. The doctor ordered an increased dose of Lorazepam. Again, her vital signs went unchecked.
At 1:12 a.m., staffers called the switchboard - not 911 - to say Olivia wasn't breathing. She was turning blue. They moved her from the bed to the floor and began CPR.
Four minutes later, a registered nurse arrived and found Olivia turning "dusky brown" but still warm to the touch.
Finally, an ambulance was called at 1:18 a.m.
While waiting for the ambulance, an employee tried to revive her three times with an automated external defibrillator.
The ambulance arrived 17 minutes after Olivia stopped breathing. It took her to the Beatrice hospital, where her vital signs were finally checked.
'She isn't dead, is she?'
Olivia was declared dead at the hospital.
David stood in the living room, talking on the phone to the woman from the Beatrice hospital, who said they "couldn't bring her back."
"She isn't dead, is she?" Tina asked David.
When her husband said she was, Tina screamed. She couldn't believe what she was hearing. Olivia hadn't had a seizure for 10 years.
On the morning of Jan. 16, David went to find his daughter's body. He called BSDC; someone there told him to go to the hospital.
A nurse at hospital told him "she's probably in cold storage at BSDC," he said.
He drove to BSDC and found the county attorney, who told him he was sending the body to Omaha for an autopsy - as required for deaths in state facilities.
He'd already ordered Olivia's room and the hospital emergency room sealed.
Her parents didn't want an autopsy - didn't want Olivia's death to be used to portray BSDC in a bad light again.
They didn't yet know the details of her death.
It would be three days before they were allowed to see their daughter's body.
Her death certificate said Olivia died of a seizure from an unknown cause. And nobody from BSDC was telling them what happened.
They held Olivia's funeral in Beatrice. It was convenient for BSDC employees who had cared for their daughter much of her life. All six pallbearers were men who had worked with Olivia at BSDC.
She was buried in a cemetery in Table Rock.
Ten days after they buried Olivia, the Maneses' 20-year-old daughter, Suzanne, was in a car accident in Lincoln.
They were in a Lincoln hospital when the TV news came on - and the top story was about Olivia.
The TV anchor said she died because her seizure medicine had been stopped days earlier. That was news to the Maneses.
When they got home, they found a voicemail from CEO Stegemann inviting them to come to Beatrice to talk. But when they called him the following day, he said he was too busy.
A month later, they filed a $1.75 million claim against the state - in part, they said, to get answers. They said they probably wouldn't have sued if someone had just talked to them, taken responsibility.
A month later, the state agreed to pay $600,000. And while the Maneses now have some answers, they don't have them all.
They don't know who was working with Olivia that night, why they waited nearly two hours to call 911, why they didn't call them.
"We all make mistakes in life," David said. "I'm sure they feel bad … but why didn't you call 911?"
Within days of Olivia's death, the state's chief medical officer said "medically fragile" BSDC residents were in imminent danger.
BSDC took 47 of them by ambulance to hospitals and nursing homes around the region.
People whose parents and guardians had for years refused to transfer them anywhere were now being loaded into ambulances and taken away.
Their families feared that the sudden interruption in their routine took a toll on them. Two of them died within weeks. One of them was Olivia's roommate, 15-year-old Mary Woodard.
The two youngest residents of BSDC were now dead.
But after everything - revelations their daughter's medicine was changed without their consent, that staffers made what their attorney called "a cascading series of medical errors," that there were problems they never knew about before Olivia died - the Maneses still firmly support BSDC.
They believe the state has purposely stripped down the place to the point where it will close. They don't want that to happen.
A few weeks after Olivia died, Tina and David returned to BSDC to visit the people who had worked with their daughter. But everyone in her unit had been moved to another building.
The floor had been abandoned.
Olivia's belongings were packed up and sitting in her room. Her wheelchair sat empty.
They didn't feel like visiting any more, and went home.