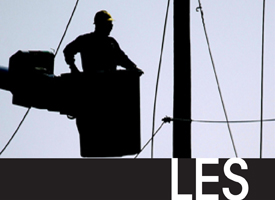 The third in a series of four public meetings about electric rates will examine a variety of optional rates on Wednesday.
The meeting starts at noon at Bennett Martin Public Library Auditorium on the fourth floor, 14th and N streets.
Lincoln Electric Service Vice President of Consumer Services J. Todd Hall said following an initial presentation in the first two public meetings, customers have asked a lot of questions and expressed their opinions.
The meetings are an hour long and participants are encouraged to bring their lunch, he said.
The two previous meetings are available on www.les.com, and the upcoming meeting will be on the site the next day for those unable to attend. In addition, customers may complete a survey after watching each video, Hall said.
Each presentation lasts about 30 minutes, with customer discussion, questions and answers the remainder of the hour.
Metered parking is available downtown or the first hour is free at city parking garages. The fourth and final meeting will be at noon Sept. 29, at the Center for People in Need, 3901 N. 27th St. The topic will be "Electric Rate Options -- Benefits and Costs."
Groups interested in scheduling a speaker may contact Janet Chung at 402-473-3383 or jchung@les.com.