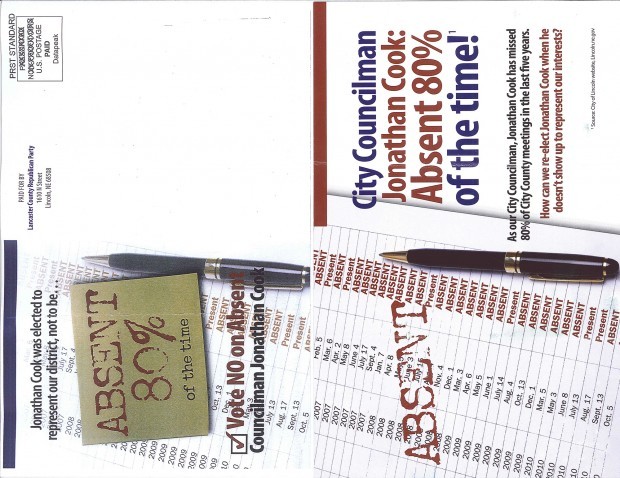 A campaign postcard that could lead readers to believe Councilman Jonathan Cook often skips council meetings marks the opening of the nasty phase of the spring election.
The postcard, sent by the Lancaster County Republicans this week, says Cook, a Democrat running for re-election, has missed "80 percent of the City County meetings."
Those are not City Council meetings but informal monthly joint meetings of the City Council and Lancaster County commissioners. They are usually referred to as "Common" meetings.
But when Vernon Forbes read the post card, he thought it meant "City Council meetings."
The card, paid for by the Republicans, set off a flurry of responses from the Nebraska Democratic Party.
The Democrats made telephone calls, in person and automated, to southwest Lincoln voters Tuesday night to set the record straight: Cook, who represents District 3, has missed just two City Council meetings in four years.
The Democrats also sent out a news release that, in part, criticized the City Council attendance record of Republican Jon Camp. He's missed 16 meetings in four years, the Democrats say.
That prompted a response from Camp, running for re-election in District 2, southeast Lincoln.
"That's four weekly meetings a year," said Camp, who pointed out he attends most informal meetings and comes to council meetings prepared and with questions.
The post cards are the first of the negative advertising voters will see before the city's May 3 general election, which covers four council seats and the mayor's office.
The two parties and other interest groups often get involved during the last few weeks of campaigns with attack advertising and mailings.
Vernon Forbes said he is upset about the way the postcard tricks people into thinking it was City Council meetings.
"I think we should decide elections on the issues and not total distortions," he said.
But Paul Zoz, chairman of the Lancaster County Republicans, said the Republicans did not mean to imply that Cook missed City Council meetings.
"We are looking at these Common meetings as part of the City Council work," Zoz said. "And people don't know that Jonathan doesn't show up to these meetings."
Cook said he goes to the Common meetings when they have important issues to discuss.
But generally they are "briefings and I am very familiar with the issues before us."