The Father of Black Art lived at 524 N. Ninth St. in 1920.
He lived there in 1921, too, a student at the University of Nebraska, a few blocks from the college art department tucked away in the attic of the library.
Aaron Douglas is the only black face in the Art Club photo in the 1922 Cornhusker yearbook.
The only black face on Page 46, too, where students appear side-by-side in small ovals. Aaron Douglas, Topeka, in his suit and white shirt, next to law student Eugene Dornbaugh from Tecumseh in his.
But the young artist was surrounded by his black brothers in Kappa Alpha Psi fraternity and would leave NU with his fine arts degree, eventually making his way to New York and Sugar Hill in Harlem, where he would draw and paint and be surrounded by black artists and black authors and black musicians, a bustling and vibrant all-black community with Douglas an integral part.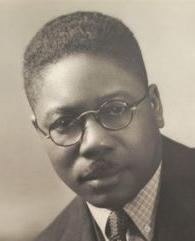 He was an integral part of the New Negro Movement, too. A working artist of the Harlem Renaissance.
Illustrating book covers and collaborating with Langston Hughes to illustrate his poems, and with W.E.B. DuBois, editor of the NAACP journal "Crisis." Commanding covers of the Urban League's magazine "Opportunity," too, displayed in libraries across the land.
He traveled to Paris and studied painting and sculpture, married to his high school sweetheart, Alta.
In 1936, Douglas began the art department at Fisk College in Nashville, Tennessee, where he'd painted a mural for the black college's library wall as an artist in residence six years earlier. He led the department; taught classes.
Critics called his work a mix of modernism and traditional African imagery, part art deco and part cubism, visually utopian and groundbreaking.
Douglas was commissioned by the Works Progress Administration and painted a series of massive murals, "Aspects of Negro Life," for the 135th Street Branch of the New York Public Library.
He disavowed the white notion that black faces aren't beautiful. "It takes a lot of training or a tremendous effort to down the idea that thin lips and a straight nose is the apogee of beauty," he wrote. "But once free you can look back with a sigh of relief and wonder how anyone could be so deluded."
He visited the White House on the 100-year anniversary of the Emancipation Proclamation, a guest of President John F. Kennedy.
The artist was 80 when he died in Nashville in 1979.
His time in Lincoln was short.
He arrived 10 days late for his first semester and without his high school transcripts, but was granted entry and soon would impress the faculty with his talent, earning prizes for his work and calling himself "the fair-haired boy" of the Fine Arts Department.
His father was a baker and his mother drew and painted as she raised a large family.
The talented son left home after high school to earn money for college, taking jobs in Kansas City and St. Louis, Cleveland and Detroit, sleeping in shifts with other black workers in crowded rooms.
"All kinds of outlandish myths were concocted to justify the exclusion of black men from our industries ... those were the days when the black man at time could be crushed and utterly silenced by such derisive terms as 'n-----,' 'coon,' 'shine,' and the like."
He brought home $300 and a new wardrobe fit for college.
He would experience racism in Lincoln, too, after joining the Student Army Training Corps at the start of World War I and being called into his commander's office, told the unit no longer needed him.
In his unpublished autobiography, he called the moment "deeply humiliating."
His name appears sporadically in the old Lincoln papers.
When he drew a charcoal portrait of Gen. John J. Pershing in 1919, displayed at "Pershing headquarters 132 S. 13th St.," according to the Christmas Eve edition of the Nebraska State Journal. "It required Douglas seventeen hours to make the picture."
A spring 1921 story describing a "wonderful painting of Crater Lake ... by Aaron Douglas, a student in the art department of the University of Nebraska," commissioned for the Rocky Mountain School of Music.
A headline in 1936, when the art department staged a one-man exhibition of its esteemed alum: "University Showing Latest Works Of Aaron Douglas, Colored Artist."
The story featured the cover of "The Black Venus," by Andre Salmon. Douglas' depiction of a towering black figure in silhouette, striding through the deadly plant's leaves.
"At home on Sugar Hill, Douglas enjoys a position of dignity and respect. Not only among his own people, but among art critics he is considered one of the leading Negro artists and chosen to represent them at the American Artists' congress last spring," the story said.
His biographer, Amy Kirschke, called him optimistic, adventuresome and self-confident.
A college student who immersed himself in the writings of DuBois and Hughes and other black thinkers.
A student who earned his way.
"He worked at various jobs throughout college, including heavy physical labor. He came to regard the drudgery as simply one more dimension of his artistic preparation."
A student with a sense of humor, who turned in philosophy papers with the answers to the essay questions blank except for the cartoons he'd drawn to fill the white space.
It would be decades before Douglas would be properly recognized by the university where he'd become the first black man awarded a degree in art.
"While his national stature is being revived, Douglas remains largely unknown and unrecognized in Lincoln and the university," a 1996 Journal Star story began.
His art was not part of the curriculum, the department chair said then.
The Sheldon Museum of Art owned just one painting. (It now owns several).
Few in the city knew of the artist's connection to the university, said Keith Parker, UNL's director of African-American and African studies at the time.
Andrew Rollins, pastor of Quinn Chapel AME Church, knew of Douglas in 1996 — of his art and its impact on black art and culture — but until he read Kirschke's biography, published a year earlier, he didn't know the artist's link to Nebraska.
An important link for the African-American community.
"It gave me hope," Rollins told a reporter. "Something black and great came from UNL."
Aaron Douglas walked these streets.
"He walked down O Street. He walked down Ninth Street. He walked across this campus. He sat in the library."