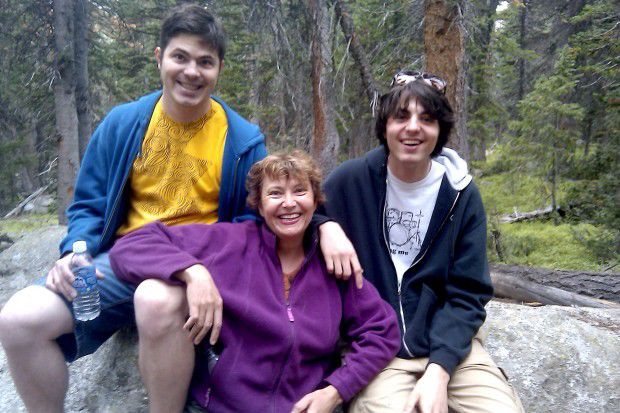 On the day Cameron Freeman would have turned 22, a girl said something nice to her sister -- even though she doesn't really like her.
A man delivered fresh-baked cookies to a retirement home, because his waistline didn't need them.
A woman at a laundromat shared dryer time with another mom.
Pastors composed sermons about the young man.
A Facebook movement formed in his name.
And his parents found a little peace.
"It's been, for us, very healing. It's blunted the pain," said Shelley Freeman. "The feedback to us, the giveback to us, has been enormous."
Cameron Freeman was killed Nov. 23 on a northern Kansas highway. His three friends were injured, one of them critically. The four young men -- all Lincoln East grads -- were returning home after a concert when a stolen pickup slammed into them.
One night after her son's funeral, Shelley thought about all of the anger and hatred aimed toward the pickup driver. And about how she could channel it into something good, something her son would have wanted.
She announced the Cameron Effect, an annual, one-day challenge to commit seven acts of compassion in her son's name.
She chose his birthday, Dec. 7, but she really had no idea what to expect.
"We were very, very pleased. We thought Dec. 7 was an amazing day. The effect was enormous."
Cameron's friends built a website -- www.cameroneffect.com -- for friends and strangers to post their compassionate acts. Dozens shared their experiences that day, and more posted the next day, and the next, and in the days that followed.
A woman spent time trying to calm her grandmother, "who is in perpetual distress due to her Alzheimer's," assuring her she is loved and cared for.
At a gas station, a driver discovered the driver before her had prepaid for her gas, so she paid for the next. This happened at pump No. 7.
A woman forgave a family member who had done a terrible thing to their family. "As soon as I hit the send button, I felt this tremendous sense of relief! Man, did it feel good!"
People were still posting last week.
"I took some of my Christmas presents and extra things around my house that I did not need to the Friendship Home."
A stranger created a Facebook page for the Cameron Effect, and more than 1,000 people accepted the challenge. Students and staff at Nebraska Wesleyan -- where Cameron had attended -- visited a booth and grabbed seven sticky-notes each, each one representing an act of kindness.
Cameron's parents heard about Lincoln elementary and high school classes embracing the movement, about strangers as far away as France and Spain doing good deeds, about sermons that invoked their son.
Someone made Cameron Effect T-shirts.
And last week, the family was invited to make a presentation at a February conference on compassion and diversity in religion. They were asked to talk about dealing with tragedy, and turning it into forgiveness instead of vengeance. They accepted.
"The positive thing is that people are hearing Cameron's name and are not afraid to say it. They're not afraid they're going to cause pain," Shelley said. "It's what everybody wants for their loved one. That their name be said often, and with joy."