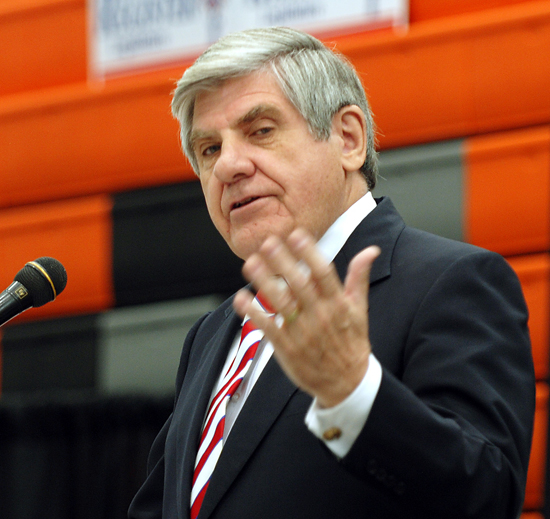 A Senate filibuster blocking debate on proposed health care reform legislation likely would lead to a worse bill, Sen. Ben Nelson said Wednesday.
If opponents prevent consideration of the revised Senate Finance Committee legislation, he said, Democratic supporters "most likely" would turn to the budget reconciliation process to consider health care.
That maneuver would reduce the number of votes required from 60 to a simple majority of 51, he said. In effect, that would remove any need to respond to the concerns of centrist Democrats or independent Sen. Joe Lieberman of Connecticut.
"Reconciliation means the worst case happens, the worst language," Nelson said.
Nelson is one of three centrist Democratic senators whose vote to break the opening Republican filibuster remains in doubt. He opposes some key provisions of the legislation, including a proposed government option insurance alternative.
All 60 Democratic and independent senators probably will need to band together to overcome a solid Republican front opposing the motion to proceed.
While Nelson did not commit his vote during a telephone conference call from Washington, his remarks clearly signaled the likelihood he may decide to vote for cloture in order to begin debate.
"There's no opportunity to amend (if) you oppose the motion to proceed," he said.
"If the three of us voted against the cloture motion," Nelson said, "we don't stop health care reform."
Instead, the Obama administration would decide whether to try to negotiate an amended bill, he said, or the Senate leadership could "go right to reconciliation."
Nebraska Sen. Mike Johanns, a Republican, has argued that the key vote in the Senate will be on the motion to proceed.
"It's the first key vote," Nelson said, "but not the key vote in my opinion."
That moment will be "the end decision (on) whether to give the bill an up or down vote."
Sixty votes will be required to end debate. If that occurs, the bill can be enacted by a majority of senators.
"That is the defining moment on the legislation," Nelson said.
If the bill is not amended to his satisfaction, he said, "you can be sure I will not vote for the motion to end debate. I'm not going to do that."
Nelson and Democratic colleagues Mary Landrieu of Louisiana and Blanche Lincoln of Arkansas hold the key votes on the motion to proceed.
"Nelson wants the bill to leave in place a federal anti-trust exemption for insurance companies that other Democrats have sought to repeal," The Washington Post reported.
The Post said Nelson "is also demanding language that would unequivocally block federal money from subsidizing abortion."
In response to Nelson's demands, The New York Times reported, Senate Democratic leaders "appear willing to drop plans to use the bill to strip health insurance companies of their anti-trust exemption."