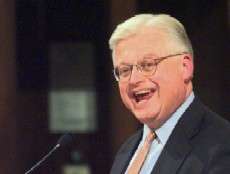 The mayor has hired his old colleague in the Legislature, former Speaker Kermit Brashear, to lobby lawmakers during what's left of the 2008 session.
Mayor Chris Beutler decided Thursday to hire Brashear — at a cost of no more than $15,000 — to lobby for the state fairgrounds to become a university research and development corridor, but not at the cost of losing the State Fair.
With less than five weeks left in the session, that works out to about $75 an hour, if Brashear works 40-hour weeks.
Beutler said the session is nearly over, and "Everything is coming rapidly to a head." He said Brashear has the "relationships and the experience" to protect Lincoln's interests.
"Hiring Kermit is important," he told the City Council during an informal meeting.
Councilman Jon Camp was surprised to hear of Brashear's hiring. He called Brashear a "talented individual," but doesn't like it when the mayor informs the council of such decisions at the 11th hour or after the fact.
Examples: Beutler's commitment to pony up a million dollars for an ice skating facility and create a new mayoral aide position for core neighborhoods.
The mayor plans to use $40,000 in uncommitted police department funds to pay the salary of the new aide, Jon Carlson, who will work at least 30 hours a week.
"I'd like to see us involved earlier," Camp said. Carlson was hired without a competitive search, which, Camp said, "doesn't smell right."
He said Beutler communicates with the council better than past mayors, bringing in two or three council members at a time for meetings, but he thinks some of those discussions should take place in public.
"We need to be more open and accountable," he said.
Mayoral aide Rick Hoppe said often the council is notified at the last because that's when the mayor was notified. But he said the mayor's office would try to do a better job.
Marathon meetings, combative questions
Sometimes it feels like Lincoln City Council meetings go on forever.
As it turns out, they last nearly twice as long as Omaha council meetings.
Indeed, Lincoln council meetings that start at 5:30 p.m. occasionally stretch past midnight.
Camp thinks the record is a meeting that ended at 3:48 a.m.
Council Chairman Dan Marvin decided to see how long the meetings have been going lately, and found that since December, the average meeting has lasted 3 hours and 28 minutes. He took a look up the road, where Omaha City Council meetings averaged 1 hour and 45 minutes.
Omaha clicks through its meetings quickly, and limits testimony on big issues to say, 30  to 45 minutes for each side. Lincoln doesn't do that. Anyone who has something to say can say it, with a five-minute limit. Nobody seems interested in changing that.
But often the council asks so many questions of testifiers that routine issues can eat up an hour.
"We are a deliberative body," Marvin concluded.
Deliberative — and occasionally argumentative.
Councilman Doug Emery said he's heard from people who said they'd never testify before the council because the council can get "very combative."
He's concerned the council is driving people away with its sometimes aggressive questioning.
"It's one thing to question; it's another to belittle," Emery said.
City employees aren't always treated so well, either, he said.
"My perception is we don't speak to them very nicely," he said.
Councilwoman Robin Eschliman acknowledged it wouldn't hurt to ratchet down the rhetoric and suggested there might be a connection between long meetings and short tempers.
Camp said it's not fair to the public or council to allow meetings to go beyond 10 p.m. He suggested more informal "pre-council" meetings — and fewer private meetings with the mayor — would help.
But Councilman Ken Svoboda said pre-council briefings should be informational only.
The council indicated it might brainstorm ideas for shortening meetings with their counterparts in Omaha.
"If you can explain a six-hour meeting to me, God love ya." — Councilman Emery, to Councilman Svoboda, regarding the council's tendency to go on and on and on during weekly meetings that last an average of 3½ hours.