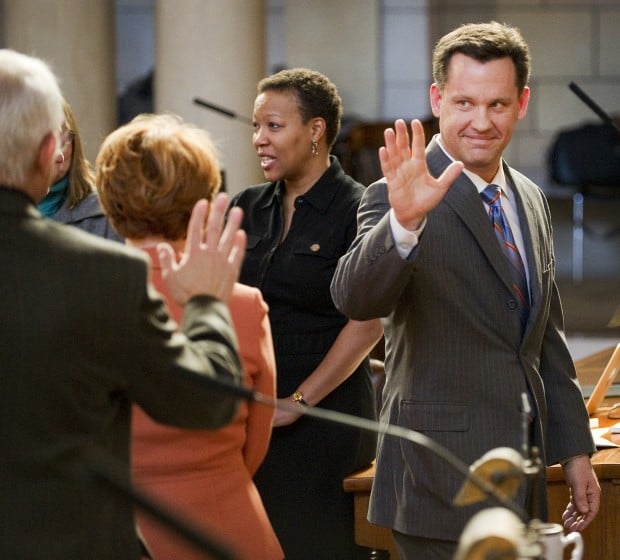 Unless you are a beetle in a bucket, you've heard about our attorney general's comments comparing welfare recipients to raccoons.
There's been a week's worth of piling on the Republican candidate for U.S. Senate, most of it deserved, so there's not a lot left to be said about the distastefulness of Jon Bruning's remarks.
Nor the dismissive tone in which they were made -- an insult to the working poor and those who find themselves on the receiving end of government assistance, if ever there was one.
Nor to the follow-up explanation, in which he called the analogy "inartful" but fell far short of actually apologizing for it.
So let's move on to the language, shall we?
Here's what Bruning told a group of potential supporters in Papillion: "The raccoons, they're not stupid. They're gonna do it the easy way if we make it easy for them, just like the welfare recipients all across America. If we don't incent 'em work, they're gonna take the easy route."
Incent 'em work? Incent? What is that?
I'll tell you what it is: a good noun turned bad verb.
Grammophiles know it as a "back formation," a word that backs its way into something new. In this case, the noun incentive becoming the verb incent.
Think of diagnosis and diagnose.
Words that in the ever-changing English language are now part of the vernacular, slipping off the tongue like butter.
Other back formations don't fare as well, especially those used among the more bureaucratic among us.
Administrate comes to mind. Facilitate? (How about lead?)
But my favorite is monetize, a three-syllable verb used frequently by a former boss when talking about creative ways to "make money" -- also three syllables, by the way.
Like monetize, incent is in fact a word and can be found in the Oxford English Dictionary, which traces its roots to a 1977 Associated Press story.
Despite its inclusion, it is a word not widely used nor commonly known, even among academics.
Retired English professor Robert Haller first came across incent in a Mike Johanns news release a few months back.
He thought perhaps it was a word invented in Lincoln, he joked Wednesday, perhaps by Republicans.
"It might catch on, you never can tell."
I'm not giving it the benefit of the doubt.
Which was something I gave Bruning before viewing the video of his raccoon remarks. Politicians -- like the rest of us, I figured -- say stupid things. Things they regret. Or don't really mean because they've been standing too long in the sun, or dreaming too long of working on Capitol Hill.
By now I've watched that clip a half-dozen times, each time angrier at both the words and the tone. I've watched the televised explanation, too, waiting for him to sorrify. Or something remotely close.
And Tuesday, I heard his explanation again -- this time reading it in my morning paper.
His analogy was "inartful," Bruning told political reporter Don Walton. And he didn't "make it very well."
Then he clarified what it was he meant to say, when the subject of beetles, raccoons and welfare recipients somehow came up.
"I'm all for a safety net, but I also want to incent people to move away from that net to self-reliance."
Another inartful statement, once again missing an apology.
Although perhaps the bad press and the piling on will be incentive enough for Bruning to think twice before making his next analogy.
As for back formations, they catch on and then fall out of favor, Haller said.