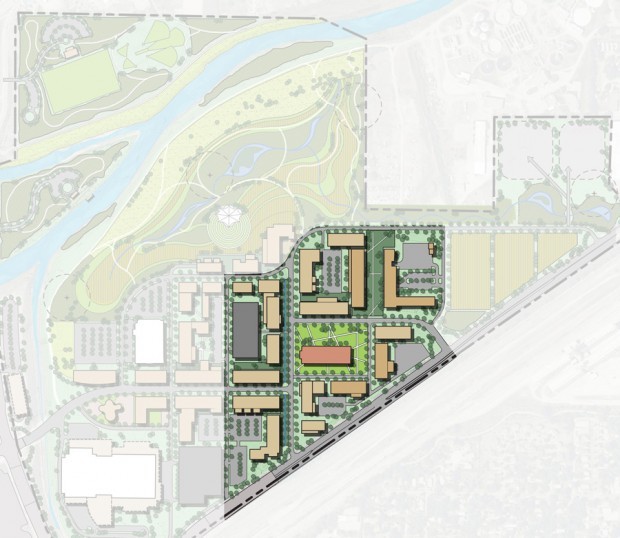 An official for a company planning to pump millions of dollars into jump starting development of Nebraska Innovation Campus called his company's investment Thursday a seed to grow jobs and ideas.
"The Innovation Campus is just a seed for growing a strong and healthy crop right here in the state of Nebraska," said Jeff Woodbury, a vice president for Utah-based development firm Woodbury Corp. "So today we're just starting the process of cultivating that field and growing what we have experienced elsewhere as a place where ideas can grow into new businesses and new jobs that will not only change people's lives here in Nebraska but around the world."
The Nebraska Innovation Campus Development Corp. has signed an agreement with Nebraska Nova Development LLC to carry out the first phase of development at Innovation Campus, just north of the University of Nebraska-Lincoln city campus on land that used to be State Fair Park. Nebraska Nova's managing partner is Woodbury Corp.
Nebraska Nova initially will develop such infrastructure as roads and sewers to allow for other Phase I construction, including a life sciences research center, a public-private office and laboratory building, a renovated 4-H building and a U.S. Department of Agriculture research facility. Renovation of the 4-H building into a central commons area likely will be the first building project.
Nebraska Nova plans to invest $14 million to $16 million for infrastructure for Phase I. The company also would spend $10 million to $12 million to renovate the 4-H building, should the Legislature approve a $25 million investment in Innovation Campus as proposed by Gov. Dave Heineman. The Legislature is still considering Heineman's budget proposal.
Site work will begin later this year, with infrastructure development slated for completion in 2012.
"Today's agreement is critical for the development of the Innovation Campus because new facilities can't be constructed until the infrastructure is in place," said University of Nebraska President James B. Milliken. "The sooner the facilities are built or renovated on the Innovation Campus property, the sooner businesses can start new investments in Nebraska, creating jobs and growing our state's economy, which is the ultimate goal for the Nebraska Innovation Campus."
Under the agreement's terms, Nebraska Nova is a non-exclusive developer, meaning the university or other tenants could build their own facilities during Phase I. Nebraska Nova will receive a portion of lease agreement fees from private partner companies that it helps recruit to Innovation Campus.
The Innovation Campus Development Corp. will approve lease agreements and will be entitled to 10 percent of net rent for each site development lease. However, Nebraska Nova would set rent rates for tenants of buildings it constructs, Milliken said.
Once space for any building is 50 percent committed, Nebraska Nova also would construct that building and work to find tenants to fill the remaining space, he said.
"The 4-H building is just the start," Jeff Woodbury said. "We're hoping to make this a much larger facility that will grow over a period of time."
On the issue of the fate of the Industrial Arts Building at Innovation Campus, Zach Wiegert, manager of Nebraska Nova, said his company plans to meet with local historic preservations to consider possible use of the space that preserves the building's memory but still fulfills the campus' mission.
The Industrial Arts Building was named in December to the National Register of Historic Places. The university wants to raze the building; historic preservationists and others want it saved and put to use as part of the research campus.
"At the end of the day, it has to be a functional space that can house research," Wiegert said.
The Innovation Campus board selected Nebraska Nova because of the company's willingness to put its own capital at risk, as well as its experience using tax increment financing and other financing options to avoid charging professional fees up front, said UNL Chancellor Harvey Perlman.
"We are very pleased that Nebraska Nova has agreed to make the investment necessary from their own resources to do the infrastructure, the sewers, the water, the roads, that are necessary for this project to take place," Perlman said. "Their commitment and their investment validates in the marketplace our idea that this is going to be a successful project."
Woodbury Corp. has been a leader in real estate development and office space since 1918 and has worked on several research park projects. It developed University Mall in Orem, Utah, and has more than 9 million square feet of retail, 1.5 million square feet of office and nine hotel properties.
The governor said Innovation Campus will help leverage the state's research talent to fuel new economic growth and development.
"My focus is making Nebraska the ideal place to create jobs and grow a business, the best place to obtain an education for students of all ages and the perfect place to raise a family," Heineman said. "Accelerating the development of Innovation Campus is a critical part of that vision for Nebraska's future."
Innovation Campus will be a private/public research campus that capitalizes on the expertise of UNL faculty to strengthen the state's economy. The 233-acre campus has been in the planning and predevelopment stages since the university took possession of it Jan. 1, 2010.
University consultants hired in 2009 estimated Innovation Campus could create 5,500 new jobs, bringing $267 million in new annual payroll to the state, including $149 million in direct annual payroll and $118 million in indirect payroll from new spin-off jobs. Planners are using a 25-year phased development approach.
Wiegert said his company's investment would help stop the exodus of the state's most talented youth to other states.
"It gets old to see our talented young youth, young people leave our state when they should be staying right here," said Wiegert, a former Husker All-American who played in the NFL for several years. "If you need to get a quality job, this is what we're doing. We'll bring more quality jobs to the state."