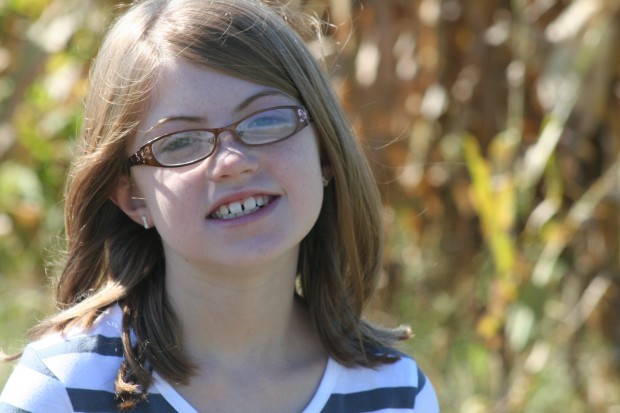 Addie Hestermann, the founder of Heartland Pet Sitting and president of the Furry Friends club, had set a goal for 2012.
She wanted to more than double the $87 she raised for the Capital Humane Society in 2011 selling lemonade and 50-cent manicures.
Before she died on March 26, Addie had collected $2.11, on her way to $200 in her polka-dotted piggy bank.
The girl who loved animals has reached her goal.
"Memorial donations received at the shelter are approximately $4,440 as of today," director of development Donna Bode said Wednesday.
Those thousands of dollars do not include the money still coming into Syracuse, where Addie lived with her parents, two brothers, two cats and a pug named Bailey.
Addie died two days before her 10th birthday, just six days after being diagnosed with an aggressive form of childhood leukemia.
The fourth-grader left an enormous hole in the hearts of her family. And after she died, friends and strangers alike found themselves wanting to do something to help.
Monday, it will take four, perhaps five pickups to haul presents -- given in her memory -- from Syracuse to the Capital Humane Society.
The dog food and kitty litter and cleaning supplies have been piling up in the town southeast of Lincoln, fulfilling Addie's birthday wish: Presents for the animals, not for her.
Angie Lintz sent out an email after Addie died that started the flood of supplies.
"It just took off from there," said the Syracuse mom.
"It's been amazing," said Michelle Meyer, who offered her hair salon as a drop-off site. "Things are piling up the wall. I've had to move into a second room."
A group of employees from the nursing home brought donations. A little girl dropped her supplies off in a birthday bag.
"I've been happy to have it here and take part in something to help," the stylist said. "I said today, 'I'm proud to be from this community.'"
In Lincoln, co-workers at an insurance company donated $160 for a brick personalized with Addie's name at the Nebraska Humane Society in Omaha.
"She just sounded like she wanted to give back to her community, and that's so unusual for someone so young," Julie Ferrin explained.
"We wanted to keep her memory alive."
And that was Brock Nelson's goal, too.
Brock is Addie's uncle. He lives in Phoenix with his fiancé Virginia, and together they run a pet-sitting service.
"Before turning a profit in our first year we donated pet food to animals affected by Arizona wildfires last summer," Brock wrote in an email.
"It's safe to say (Addie) inspired her uncle."
The day his niece died, Brock purchased a website.
Live Like Addie -- www.livelikeaddie.com -- is up and running now. A black and white photograph of a willowy girl in glasses standing on Heartland Drive is on the home page, the gravel road that leads to her house north of town stretching out behind her.
There's a slideshow of balloons floating skyward the morning of her birthday as Addie's friends and their parents watch them go. There's a link to her mom Jamie's journal on life without her daughter.
And there's a hope that Addie's short life will continue to inspire others, said her uncle.
"I'm not sure what it will become," Brock said Wednesday. "It doesn't bring her back, but I wanted to do something."