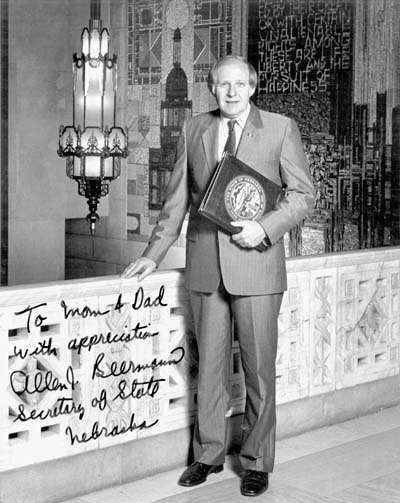 No one achieves anything alone.
So said former Nebraska Secretary of State Allen Beermann after being selected the Nebraska Rotarians' 20th Nebraskan of the Year.
Many of those who attended the Jan. 30 luncheon honoring him — mentors, teachers, coaches, critics, supporters, guides — were people who have helped make it possible for Beermann to lead and achieve, he said.
"To me the nicest thing about having this honor and luncheon was the opportunity for me to say thank you to the people in the room, some of whom have been helpful to me for 50 years.
"I will spend the rest of my life thanking people."
Beermann was Nebraska Secretary of State for 24 years and has been executive director of the Nebraska Press Association/Nebraska Press Advertising Service since 1995.
"I've always had the philosophy in life, if you are in a position to be in service of others … you really have the obligation to give back," he said in accepting his award. "Because you see, not everyone is blessed enough to be in that position."
Fremont insurance agent Jim Ebers, who has known Beermann for more than 40 years, nominated him for the honor.
"He's always been gracious to everybody that I've ever seen him around," Ebers said. "He always operates with class. Give him a task and it's done. Whatever it is, he'll get it accomplished and done and probably done better than you thought it could be done.
"I think he's just an outstanding man, and I'm proud to know him and be able to call him a friend."
Nebraskan of the Year Committee chairman Rod Bates said choosing Beermann was easy.
"I think everybody to a person felt he's done more for the state of Nebraska as a sort of ambassador than anyone we've ever met. … We all felt he deserved the honor.
"He's probably Nebraska's best salesman."
As secretary of state, Beermann said, he had the opportunity to travel to as many as 40 countries and "the pleasure of meeting hundreds of interesting people around the world."
Through his travels, he said, he saw time and again how Nebraskans compared with others.
"Nebraskans are truly a wonderful lot of people. Nebraskans are genuine … there truly is something special about this place."
Beermann said he has spoken to Rotary clubs in many places around the world, and he attended the first Rotary meeting in China.
"I'm really proud to be a Rotarian, and especially a member of Rotary Club 14," Beermann said. "The Lincoln Downtown Rotary Club is really extraordinary — I can attest to that."
Bates said the Rotarians bestow the honor to hold someone up as an example of what the organization is about: "Service above self, that's the motto of Rotary."
And, he said, Beermann to a T.