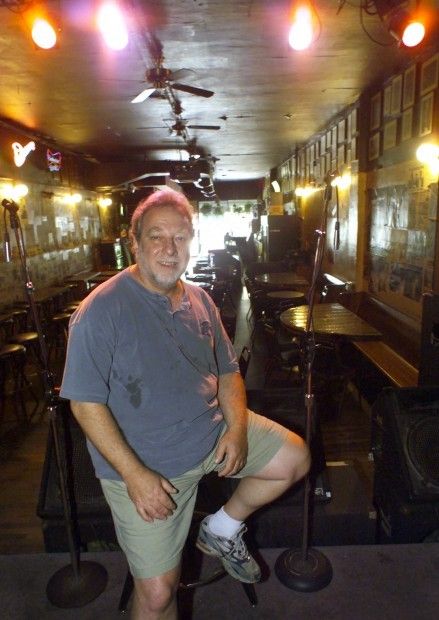 Larry Boehmer was a kid in Pawnee City when he started listening to the blues on radio station KAAY out of Little Rock, Ark.
As an adult and owner of the Zoo Bar in Lincoln, he would introduce thousands of people to the music he loved.
Boehmer, 65, died Tuesday morning at a hospital in Berryville, Ark. He had lung cancer and was in hospice care.
He was an art student at the University of Nebraska-Lincoln when he stumbled onto the tiny club on North 14th Street. He became a regular at the bar, which then catered mostly to third-shift workers in the morning hours. And before long, he asked owners if he could put some of his records on the jukebox.
He did. Then he started tending bar and booked a few live acts, including blues giant Luther Allison in 1974.
And then, Boehmer bought the place.
"It just looked like a blues bar to me," he said in June. "I never had a dream to own a club … it became my life. It turned into this big family. That's a wonder."
Drummer Dave Robel played one of the first shows at the Zoo with the Megatones.
"The first time I played there was Dec. 15, 1973," Robel said Tuesday. "And the last time I played there was about 12 hours ago.
"The Zoo Bar is a music bar, as opposed to a bar with music -- because of his understanding and love of music," Robel said. "Larry was a fair man. He was a really great guy, he was a good bass player and he gave everybody a shot."
Robel said Boehmer tapped into an already existing blues underground and introduced Lincoln to all kinds of roots music.
Boehmer and his wife, Rosalie, moved to Eureka Springs, Ark., in 2000, handing the club and its tradition of live music onto sons Jeff and Tim Boehmer and longtime Zoo Bar employee Pete Watters.
"I started in 1986 as a bartender and became manager in the '90s," Watters said Tuesday. "And then in '99, I got my degree, and I told Larry I was going to leave. He came back in the next day and said, 'Hey, why don't I leave and you stay?'
"It's kinda mapped out my whole life for me … it was just incredible what he did for the community of Lincoln. There aren't a lot of guys that will step up and really take that chance, and he and (original Zoo owner) Jim Ludwig did. It sure makes life more interesting when there's people like him around."
Boehmer's booking magic and his relationship with musicians all over the world made the Zoo Bar work.
"He really understood -- you can see from the outpouring from musicians and from fans -- he really had a unique ability to see it from both points of view," Watters said. "He always knew how to treat musicians -- he understood what problems there were on the road -- but he also understood that fans only have so much money. He always struck a good balance."
Watters said the Zoo will commemorate Boehmer's life, and death, but no plans had been made yet.
In 1998, Boehmer took the music to the streets to celebrate the bar's 25th anniversary. The festival was an unqualified success, with more than 16,000 people turning out to hear a lineup that included Chris Gaffney, Maria Muldaur, James Harman, Coco Montoya and Dave Alvin. The bar has continued the tradition and is looking forward to its 40th anniversary next summer.
Over the decades, hundreds of blues giants played on the bar's tiny stage at 136 N. 14th St.: Otis Clay, Albert Collins, Pinetop Perkins, Buddy Guy, Son Seals, Koko Taylor, Robert Cray, Matt Guitar Murphy, Charlie Musselwhite and Southside Chicago's Morris Magic Slim Holt, who eventually moved to Lincoln with his family.
"Well, Larry, he feels just like my brother," Holt, 75, said Tuesday. "Larry meant a lot to Lincoln, the Zoo Bar means a lot to Lincoln and the Zoo Bar is known all over the world, because I've been all over the world and people have asked me about it.
"Larry has made many people happy. He has got many people together."
Grammy Award winner Bubba Hernandez shared his thoughts of Boehmer on Facebook.
"Even if you walked into the Zoo Bar without knowing anything about it other than music is played here, one would know they were on very hallowed ground. … It was/is one of those venues that when on the road, you'd swear it was Saturday night on a Monday or a Tuesday. I love love love this joint but, the room, the name are nada without its people, its staff and its audience, that give that body a soul."
And from longtime local blues harmonica player Chris Siefkes: "Larry built a house that turned into a community and that community is better off having known Mr. Larry Boehmer!"