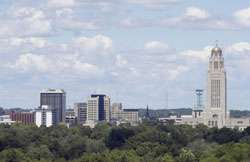 Karl Fredrickson quietly began packing up his office Thursday while the mayor — just across the hallway — was introducing the man who would replace Fredrickson as head of public works.
Fredrickson had only learned the news a day earlier. And he didn't find out who would replace him until Thursday.
Turns out, it was Greg MacLean, a man he considers a friend.
"He's a good man," Fredrickson said.
Many would say the same of Fredrickson, a soft-spoken straight-shooter who loves the cowboy life but wouldn't dare call himself a cowboy, despite his handlebar mustache and cowboy boots.
Before all of this, he'd scheduled an annual deer hunting trip with his father. And although the mayor said he could stay until MacLean starts Dec. 17, he decided Thursday would be his last day.
When you're the head of a city department, you can lose your job at a moment's notice because you serve at the mayor's pleasure. And mayors come and go.
Fredrickson knew this when he took the job in April 2005; that's why he had to do a "gut check" before agreeing to lead the city's largest department.
Then the call came Wednesday. He was brought to the mayor's office, and the mayor told him Fredrickson had done everything he wanted, but he'd decided to make a change.
As Fredrickson prepared to leave his own dimly lit office, former public works chief Allan Abbott poked his head in.
In 2002, Abbott hired Fredrickson from the state Department of Roads, where Fredrickson had worked for 15 years.
Abbott said he knew Fredrickson was talented and could be trusted to get things done. After Abbott retired in January 2005, Fredrickson was appointed director, where he found himself supervising some former supervisors.
Abbott knows what it's like to have a job with a precarious future;  when he was head of the state Department of Roads, then-Gov. Mike Johanns called and told him he was out.
When Mayor Chris Beutler was campaigning, he made it clear he would likely make changes to Coleen Seng's cabinet if elected. That put every director on notice, but still, Fredrickson didn't really see it coming.
Asked during his press conference whether he gave Fredrickson advance notice, Beutler said simply, "Yes."
Fredrickson spoke no ill of the mayor, called it an honor to serve as director and said he would "help where I can" after leaving.
As director, he dealt with a councilman's foundering median maintenance contract, less-than-stellar snow removal after a January storm, and flareups with council members who think the department is too inflexible.
When the council was critical of his employees, he stood up for them. The council doesn't trust his "extremely dedicated" staff, he said, and they should.
He's proud of progress made on the Antelope Valley Project, the pending replacement of Harris Overpass and all of the water and sewer pipes that went in the ground, opening areas to development.
He grew up in Lincoln and doesn't plan to leave, and is already feeling out the private sector for job prospects.
"Being an entrepreneur and having a profit motive sounds kinda fun," he said, smiling.
And while there's nothing fun about involuntarily packing up an office, he was grateful for one thing: "I don't have to worry about snow."