At 52 years old, many would say Lincoln resident Sandy Houser should be looking forward to life as an empty nester after raising four kids of her own as a single mother.
Instead, she's reenlisting in motherhood.
Over the past few years, Houser has taken eight children into her care as a foster mother. The first of the new flock was adopted in May 2016 when he was 18 months old. In February 2017, she fostered three children from the same family and four more from a different family later that year.
"I couldn't let them go into the system," she said. "I still have a lot of love left in me to give to kids who need it."
She's served as a foster mother for the seven children for the past two years, but she knew it was time for the kids to find a permanent home.
So, Houser gathered the children into her 15-passenger van and made her way to the Lancaster County Courthouse to formally adopt the seven foster children Saturday, which was National Adoption Day. 
"It's time for them to be permanent and to be here forever," she said.
Before becoming the adoptive mother of eight children, Houser ran a home day care for 20 years. At the same time, she was raising her four biological children.
"I've sacrificed a lot for my own kids and I was OK with it," she said.
Houser didn't intend to adopt that many children initially. In fact, she nearly moved to Arizona while she was fostering the children. But she grew so close to them that it was difficult to let them go. 
"I already had been doing it for two years, so I decided why not keep doing it forever," she said.
All of the new Housers are young — the oldest is 7 years old, while the youngest is 2. She said the fact that all the children were so young helped them bond easier and recognize each other as brothers and sisters.
"They've kind of blended in, they help with the little ones if they need it," she said.
While Houser's decision to adopt eight children may seem like an act of selfless love, she looks at it from the perspective of a mother looking out for her children.
"I don't look at myself any better because of this, it's just how I wanted to do it and it's what the kids need," she said. "It's not about me, it's about them. This world is crazy and I would like to have them grow up as normal as possible."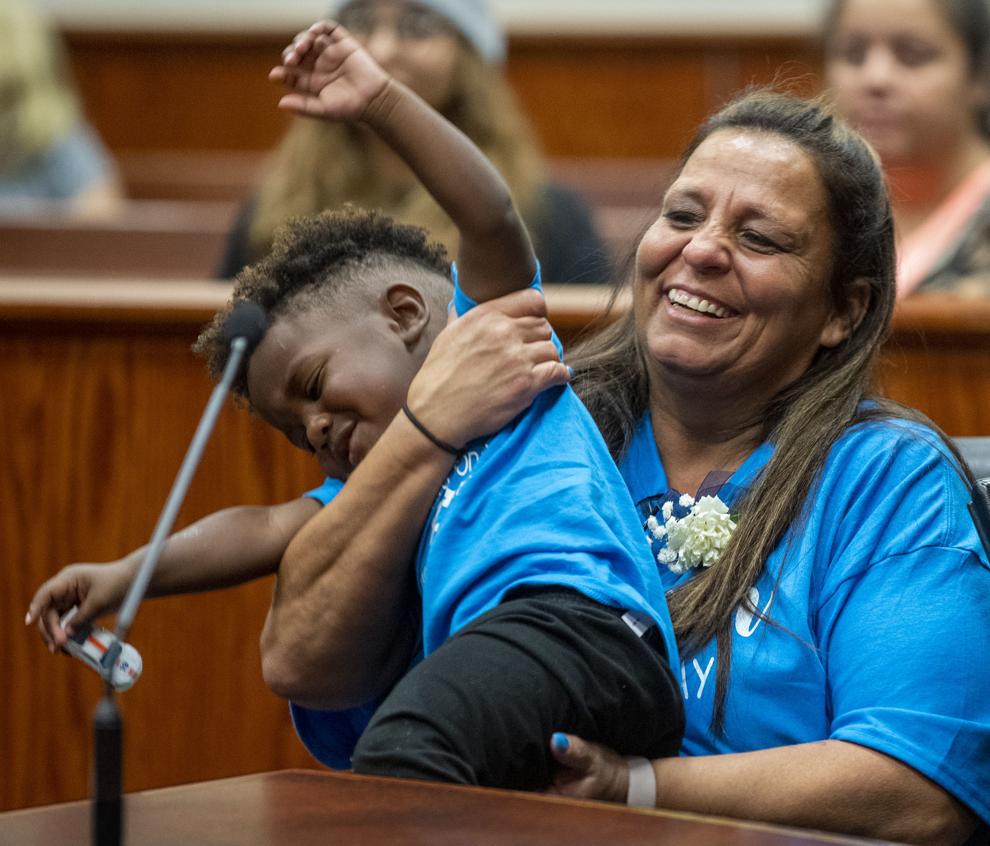 Michaela Houser, one of Sandy's four biological children, said she's excited to add more children to the family, even if she's thousands of miles away playing professional basketball in Italy. 
"I'm really excited for adoption day," she said. "I know my mom is over-the-top excited. I can't wait for the photos."
Michaela travels throughout Italy eight months of the year playing basketball, but she still FaceTimes her mother and family at least once a day. 
"It does get difficult," Michaela said. "As the kids grow older, I'm missing big milestones, but they do a really good job of keeping me up to date with everything that is going on with them."
Michaela said she doesn't know how her mom is able to take on the super mom role, but she's proud to see her sacrifice for the children.
"It's been really cool to see how she has been raising them," she said. "They've always felt like family."
One of the most important aspects Sandy focuses on while raising the children is maintaining a relationship with their biological parents.  
"They still need that," she said. "They still need that relationship, because they are still their parents."
Despite relinquishing custody of their children, Sandy welcomes the biological parents to visit their children as often as they like. One family talks with its children a couple times a week, she said.
"As long as you're doing right by your kids, you can come and see them," she said. "I think the children know they're in a good spot here. In the long run, a lot of kids who are adopted struggle with asking why their parents wanted them or did not want them. I don't want that with these kids."
As Sandy efficiently wrangled seven kids into a crowded courtroom Saturday morning, it was clear to see she was up to the task.
Judge Roger Heideman read off each child's name, and after a quick, 10-minute hearing, seven new Housers exited the courtroom with a teddy bear in hand and "Peace out Foster Care" printed on the back of their matching T-shirts.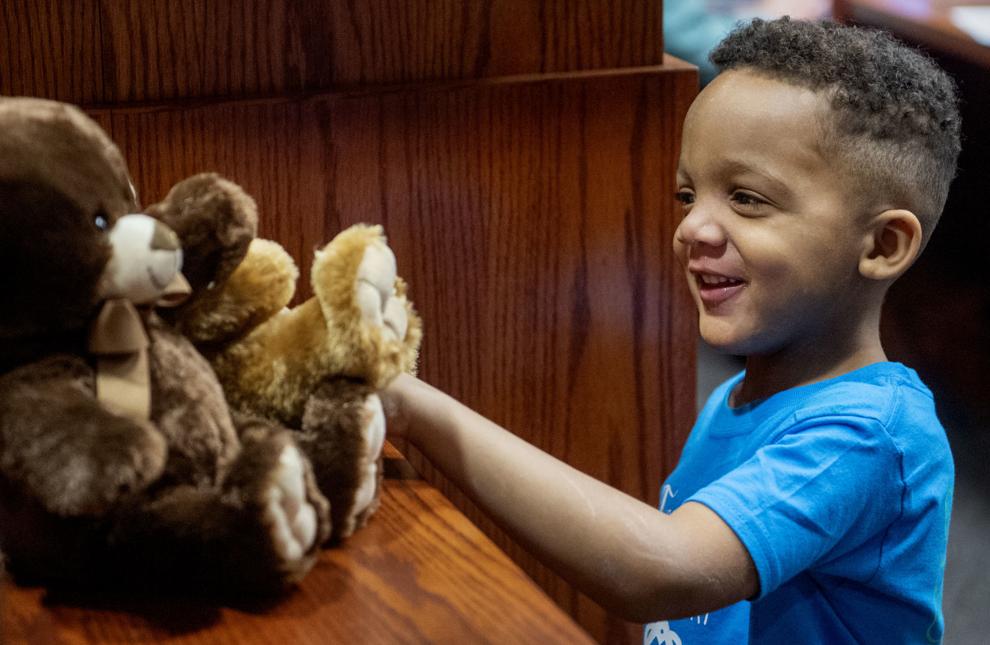 "I've never done this many, and definitely not by a single parent," Heideman said. "She's done a fantastic job."
So what's the next for the new Houser family?
It's probably about time for a nap.