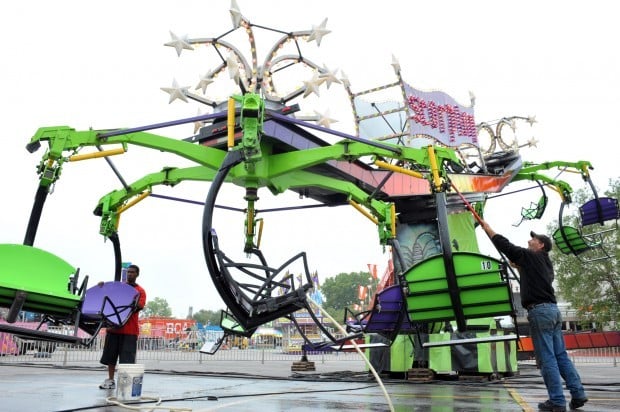 He's billed as the biggest porker at the state fair, and 840-pound Henry, a pure-bred Yorkshire, was obviously in a foul mood Saturday as he clenched his empty food pan in his jaws and banged it against the wall of his pen.
Roger Yant of Lincoln, one of the plaintiffs in a lawsuit meant to keep the fair in Lincoln, sounded much more content than Henry later Saturday as he announced his plans to visit the event on the first full day of its 10-day run.
And, said Yant, "I'm looking forward to going to the state fair in Lincoln again next year."
Many might rate the odds of that happening at zero, but Yant, a former Lincoln mayoral candidate, is feeling pumped about the Nebraska Supreme Court's decision to hear the appeal of a lawsuit he and others filed that contests the fair's relocation to Grand Island.
Yant doesn't regard the early stages of construction there as a sign that the move is a done deal.
"How presumptuous of the state and the university to start working in Grand Island when there's a lawsuit pending," he said.
"They're going to go ahead and spend millions and millions of dollars," he added, "on something that could be stopped."
District Court Judge John Colborn dealt a setback to his legal challenge in Lancaster County in June, ruling that the Legislature's $42 million package for moving the fair did not constitute "special legislation."
Colborn also ruled that voter passage of Amendment 4 in 2004, which routed 10 percent of proceeds from the Nebraska Lottery to the budget for State Fair Park, was not a mandate for keeping the event where it is.
But the Supreme Court brightened Yant's day Friday when its leadership decided to intervene without waiting to see what happened in the Nebraska Court of Appeals.
"This is the whole state," he said, "not a county or city thing. It's a state decision, and I'm glad to see the Supreme Court is going to make the decision."
State fair officials were unavailable for comment Saturday afternoon.
Yant said the results of the Supreme Court review won't be known until long after this year's fair is over. "We have to have all our briefs in to them by the 21st of September," he said.
Be the first to know
Get local news delivered to your inbox!