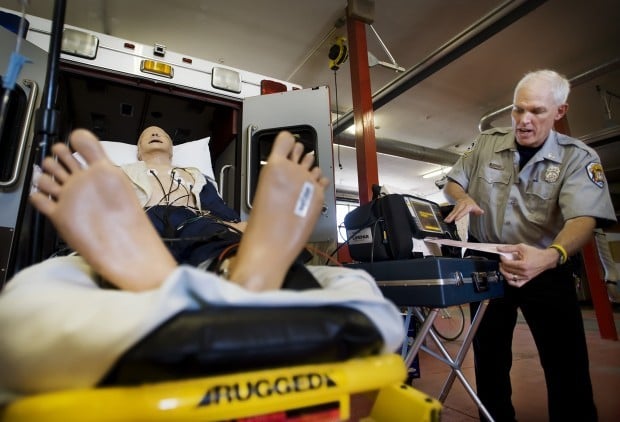 Lincoln ambulances are now equipped with technology that could save the lives of heart attack victims.
All eight Lincoln Fire and Rescue ambulances can now use wireless electrocardiogram and digital data systems on patients with chest pain, transmitting the information to doctors waiting at BryanLGH Medical Centers and Saint Elizabeth Regional Medical Center.
Paramedics hook up the EKG machine immediately, and a live feed of the patient's heart reaches cardiologists within 30 to 90 seconds.
"It has improved our ability to mobilize our resources, including our cardiologists to get the cath lab ready to go," said Cheryl Rourke, manager of BryanLGH Medical Center East's emergency department.
Before, cardiologists had to wait for patients to arrive at the hospital to connect them to an EKG monitor.
Since the systems were installed May 18, rescue teams have used mobile EKGs on about 137 patients.
The ambulance EKGs allow doctors to diagnose and determine treatments before patients reach the hospital. If enough data is transmitted, patients can skip the emergency room and head straight to specialists. So far, 28 patients have done so.
"If we can get our patients to the cath lab, and get the clogged arteries to open up, and get the blood flowing before the heart is damaged, we're minimizing the injury," said Dr. Terry Rounsborg, medical director of emergency services at Saint Elizabeth and director of Emergency Medical Services. "There's only so much time to open those blood vessels before permanent damage sets in."
Rounsborg said transmitting EKG data faster can lower the heart attack mortality rate by up to 10 percent.
Ambulance EKGs aren't new to Nebraska -- Omaha and Kearney have them, said Libby Raetz, director of the Saint Elizabeth emergency department -- but Lincoln is one of the few to fully use the technology.
The project costs $60,000, which will cover the cost of the hardware, software and data transmission. It is funded through a Community Health Endowment grant, and local hospital foundations and institutions.