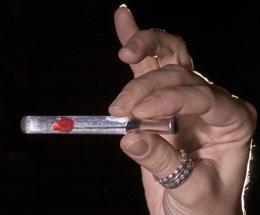 It looks innocent enough: a small glass cylinder with a tiny fake rose inside, sold at some convenience stores for 99 cents. A cute novelty item for your sweetie?  Not likely, according to law enforcement officials who say the item's primary use is as a crack or methamphetamine pipe.
Drug users remove the tin foil ends, stuff a small piece of metal  scouring pad in one end as a filter and use them to smoke crack or meth.
In some cities, officials have tweaked ordinances to prohibit the sales of such items; in others police have conducted "stings'' to catch the clerks who do.
In Lincoln, a clerk at the Kabredlo's at 17th and Washington streets was recently ticketed for delivering drug paraphernalia after selling  a lighter, scouring pad and "love rose'' to an undercover officer.
The small glass tubes, four inches long and about the width of a ballpoint pen, are sold in some Kabredlo's stores in Lincoln, displayed along with tobacco products on the front counter.
Mike Olderbak, who owns the convenience store chain, said his stores sell different kinds of fake roses and said he had no idea until his clerk was ticketed that the tubes were commonly used as drug pipes.
"Our objective is not to support drug people,'' he said. "We most likely will be pulling the romantic roses and Brillo pads out of the store.''
That's good news to Lincoln Police Chief Tom Casady, who became aware of the "love roses'' last month from one of his officers who complained to him that a Kabredlo's on his beat was selling them.
Shortly before Christmas, when Casady was working the streets as the duty commander, he stopped into the 17th and Washington streets store.
"The clerk asked me if he could help. I said I was just browsing for drug paraphernalia,'' Casady said.
Casady saw the scouring pads and "love roses.''
"I think it's rather reprehensible that a convenience store is selling products that are well-known to be used for the consumption of not only illegal drugs but serious illegal drugs,'' he said. They're being sold, he said, in the more dense, central Lincoln neighborhoods that face enough struggles already.
The officer who told Casady about the pipes said he had already talked twice with Kabredlo's managers, but nothing changed, Casady said. But Olderbak said no one had talked with him, and he was upset that police wouldn't first call the corporate offices to discuss the issue before ticketing an employee and making an issue of it.
He said he has no problem working with officials so items used as drug paraphernalia aren't sold.
"Our intention was not to do anything wrong,'' he said.
Several other convenience stores checked by the Journal Star were not selling the "love roses.''
U-Stops have a corporate policy against selling anything that would be used specifically for drug paraphernalia. Mike Wilson, director of marketing, said he hasn't seen any such items in his stores, but said that doesn't mean "love roses'' won't inadvertently end up in one.
"I deal with 200 to 250 suppliers,'' said Wilson said. "If they told me what they were, I'd never buy them. But if they said they're hot-selling stuff that kids trade,'' he said, he might have bought them.
To prosecute a business or individual for selling "love roses,'' authorities would have to prove the business or individual knew why people bought them.
In some other cities, such prosecutions have proved difficult. In 1998, St. Petersburg, Fla., police arrested 14 business owners for selling "love roses,'' but most of the charges were dropped, according to news accounts.
The U.S. Drug Enforcement Administration recently seized 334,000 "love roses'' destined for retail outlets in Detroit, according to the DEA Web site.
Last January, federal and local authorities in Lincoln indicted  owners and employees of two businesses for allegedly selling drug paraphernalia. The owners of at least one of the stores has reached a plea agreement in the case.
Those stores sold bongs, pipes and scales — items connected more with a traditional head shop than a convenience store.
That's a different animal than items marketed to convenience stores, where the items share the shelves with Ho Hos and Coke and potato chips.
Casady said he hopes convenience store owners will choose not sell such items.
"Some things you cannot regulate with the law,'' he said. "You have to depend on their decency.''