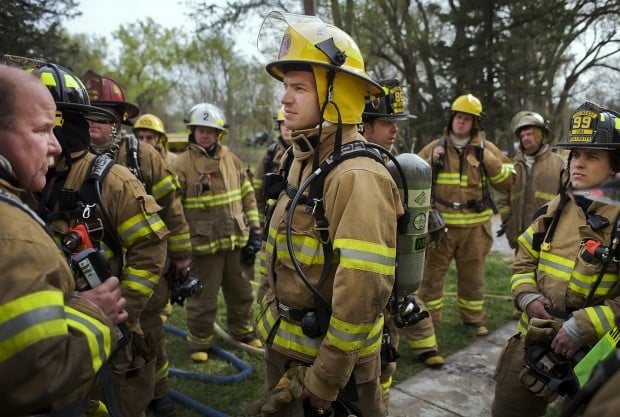 The voice of Southeast Rural Fire's interim chief, John Porter, barks over a series of radios a little after 9 a.m. on April 18.
"The house has been lit! Repeat! The house has been lit!"
Yeah, I know. I'm inside the burning house at 10500 Old Cheney Road.
I'm hunched over on the ground and beginning to sweat. But the difference between this moment and the typical aftermath of a Wii Boxing bout is that I'm in full firefighter gear.
Porter e-mailed me a while back to see if I'd be interested in suiting up, to show me -- and readers -- "how important volunteer firefighters are in Lancaster County and how we take this job extremely seriously."
Interested in a first-person glimpse into a duty a lot of us take for granted, I did a quick self-analysis before deciding to put myself in a firefighter's boots.
A decent set of lungs (non-smoker, low-level runner), so my oxygen tank should last for a while.
An adolescence spent in soupy South Carolina, so I should be able to endure temps up to, oh, 5,000 degrees.
The upper body strength of a newborn kangaroo.
More pluses than minuses? Sign me up.
To my left that morning was what was once a bedroom, but rather looked like the husk of a grilled ear of corn after firefighters torched the room two days earlier during an arson investigation course.
To my right was ... who knows? I could've reached out and touched a wall or a walrus tusk and been just as surprised by either. The crews blocked out all the windows in an effort to give the 59 firefighters training there as realistic a scenario as they'll likely experience should they respond to a house fire.
And I was crawling in a narrow hallway up a narrow flight of stairs, peeking around the corner into the room in the southwest corner. Inside were some stubborn, damp bales of hay and some willing wood pallets.
And passing on my left was someone carrying what appeared to be an overturned light fixture filled with diesel fuel.
At about this point, one of the instructors said he could hear me breathing. Bad sign.
Many at the controlled burn on April 18 talked about the adrenaline that comes with doing life-saving work. But everyone stressed the importance of remaining calm under pressure.
And as the diesel did its job and flames began to tear up the far corner of the room, the instructors, my partner holding the nozzle and everyone else within earshot settled my nerves.
They told me how the fire would build, how the smoke and oil and heat would descend, how the temperature would suddenly spike rather than rise gradually, and how the fire would take the path of least resistance until all the paths were destroyed.
"It's a little bit strange to say there's fire above you and you don't put it out," Porter said before I went in.
But that's how much of the day was spent. Rather than extinguish the fire, they studied it.
"It's really neat to see how fast water can actually cool a fire down, but yet how persistent a fire can be," said Rhonda Lieske, a firefighter-EMT from the Raymond Volunteer Fire Department who was experiencing her first true house fire as well.
She made more trips inside than I did. I lasted about 10 minutes inside the house before I rotated out. A thermal imager showed that temperatures hit about 300 degrees in the room while I crouched in the doorway and pointed a hose into hell.
For me, that was more than enough heat. For the volunteer firefighters, the day was just getting interesting.
Going into a burning house