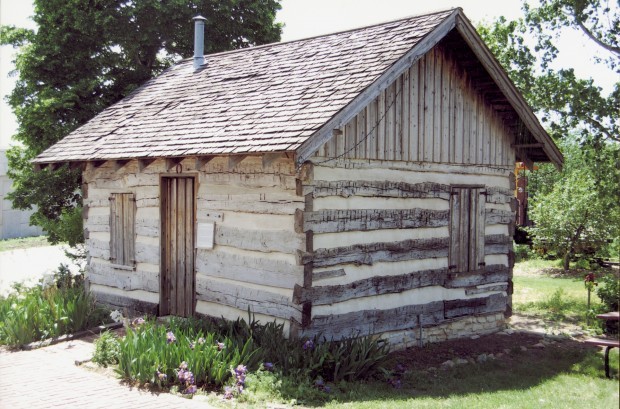 The pending owner of Lincoln's oldest house will likely consider proposals to move it after the first of the year.
On Jan. 1, the University of Nebraska-Lincoln will take possession of State Fair Park and begin transforming the fairgrounds into a technology park.
At the same time, UNL will get Hudson Cabin, a log home built in 1863 south of Lancaster, the community that would become Lincoln. The cabin was moved to the fairgrounds in 1976 to go with a collection of historical buildings called Heritage Village.
During a meeting Monday at the Nebraska History Museum, both the city of Lincoln and the Camp Creek Threshers discussed proposals to move and preserve the cabin.
The city would move the cabin to Pioneers Park, said Lynn Johnson, director of Lincoln's Parks and Recreation Department. Heritage School, one of the other buildings on the fairgrounds, was recently moved to Pioneers Park.
A house moving business has offered to move the cabin for free, and the city may start an endowment for its maintenance, Johnson added. Public schools would incorporate field days at the cabin and school into their history instruction.
The Camp Creek Antique Machinery and Threshing Association also would like to add the cabin to its show grounds near Waverly, said Rich Hartz, the association's vice president.
The association already has the money for the move and a full restoration, Hartz said. The group would make the cabin available to school groups for free and could provide better security than Pioneers Park, he added.
Both proposals hinge on the university's willingness to part with the cabin. Dean Petersen, whose father donated the cabin to State Fair Park, said university regents on Friday expressed interest in keeping the cabin on Innovation Campus.
"I think we ought to cool our jets," Petersen said. "Let's see what the regents come up with."
Christine Jackson, UNL vice chancellor for business and finance, said no such commitment was made at Friday's meeting. Keeping the buildings of Heritage Village is not part of the university's plans, she said.
After Jan. 1, UNL will likely put out requests for proposals for the cabin and other historical buildings, Jackson said.
"It is our goal to be able to identify future homes for those buildings," she said. "We're thrilled about the interest by the public to move some of the buildings."