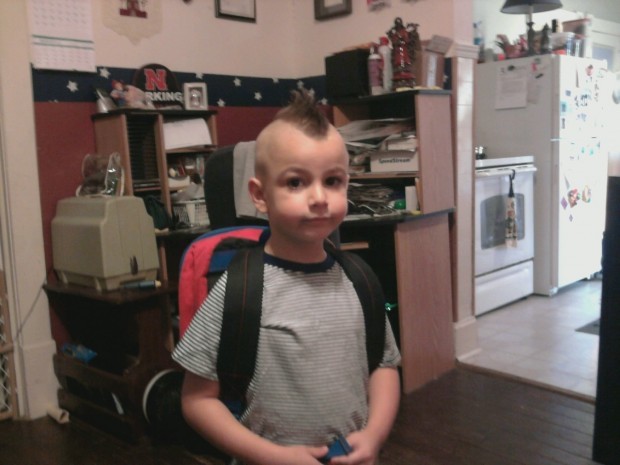 Kerri Thornburg still can picture 4-year-old Josef Parker riding his black and red Mongoose tricycle down Quince Street, right across from the gas pumps at DeWitt's co-op.
Thornburg still can picture Josef, smiling with his hair styled in a Mohawk, getting on the bus she drives to Tri County Elementary School.
And, perhaps most poignant of all, Thornburg can picture a crowd of more than 1,200 -- about two times DeWitt's population -- gathering at the village's community center on Friday to raise around $43,000 for Josef's medical bills.
The smiling boy with the fancy tricycle won the heart of the Saline County village he called home.
But Josef won't ever grow up to hear about the dollars and prayers raised by the people of DeWitt. He died late Saturday morning at an Iowa hospital after fighting bacterial meningitis for more than two weeks.
Until a few weeks ago, Josef was a normal, happy preschooler.
But on Jan. 12, he started feeling sick. The symptoms became more and more acute, sending him to hospitals in Lincoln, Omaha and eventually the University of Iowa Children's Hospital in Iowa City.
While Josef fought for his life -- losing his arms and legs to the disease -- his hometown rallied behind him.
Reagen Mondloch, a DeWitt resident whose youngest daughter was a classmate of Josef's, helped organize a spaghetti dinner and silent auction that brought about 1,200 people to the village and raised tens of thousands of dollars for the boy's medical fees.
The items for sale were as diverse as the people who came to buy them. A man drove from McCook to donate two custom-made cherry wood mirrors. Others gave a lawn mower, a bicycle, a snowblower, gift cards, grills, sports tickets and iPods -- more than 200 items in all.
Cyle Preston, 17, of DeWitt, helped set up the community center for the event with the rest of the Tri County High School basketball team. The wrestling team and student council also chipped in. 
Preston then started a tally of how many people stopped by the benefit dinner. His clicker was at 1,200 when he stopped counting at 7:30, but people kept trickling in until 8.
A junior at Tri County, he didn't know the Parker family, but still rushed to assist.
"It proves a lot by having a community come together," Preston said. "When I heard about it, I immediately wanted to help out."
Reached on Saturday afternoon, Josef's family declined an extended interview. Josef's grandmother, Teri Fuhrer, said the family was making arrangements to have her grandson's body transported back to DeWitt.
For Thornburg, Josef's neighbor and school bus driver, the past two weeks have brought a series of mixed emotions. Although inspired by the response of her hometown, seeing a child she knows suffer has been unbearable.
"The ups have to be the support that everybody has shown," she said, "and of course the downs are that you see a little boy riding his trike, riding up and down the street and in your driveway, and the next thing you know he's fighting for his life."