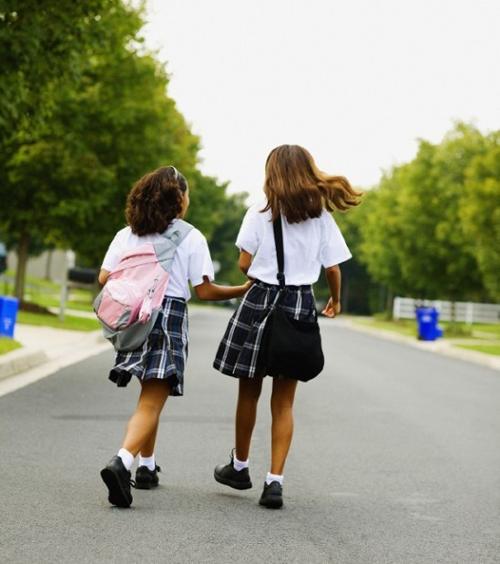 One in 10 Nebraska kids is not all right.
One in 10 suffers from some sort of behavioral health problem, according to the 2010 Kids Count in Nebraska report being issued Tuesday by Voices for Children.
Those kids -- with behavioral, emotional and psychological troubles -- make up more than 26 percent of children in foster care, 65 to 70 percent of the children in the juvenile justice system and a disproportionate number of school drop-outs and children in poverty, said Melissa Breazile, research coordinator for Voices for Children in Nebraska.
This year's Kids Count report is a mixed bag. While graduation rates have increased and dropout, school expulsion and infant mortality rates have dipped, poverty and its many related issues have increased -- some rather significantly.
This year's annual report is comprised of statistics from 2009 and 2008, the most recent numbers available.
In 2000, 10 percent of Nebraska children lived in poverty. As of 2009, that number had jumped to 15.2 percent. The highest poverty rates are among children of color: 48.4 percent of black children, 34.5 percent of Native children and 29 percent of Hispanic children, compared to 11.2 percent of white children.
Voices for Children has long pointed out gross disparities in child well-being among the state's poor and minority populations. Children in poverty have been found to be at greater risk of inadequate nutrition, low-quality child care, unsafe neighborhoods and schools, trauma, abuse, neglect, parental substance abuse, depression, domestic violence, exposure to environmental toxins, being uninsured and having more interaction with the juvenile justice and child welfare systems.
Those same disparities come into play when looking at children's behavioral health disorders, Breazile said. While behavioral health issues -- which include a wide range of mental health and substance abuse problems -- know no boundaries, poor families are less likely to have access to behavioral health services and resources than their more well-off counterparts: 9 percent versus 28 percent, according to the National Survey of Children's Health.
And in Nebraska, geography plays a big role in those disparities. About 57 percent of the state's children live in counties with a shortage of mental health services, and another 29 percent live in counties where mental health services can be difficult to find. Only 14 percent live in counties without a shortage, Breazile said.
For years, Voices for Children has said Nebraska needs to improve its behavioral health services to families. For 30-odd years, the state has worked to improve behavioral health care, Breazile said.
"Yet it remains an unfinished house of sorts ... an incomplete construction project with some walls up, but much remains to be done," she said.
Beth Baxter, administrator for Region 3 Behavioral Health Services in Kearney, said only one-quarter of children get the behavioral health care they need.
"That means three-quarters of them are not getting help," Baxter said. "Nineteen percent of all pediatrician visits involve some type of psychosocial problem, making it the most chronic condition for pediatrician visits -- more than asthma."
She cited a 2001 national survey of child welfare workers and juvenile justice officials in 19 states and 30 counties that found 12,700 children were in the child welfare or juvenile justice systems because it was the only way their parents felt they could get help for their behavioral and mental health needs.
In Nebraska, that desperation was punctuated in 2008, when the state enacted the Safe Haven Law. Within the first few weeks, 36 children were dropped off by parents who said they no longer could care for them; 34 of those children had received prior mental health treatment. Two-thirds of the children relinquished were teenagers suffering from behavioral health problems, Breazile said.
"Safe Haven parents showed us that parents sometimes have to do desperate things to get help for their children," Baxter said.
When the state hastily modified the law to limit it to babies younger than 30 days, it also worked to improve the behavioral health care system for families by establishing a hotline, a peer-support network and a post-adoption/guardianship program.
While Voices for Children praised these programs, it also noted that the Nebraska Family Helpline, which took 1,371 calls in the first nine months of 2010, is on the potential chopping block as the Nebraska Legislature addresses a huge budget shortfall.
Breazile stressed the importance of keeping the helpline and expanding other behavioral health programs.
"We believe the prosperity of the state depends in large part on caring for our children today," Breazile said. "If we address the health needs now, it increases the chance all children will grow up to be productive and prosperous."
Baxter said the first step for Nebraska is to recognize that mental health is an essential part of children's development and well-being.
"We need to get away from the stigma of being afraid to bring children forward and get away from not wanting to appropriately diagnose kids. We need to know the issues and provide appropriate treatment.
"Parents should not have to give up custody of their children in order to get help," Baxter said.
Be the first to know
Get local news delivered to your inbox!