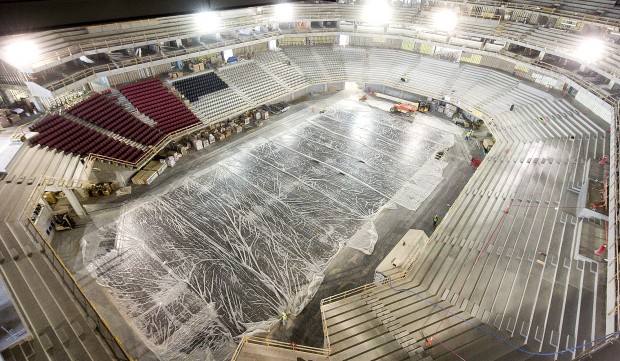 Cellphone reception in the Pinnacle Bank Arena ought to be good — no "can you hear me now" calls — with the help of an antenna system.
The West Haymarket Joint Public Agency approved a contract Thursday with Concourse Communications for a DAS (Distributive Antenna System) cellular network in the arena.
Concourse communications will contract with cellphone companies and share the profits with the JPA, the three-man group overseeing arena-related construction.
Basically, these are little antennas inside the building that allow people to get cellphone reception, said Dan Marvin, arena project coordinator for the city.
The whole of the downtown has spotty service, because so many people downtown are using their cellphones at the same time, said Marvin. This would provide great reception inside the building, he said.
Concourse Communications buys, installs, operates and maintains the equipment, said Paula Yancey, arena project manager. The JPA will get 40 percent of the gross revenue or $16,800 a year per active carrier, whichever is greatest, based on the contract.
Concourse Communications Group, a subsidiary of Boingo Wireless Inc., has cellular DAS operations at about a dozen airports and other large venues across the country, including Baltimore-Washington International Airport and the Lincoln and Holland tunnels.
The 10-year contract can be extended twice for five years at a time.