Brian Boitano went out for a drink in Lincoln the other night. And then another, and then another.
The Olympic gold medalist was impressed with what he saw, and what he sampled, during his visits to Barrymore's, The Other Room and a few of Lincoln's other finer bars.
"There are a lot of cutting-edge places," he said. "I found that where we went to last night was pretty diverse."
The former world champion figure skater was out on the town for a night of field research. Now a Food Network personality, he also took a part-time job developing cocktails and wine and food pairings for the $19 million Kindler Hotel going up near 11th and P streets.
And he began by seeing what Lincoln is drinking. "The first step is literally to find out what Lincoln wants, and it seems that Lincoln wants everything, really," he said.
The next step: He'll return to San Francisco to build the cocktail menu, spending months testing and tweaking the recipes.
At the same time, but on the other side of the country, another former Olympic figure skater and his wife will be designing a wine cellar capable of storing more than 1,000 bottles.
"It's going to be both function and design," said Michael Weiss, who builds high-end homes in the Washington, D.C., area, and whose wife, Lisa, specializes in wine cellars. "It's going to be the first thing you see pretty much when you walk in the lobby."
Both skaters were in Lincoln on Wednesday with Kindler owner Nick Castaneda to update progress on the 49-room boutique hotel, scheduled to open in the spring.
You have free articles remaining.
It's taken years to get to this point, said Castaneda, an Arizona developer who married Lincoln native Brooke Kindler.
"It hasn't really been a real easy process because there's so many people involved," he said. "But I think the product is starting to come around."
It was close to everything — a parking ramp, Memorial Stadium, the Lied Center for Performing Arts, Misty's.
"If I had to pick a location again, I'd just pick that location," he said. "I think it's the best location."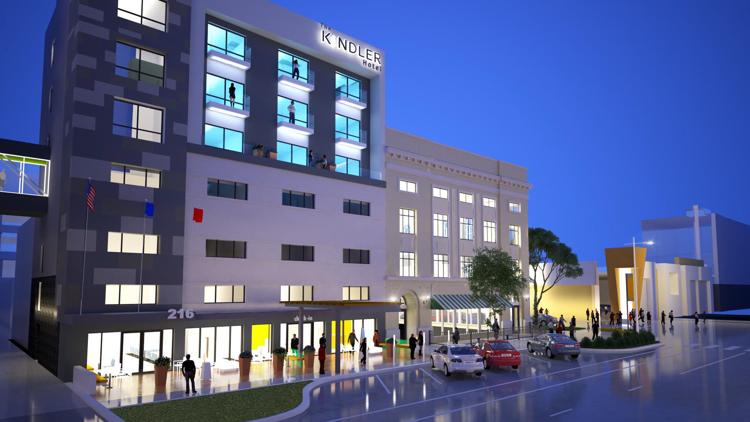 He announced the plan in late 2016 and later enlarged it — adding three floors, securing $2.6 million in city tax incentives, working with the neighboring building's owners, who are renovating the Commercial Club ballroom and building four of their own rooms the hotel will manage.
Castaneda couldn't yet say how much the Kindler will charge, but he expected rooms to start somewhere near $200 a night, though that rate could double at times.
He'll market it toward guests who want more than a three-star experience. Heated floors. Bigger TVs. Softer carpet.
And a drink menu designed by the first American to land a triple axel in competition.
"Obviously, you want everybody, but there will be a certain group of people that will go to it," he said. "What I don't want is seven guys in a room drinking Budweiser, ruining things."