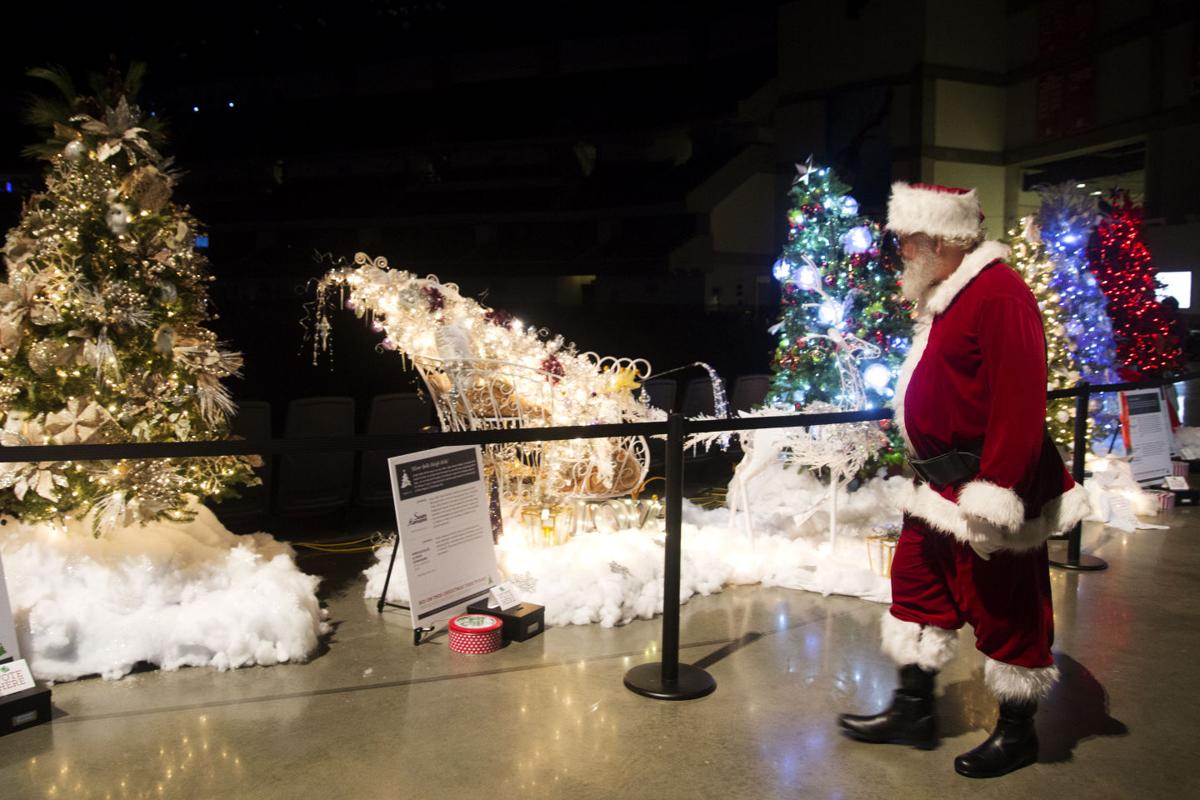 A year ago, the pandemic took away some of the holiday cheer, erasing musical and theatrical offerings from the calendar.
In their place, light shows filled the void, and their bulbs are still shining brightly this holiday season. But concerts and shows have returned, and the month between Thanksgiving and Christmas promises to be both "merry and bright."
This listing can help plan your holidays. Have something to submit? Add your listing at journalstar.com/events (Click on "Promote your event.")
Holiday events in Lincoln
Starry Nights Tree Festival  Friday-Sunday. Walk through 15 designer-decorated Christmas trees, benefiting People's City Mission, Gateway Mall, 6100 O St.
Holiday Open House — Turbine Flats, 5-8 p.m. Dec. 3. Shop local vendors, live music,photo opportunities, snacks and free hot cocoa, 2124 Y St. 
Holiday of Trees: Heritage League — Westminster Presbyterian Church, 10 a.m.-8 p.m. Dec. 2; 10 a.m.-7 p.m. Dec. 3; View decorated trees, live music, food items for purchase, $1 admission, benefiting Friendship Home, 2110 Sheridan Blvd.
Old World Christmas — 4-8 p.m. Dec. 3; 9 a.m.-4 p.m. Dec. 4. A German town square will be recreated inside the church, including vendor booths and holiday decorations. Also live music, photo opportunities, raffles, prizes, Vine Congregational United Church of Christ, 1800 Twin Ridge Road.
Cookie Walk and Craft Fair — 9 a.m.-3 p.m. Dec. 4. Cookie walk, craft booths, including games and puzzles for sale; get carry-out soups, sloppy Joe sandwiches and pie. Proceeds benefiting mission work, First United Methodist Church, 2723 N. 50th St.
Spring Creek Prairie Holiday Open House — 1-4 p.m. Dec. 5. Live music, crafts and treats, 11700 SW 100th St., Denton. 
Carols in your Car — 4:30 p.m. Dec. 5. An evening of traditional Christmas carols, led by the Trinity Choir, enjoyed while staying warm in your car, Trinity United Methodist Church, 7130 Kentwell Lane.
Historic Whitehall Mansion holiday tours — 1-5 p.m. Dec. 12. Walk through the beautiful 111-year-old Lincoln landmark decorated for the holidays, 5903 Walker Ave. 
Visit with Santa
Santa's entrance and tree lighting ceremony at SouthPointe Pavilions — 5:30 p.m. Saturday. Including treats and giveaways. Santa Station open daily Friday-Dec. 24. Sundays, 2910 Pine Lake Road. 
Light shows
"Light the Night" at Christian Heritage — 6-9 p.m. Dec. 9-11. Drive-thru Christmas light spectacular, including live nativity scene and a "Whoville"-type Christmas-themed campus, $20 per car, 14880 Old Cheney Road. Register: Lightthenightforkids.org.
Magical Lights of Seward — Friday-Dec. 31. $20-$25; Seward County Fairgrounds, 500 N. 14th St., Seward. Tickets:magicallightsofseward.com.
Nebraska drive-thru holiday light magical experience — 5:30 p.m.-midnight Saturday-Jan. 1. Stay in your car and experience a show with all lights synchronized to music, $40-$140, Haymarket Park, 403 Line Drive Circle. Tickets: nebraskachristmaslightsshow.com.
Santa's Rock 'n Lights — Friday-Jan. 2. Drive-thru holiday light show featuring a mile-long display of 100,000 animated lights synchronized to Christmas music; admission starts at $24.99 per vehicle, Werner Park, 12356 Ball Park Way, Papillion. Register: Santasrocknlights.com.
Zoo Lights — Friday-Dec. 30. The Lincoln Children's Zoo is transformed into one of the largest light displays in the Midwest, including a 40-foot Christmas tree, holiday train rides and a 60-foot lighted tunnel walk. Enjoy s'mores or hot cocoa at snack stations, 1222 S. 27th St. Tickets: bit.ly/3nO2OCv.
Concerts 
Christmas at the Museum — 5:30 p.m. Dec. 3. The St. Teresa Heritage Children's Choir will perform. Also, a performance of "'Twas The Night Before Christmas," featuring Bob Snider, percussionist, and Lance Nielsen on narration. The flute choir will perform. International Quilt Museum, 1523 N. 33rd. St. 
"Tidings of Comfort and Joy"— 4:30 p.m. and 7:30 p.m. Dec. 4. Nebraska Wesleyan University Choir, Jazz Choir, Chamber Singers, Columbus High School and Fremont High School join together for a Christmas concert. The five ensembles make up 200 performers, accompanied by a string quintet, oboe, guitar, percussion, piano and organ, First United Methodist Church, 2723 N. 50th St.
Lincoln Symphony Orchestra "Deck the Halls" — 2 p.m. and 6 p.m. Dec. 5; $5-$35, Lied Center for Performing Arts, 301 N. 12th St. Tickets: Liedcenter.org.
Lincoln Choral Artists "Singing in the Holidays" concert — 7 p.m. Dec. 9; $15-$20, New Hope United Methodist Church, 1205 N. 45th St.
Martina McBride "The Joy of Christmas" concert — 7:30 p.m. Dec. 11, $40-$99, Lied Center, 301 N. 12th St. Tickets: Liedcenter.org.
Mannheim Steamroller Christmas — 3 p.m. and 7:30 p.m. Dec. 21, Lied Center, 301 N. 12th St. Tickets: LiedCenter.org
Theater
"A Christmas Carol" — 7:30 p.m. Dec. 2-4 and Dec. 9-11; 2 p.m. Dec. 5 and Dec. 12, Nebraska Wesleyan University, McDonald Theatre, 5100 Huntington Ave. 
"Elf" — 7:30 p.m. Dec. 3-4 and Dec. 9-11; 2 p.m. Dec. 4-5 and Dec. 11-12; $12-$18, Beatrice Community Players, 412 Ella St., Beatrice. Tickets: 402-228-1801.
"Elf Jr." — 7:30 p.m. Dec. 9-11 and Dec. 17-19; 2 p.m. Dec. 12, Lincoln Community Playhouse, 2500 N. 56th St. Tickets: Lincolnplayhouse.com.
"The Nutcracker" — 2 p.m. and 7 p.m. Dec. 18; 2 p.m. Dec. 19, Lied Center, 301 N. 12th St. Tickets: Liedcenter.org.
"The Santaland Diaries" — 7:30 p.m. Dec. 9-11 and Dec. 16-18, 2 p.m. Dec. 12 and Dec. 19, Tada Theatre, 701 P St. Tickets: tadaproductions.info
Other celebrations
Holiday Extravaganza — Saturday, full day of events, including live nativity and capped by Starry Knight Parade, Elmwood.
Christmas Festival — Saturday, full day of events capped by tree lighting and Lighted Evening Christmas Parade, Seward.
Christmas at the Mansion — Dec. 3-5, Dec. 10-12, Dec. 17-19, experience the holidays the way the Morton family did, Arbor Lodge Mansion, 2600 Arbor Ave., Nebraska City.
Old Fashioned Christmas Parade — 4:30 p.m. Dec. 4, parade and community tree lighting, Firth.
Holiday Lighted Parade — 5:30 p.m. Dec. 4, Beatrice.
"A Swinging Brownville Christmas" — 7:30 p.m. Dec. 10-11, 2 p.m. Dec. 12, $16-$25, Concert Hall, 126 Atlantic St., Brownville. Tickets: Brownvilleconcertseries.com.
Hometown Christmas — Dec. 11, craft show and day-long events, capped by annual Parade of Lights, Ashland.
New Year's Eve Fireworks Spectacular — 7 p.m. Dec. 31. Outside CHI Health Center, 10th and Cass streets, Omaha.