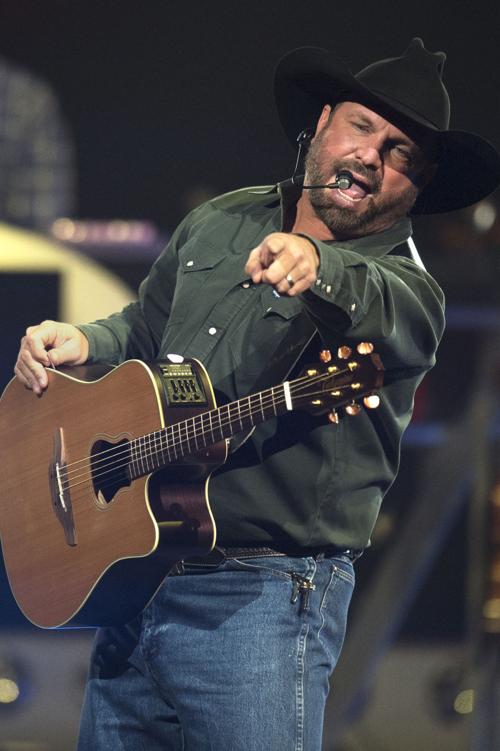 Fans can thank Garth Brooks for a couple of things: bringing more than 80,000 people together in August for the first time since the pandemic began — and letting them sip a beer in Memorial Stadium to note the occasion.
The Lincoln City Council on Monday approved a special designated license allowing Premier Catering to sell alcohol in Memorial Stadium during Brooks' Aug. 14 concert for what could well be the first time.
There's no alcohol allowed in the stadium on game days, and it will be only the second time the stadium has been a concert venue. No officials interviewed could remember whether alcohol was sold during 1987's Farm Aid concert, though it seems unlikely. Larry the Cable Guy's performance there in 2009 did not include alcohol sales.
"The decision was made to request alcohol sales for this specific event, in coordination with those organizing the concert," a UNL spokesperson said in an email response about why officials decided to do so for the Brooks concert. "It has no bearing on the sale of alcohol at Husker Athletic events."
Concerts at Pinnacle Bank Arena include the sale of alcohol, but that's typically around 15,000 people. This performance will draw more than five times that many.
The special license, which allows the catering company to sell beer, wine and distilled spirits, must still be approved by the Nebraska Liquor Control Commission, but such approvals are typically routine and don't require a hearing.
Hobie Rupe, executive director of the state commission, said he'll have a couple of meetings with the catering company officials and his staff to work through some of the challenges of security, alcohol storage and training because of the large number of people expected. But he doesn't plan to hold a full hearing.
The commission has approved such special licenses for events that have served that many people over a matter of days, but not in one day, he said.
"Because it's unique, we'll take a little deeper dive," Rupe said. "It's sort of out of the blue because we've never had a (special designated license) for 90,000 people before."
Scott Parker, liquor investigator for the Lincoln Police Department and the city, said the city hasn't had an event of this magnitude that includes alcohol sales, so there have been lots of meetings to work through the details and make sure it's goes smoothly and everyone is safe.
"This is kind of a trial run," he said. "We are kind of inventing the wheel here to make sure this goes off without a hitch. It's not a Husker game day, but it's going to look like one."
Tom Lorenz, general manager of Pinnacle Bank Arena, said he and one other person who train managers will help to train servers and sellers. Typically servers take the training online — and many of the Premier staff have done so and are experienced, but because of the number of servers needed, they'll help.
The training teaches servers skills such as what to look for on IDs to make sure they're legitimate and how to recognize obvious signs of intoxication, he said.
Council members unanimously passed the resolution for the special designated license Monday with no discussion, as well as a similar license for Blur Parties, an event company that plans to set up a space in a large parking lot near Ninth and T streets across the street from Memorial Stadium.
The company often holds private corporate events during Husker games in the same location. Special designated licenses aren't allowed on Husker game days off properties that hold liquor licenses.
Because the concert isn't on game day, Blur Parties can invite the public, Parker said. Stacy Leners, with Blur Parties, told the council Monday they will sell as many pre-purchased tickets as possible. Wristbands will be used to clearly identify minors at the event, which will include televisions, food and lawn games and other entertainment.
Lorenz said venues of similar size all across the country serve alcohol and it's not anything highly unusual. What's unique is having a concert like this at Memorial Stadium.
"The idea of being able to have some alcohol available for a unique circumstance is an appropriate opportunity to go with a country concert," he said.