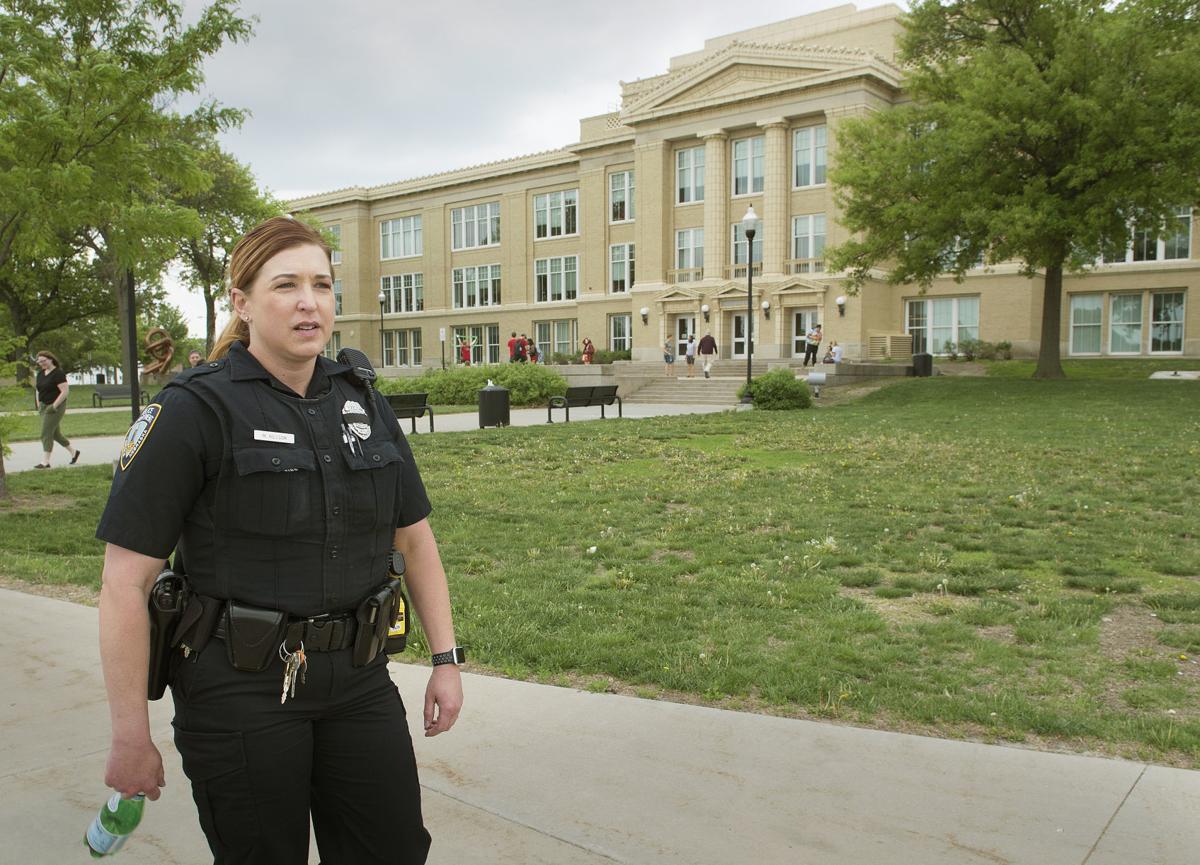 Policies regarding school resource officers' responsibilities in Nebraska's schools vary widely and most schools don't adequately track statistics on students arrested or referred to the criminal justice system, a study by the ACLU of Nebraska found.
"Everybody in our community is concerned about student safety, but I think we need to ask hard questions and tough questions about whether these well-intentioned programs are the best way to address school safety and whether they have unintended consequences and exacerbate the school-to-prison pipeline," said Danielle Conrad, ACLU of Nebraska executive director.
In a study released this month, the ACLU found that 34 of Nebraska's 244 school districts contract with law enforcement agencies for a permanent police presence in schools, and 1,502 students were referred to the criminal justice system by police in schools in 2015-16.
And the study found that in nearly all those school districts, students of color and those with disabilities are disproportionately referred to law enforcement — a trend that follows what's happening nationally.
Lincoln Public Schools showed some of the largest disparities, according to the information compiled by the ACLU based on data from the federal Office of Civil Rights for the 2015-16 school year. LPS officials have acknowledged the disparities and said they are working to reduce them.
While 33 percent of LPS enrollment was students of color in 2015-16, they represented 70 percent of those referred to a law enforcement agency. Nearly 16 percent of LPS students have a disability, but students with disabilities represented nearly 51 percent of those referred to law enforcement agencies.
School resource officer programs have been expanding across the country in response to school safety concerns and school shootings, and in May, LPS added six school resource officers to middle schools as part of an interlocal agreement with city officials on a number of initiatives to increase school safety.
While a group of parents and community members advocated for more school resource officers, others were concerned they would exacerbate the school-to-prison pipeline, particularly for minorities and students with disabilities.
Among the critics was ACLU of Nebraska, which recommends in the study that police only enter schools to address public safety threats. 
The study notes national studies that found having police in schools criminalizes student misconduct cases previously handled by school disciplinary procedures.
The ACLU filed public records requests seeking reasons for law enforcement referrals in the 34 Nebraska schools and found just six of the 34 school districts could provide reasons for the law enforcement referrals broken down by students' race and disability. Four of the 18 law enforcement agencies did.
The ACLU found some of the incidents referred to school resource officers: a middle school student spitting on another student, grade-school brothers yelling and cussing, a student egging another students' car and a candy bar stolen from a teacher's desk.
The study also found that 56 percent of the school districts (19) do not require that a parent be notified before their student is questioned by police for incidents that happen at school. Just two of the 18 law enforcement agencies require that a parent be present during questioning.
None of the school districts have policies or procedures on how students should be advised of their rights when being questioned by police.
The ACLU also advocates using memorandums of understanding to specify procedures and policies to safeguard students' rights including notifying parents, what data to collect and how to distinguish between criminal and school misconduct.
The study found that 31 of the 34 school districts with school resource officers have memorandums of understanding, but most — including Lincoln's — lacked specific procedures. 
The study also recommends that police get specific training on working with young people; and that the state explore legislation on data collection, on alternatives to criminal justice referrals for minor violations and providing interrogation safeguards for students both in and outside of school setting.
Get local news delivered to your inbox!
Subscribe to our Daily Headlines newsletter.