The streets were emptier that night in late January, when a team of volunteers searched the city looking for Lincoln's homeless.
So were the parking garage stairwells. And the bridge bottoms. And all of the other makeshift shelters people seek when they have nowhere else to go.
The Lincoln Homeless Coalition recently released the results of its annual point-in-time homelessness count, and the big news is how small the number has become: Volunteers found 451 homeless people, down 25 percent from last year — and less than half of what it was in 2012.
"It's a significant drop," said Lee Heflebower, director of housing at Region V Systems. "It's been going down for several years, but this is a big dip."
The majority of those identified as homeless were living in some sort of shelter — either at the mission or in transitional housing — and volunteers found just 45 people on the streets, down five from last year and 64 percent fewer than 2012, when they found 125 unsheltered homeless.
* The 451 people identified as homeless this year were from 350 distinct families.
* Nearly one-fourth of the people counted were children.
* 16 people were veterans — a 70 percent decrease from last year.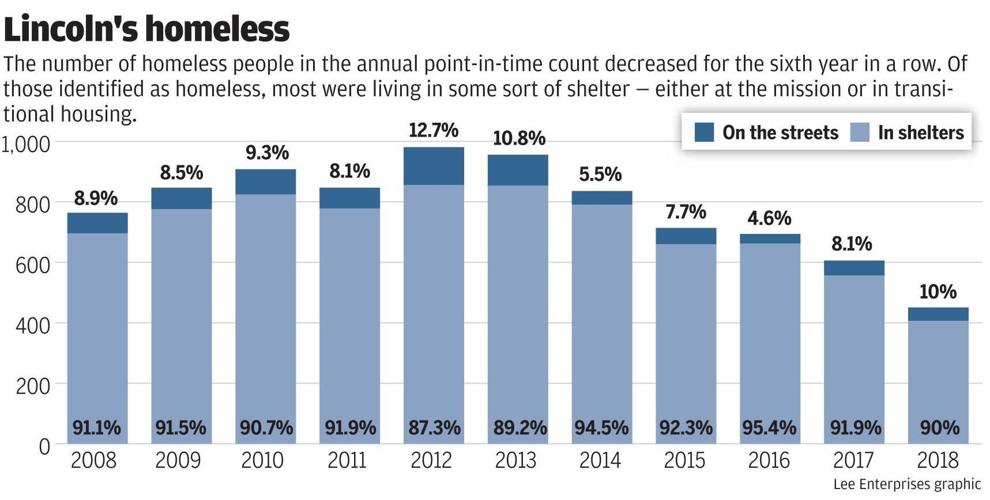 Members of the Homeless Coalition see that last number as a particular success, the result of a concerted effort between the Department of Veterans Affairs and agencies that are fighting homelessness. The opening of the Victory Park apartments at the VA campus helped, Heflebower said.
"We're very close to ending veteran homelessness. All of those people have been identified. They're sheltered now, and none of them are on the streets."
The University of Nebraska-Lincoln's Center on Children, Families, and the Law analyzed the data and details from the Jan. 23 count, and director Jeff Chambers attributed this year's decrease to a pair of factors:
They now know who in Lincoln needs the most help. And they have programs to put a roof over their heads.
Lincoln's housing and service agencies contribute to what they call the coordinated entry system — a constantly updated list of the city's homeless, ranked by levels of vulnerability. Agency representatives meet weekly to prioritize the list, and to get the most vulnerable into housing.
Outreach workers and service providers keep in close contact with those who have become homeless, and know most of them by name. In fact, none of the 451 people counted in January were strangers.
"They have a good handle on who's experiencing homelessness," Heflebower said. "Unless someone showed up 20 minutes ago on the bus, we've got it."
And they've embraced what they call rapid re-housing: They find and pay for apartments to get people off the streets, and then they provide the services — mental health counseling, for example, or help with addiction — they need.
Rapid re-housing is short term, typically three to 18 months — a boost to help get people back on their own.
"There's an increased likelihood someone is going to be successful. Get them housing, get them support, look at the issues that made them homeless," Heflebower said. "If you expect them to have their lives in place before they move into housing, that makes it difficult and they're on the streets longer."
They've also put an emphasis on permanent supportive housing for the most vulnerable — arranging long-term apartments, paying rent, offering the help they need to become self-sufficient.
When the point-in-time count is conducted next year, Heflebower expects the number of homeless to continue to decline, though maybe not as dramatically.
And neither she nor Chambers expects the number to reach zero. There will always be homeless people, but the offices and agencies who fight it will continue to try to know who they are, and have a room ready.
"We're going to be at a point where we can identify someone who is homeless in our community," Chambers said. "And we're going to be at a point where we can get them into housing."