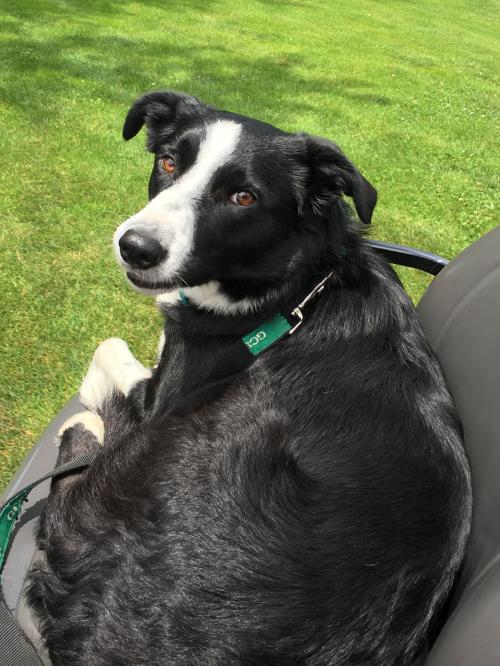 The last time he was seen alive, Bogey the border collie was doing his job -- herding geese at Holmes Golf Course.
"It's a sad story," said Lynn Johnson, director of the city's Parks and Recreation Department.
And a short story, one that played out on a late August morning but is just now being told by the city.
Bogey moved to Lincoln this summer from North Carolina, where he was trained by Flyaway Geese, a 22-year-old company that provides goosedogs to airports and golf courses.
He'd replaced Peg, a year-old puppy worth $6,500 the city won in a national contest in April. Peg was good at herding geese but had a bad habit of barking at golfers.
In his short time on the course, Bogey proved capable of his job and more comfortable around people, Johnson said.
"Bogey was doing well. I met him once. He was different from Peg. Peg was very shy."
The morning of Aug. 20, Bogey and his handler, golf course maintenance manager Casey Crittenden, were on the course. When they saw geese, Crittenden directed Bogey to do his job.
"And he took off," Johnson said. "Casey lost sight of him and couldn't find him."
The border collie disappeared over a hill. They don't know what happened next: The course is fenced along 70th Street, so the dog either went south, through College View Cemetery, or north toward the park's entrance.
Either way, the 2-year-old ended up on the busy street and in the path of a car.
Animal Control took the call at about 9:30 that morning, said Steve Beal, its director. A woman had found Bogey's body on the road and put it in her car, meeting an officer at a nearby business.
The officer traced the dog's tags back to the golf course.
The parks department doesn't plan to replace Bogey, Johnson said; it doesn't have that kind of money in its budget.
Still, the city, and Crittenden, lost more than a hard worker and a good boy that day, he said.
"He was essentially a family member."
Get local news delivered to your inbox!
Subscribe to our Daily Headlines newsletter.