Reagan Graham rolled into the west Lincoln warehouse in a wheelchair, but soon she was cruising in style.
The 2-year-old wheeled around in her new blue Ford, the gathered crowd making room for her, music on her car stereo, a smile on her face.
And on her mother's. "It means a lot to me for her to have this," said Jordan Graham. "And to have a more normal life than being confined to just a few areas."
Her daughter was one of three children with special needs who were presented with their own wheels Friday, the result of a recent partnership between Madonna Research Institute and Rolling Hills Trading Inc.
The electric cars — higher-grade versions of the Power Wheels found at Target and Walmart — were modified by University of Nebraska-Lincoln engineering students to meet each child's specific needs, giving the young drivers a more open road than they're used to.
"It gives her a lot more mobility, to go to the park and play more, or to go to the backyard and play with her sisters," Graham said.
Friday's presentation was the result of two weeks of work between Madonna and Rolling Hills, though each had already been modifying cars on their own.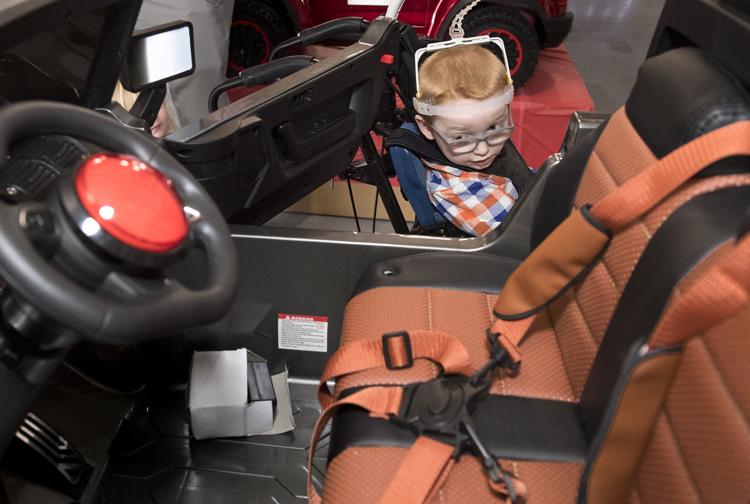 Rolling Hills is a Lincoln-based online retailer, selling party tents and a line of electric children's cars. Last year, owners Rick and Dawn Sebek heard from a Utah customer who was modifying the company's cars for kids with special needs.
The couple did some research, learned about Go Baby Go — a national effort to match kids with modified cars — and launched their own nonprofit in February. Their SMILE foundation worked with a physical therapist to modify a half-dozen cars in Lincoln, and it donated more models to the program in Utah.
"When you learn about this, it's hard to stop giving," Rick Sebek said.
They reached out to Madonna earlier this fall.
Chase Pfeifer, Madonna's assistant research director, had already adapted three cars. The kids there loved the results, but the work was difficult and costly. Cars for kids with special needs require remote controls — so parents can take the wheel when necessary — and the cars Pfeifer was buying from big-box stores didn't have them. That required more modification.
But the cars from Rolling Hills already came equipped with remote controls. "This is going to make it a lot easier," Pfeifer said. "This seemed like the perfect fit for us."
Two weeks ago, Madonna therapists selected three of their pediatric outpatient clients — a pair of 2-year-olds and a 5-year-old. They were measured, their needs were assessed, and eight of Pfeifer's university students got to work.
They spent about four hours on each car, adding a push-button accelerator on the steering wheel, and five-point harnesses to keep the kids in their seats, disabling the gas pedal, getting the right fit.
For 5-year-old Payton Raasch, who has cerebral palsy and limited neck strength, the student volunteers used PVC pipe and a 3-D printer to build a head support.
"He likes to be on the go," said his father, Justin Raasch. "This will be a nice option around the house."
Depending on the model and the modifications needed, the cars each cost between $300 and $500, and the three donated Friday were sponsored by Midwest Bank.
But therapists measured three more children Friday, and they'll need donations for those — and for all of the other cars they want to match with young drivers in need.
"We would love nothing more than to give away as many cars as we can," Rick Sebek said.