This party started years ago.
Everything the Lincoln Children's Zoo has planned Friday — the long-awaited reveal of its 10-acre, $20 million expansion, the public unveiling of its giraffes, Sumatran tigers and spider monkeys, the ribbon-cutting by the governor, mayor-elect and the zoo founder's descendants — began in 2014, with a series of questions.
The zoo talked to focus groups, families, children.
"We wanted to see what they wanted their Lincoln Children's Zoo to keep," said John Chapo, its president and CEO. "And what they wanted it to become."
It asked its staff, too. What species do we want? Where, and how, will we take care of them?
And the answers it received led to one of the city's most complicated construction projects, with zoo staff and veterinarians and architects and engineers and contractors traveling the country to determine how to build high-tech homes for Lincoln's largest predators, its tallest ungulates and some of the world's most critically endangered monkeys.
The goals? Conservation and education — the zoo wanted a role in preserving threatened species and opportunities to learn more about them. But it needed to build habitat that would keep the animals safe and satisfied — and the visiting humans safe and satisfied, too.
"Those were all drivers for us," Chapo said. "That's why we sent staff and consultants out across the country to make certain we would design and build the best."
But first, its contractor had to learn how to create a zoo. Hausmann Construction was used to putting up offices and classrooms and institutions, but hadn't before built homes for tigers and giraffes.
"We did a ton of research figuring out what products and what methods we were going to use to construct this job," said Chad Wiles, the company's vice president. "We really learned a lot early on, before we started the project."
They also took a trip to Colorado, studying zoos in Denver and Fort Collins and peppering their zookeepers about gates and cages and where they got their products.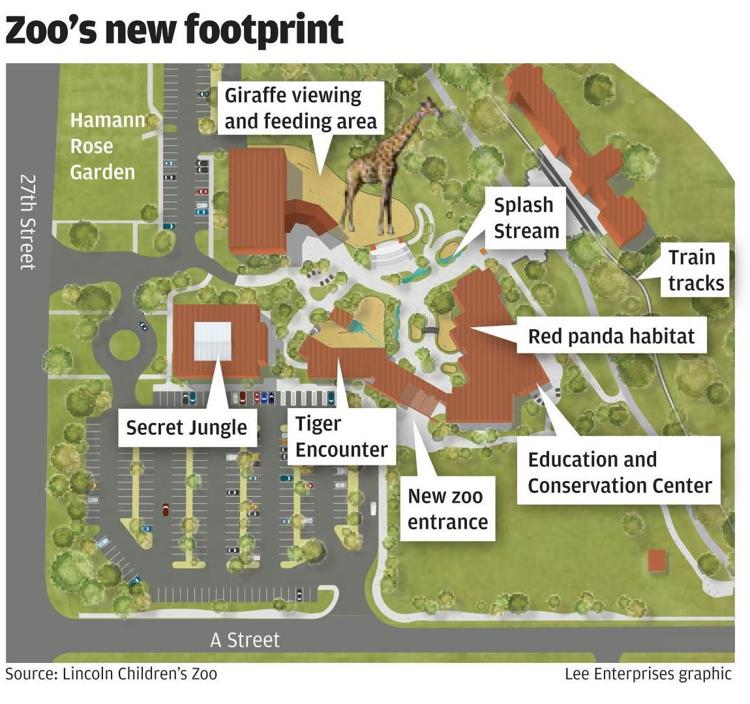 Chapo's staff also hit the road to gather ideas. Before it built the indoor-outdoor giraffe enclosure, for example, his team visited 35 zoos. It also brought in experts from Arizona.
The floor alone sets a new standard among zoos, Chapo said. They poured layers of rubberized material to give it a padded feel, and they embedded pumice on the surface to give the animals traction.
And beneath all of that, they installed heating elements. "When you're 18 feet tall and there's heat blowing, you can have a warm head and neck and still have cold feet."
Nearby, they created a grassy 5,000-square-foot tiger habitat with boulders, a pond, running water and a small cave with heating and air conditioning.
The 250-pound predators are kept inside by 17½-foot fencing and a wall of 2-inch, four-layer laminated glass that weighs 50 pounds per square foot — so heavy it had to be installed by a robot, Chapo said.
The public will get a chance to see all of this at 10 a.m. Friday, when the great-great-granddaughters of zoo founder Arnott Folsom cut the ribbon on the expansion.
They'll also get a chance to see the three black-headed spider monkeys and the 24-foot-tall indoor playground in the old Ager Indoor Play Center, and the new entrance and gift shop, and the new Education and Conservation Center, and soon the 72-foot outdoor splash stream.
But the public won't see what the zoo and its contractors built behind the scenes. The private quarters were designed so zookeepers can easily separate the animals to provide them care.
"It's not like building a house," Chapo said. "We had to sit down with the architects and engineers and go, 'OK, a bedroom for a child can be 10 by 10 feet. A bedroom for a tiger or a giraffe is considerably bigger.'"
All of the enclosures contain fire suppression systems, climate controls and video cameras. And those are all remotely accessible, so zookeepers can monitor the animals — and adjust their environments — around the clock.
The construction isn't done. The zoo recently announced a second phase of the renovation — cheetahs and anteaters — expected to open next year.
But Thursday, workers were focused on Friday's opening, hanging up the names of donors, cutting ceiling tiles, sweeping the amphitheater, adding another layer of fence to a section of the tiger enclosure.
The expansion took two years — with 60 to 70 construction workers on the site at times — but Chapo hopes it transforms the zoo. From a seasonal attraction with 240,000 visitors a year to a year-round destination that eventually draws 400,000.
"It's a dream come true," he said Thursday afternoon. "I'm still pinching myself."
Photos of new spaces at the Lincoln Children's Zoo:
Get local news delivered to your inbox!
Subscribe to our Daily Headlines newsletter.