The last time this car was in Lincoln, its owner had just finished grad school and had no idea it could make him a millionaire.
Steve Woehrle paid $5,300 for the second-hand Shelby Cobra from an O Street corner car dealer in 1973, and now he was shifting it into drive and running north out of town, first to a teaching gig in South Dakota and then to a long-term tenure in Minnesota.
Woehrle and his Cobra are returning to Lincoln next weekend, but the retired professor won't be behind the wheel. Instead, the car he bought 45 years ago will arrive by truck and trailer, with a security detail and an estimated value of more than $1 million.
"It's a smoker, that car, it really is," Woehrle said. "And it absolutely took off in value."
For its homecoming, the Cobra will join up to 600 other muscle cars during the Mustang Club of America's show July 13-15 at Pinnacle Bank Arena. This is one of the club's national events, and when Lincoln last hosted the show in 2014, it drew entries from all over the country — and an estimated 4,000 spectators.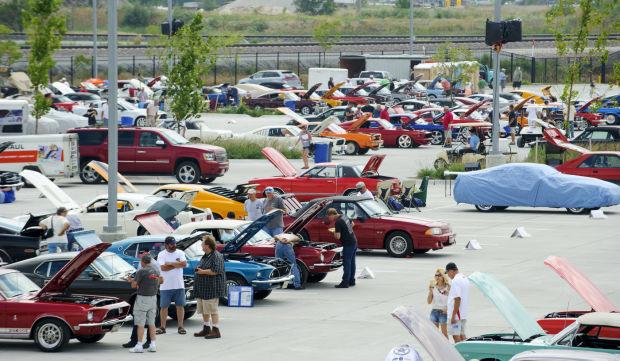 "It was a smashing success," said Dan Zichek of the Capital City Ford and Mustang Club, which has spent hundreds of hours organizing the show for the national club. "So they hit us up again and said, 'Would you guys do another one?'"
Most of the cars will be Mustangs, obviously, but the show includes a class for Ford specialty cars, Zicheck said, like a '68 Cougar, a '56 Crown Vic racer and Woehrle's 1965 AC Shelby Cobra — a Ford-powered, British-based two-seater built by racing legend Carroll Shelby.
The car showed up in Lincoln in 1973, when Dick Eastep was selling cars for Miracle Mile Motors at 18th and O.
That was so long ago, Eastep said. He's not sure how much he can remember. But he thinks the owner needed money to buy property, and he thinks he paid the guy $5,000.
Eastep preferred Corvettes, but he gave the Cobra a chance. "I drove it for a while, but I didn't like it and none of my buddies liked it," he said. "It was rattly."
It wasn't built to be a daily driver. The Cobra was a race car by design, and the production models reflected that — no heaters, no radios, no roll-up windows, aluminum bodies, Ford 289-cubic-inch small blocks.
"It would be stupid to have one," Woehrle said. But he was into cars — his first was a 1940 Ford Deluxe, and in Lincoln he owned a '66 Corvette and then a '68 Jaguar. At the time, he was older than most students; he was getting his Ph.D. in accounting, so he was teaching, too, and had a little money.
Woehrle would linger at Eastep's car lot on his walks to and from campus, admiring the horsepower, Vettes, Jags, even a Pantera.
The salesman got to know the grad student. And one day, he made a pitch.
"He said, 'I see you like high performance cars. I have this car at my house,'" Woehrle remembered.
They drove to Eastep's house at Capitol Beach. "And here sat this car," Woehrle said. "Just a beautiful car."
Fast, too. After he left Lincoln to teach in Vermillion, South Dakota, he would spend Saturdays trolling nearby Interstate 29.
You have free articles remaining.
"I'd hit the road and I'd hunt for Corvettes," he said. He'd egg them on, back off and then punch it. "And I'd come by at least 120 miles per hour and blow their doors off. They hated this Cobra."
They hated it, in part, because it didn't look like a Corvette hunter. The later Cobras were clearly muscle cars, with flared fenders and aggressive lines, but Woehrle's '65 looked more like a British touring car.
He liked to imagine Corvette owners heading home, wondering what was wrong with their big blocks and thinking: "I was passed by a '63 MG."
Woehrle ended up teaching for the rest of his career at Mankato State in Minnesota. He married later in life and never had kids, so he bought more cars, and more, and now owns a dozen.
A few years ago, he took his Cobra to Okoboji Classic Cars, a restoration company and museum in Iowa. He paid $30,000 for the yearlong reconditioning.
"The guy who went through this, he went through the car painfully," he said.
It left the factory Wimbledon White but had been repainted red by the time Woehrle bought it. Besides that, the car remains original — the same exhaust, shocks, wheels, even the headlights, he said.
"It's like a time capsule, that's what makes it so valuable," he said. "It's so original."
That, and the factory automatic transmission, said Toby Shine, who owns Okoboji Classic Cars and keeps the Cobra on display in his museum. Only a few were made that way, he said.
He works with the big collector-car auction houses — like Barrett-Jackson and Mecum — and their experts have examined the Cobra.
"It is a very rare car and it has an interesting story of how he got it," Shine said. "I think starting at the auction, it would be $1 million plus, and then some."
Eastep, who sold it for a fraction of that 45 years ago, isn't a Mustang fan; he owns a 2013 Corvette. And he's never understood the allure of Cobras.
"To this day, I don't know why people get a big bang out of it."
But he's thinking about heading to the arena to catch up with the car he sold so long ago.
And Woehrle is looking forward to bringing it. He calls himself a car-whisperer; he can hear his Cobra asking for another run on Interstate 29.
That would make for a quick trip back to Lincoln.
"This car is an animal. It's a Shelby-made motor, it's got the right cam, and when you get on it, this car really runs."