The little ladybug was first.
That's the way Rodney Turner remembers it.
He and Ellen came out one morning in April and there it was — a palm-sized wooden bug with multicolored spots — on the round table in the driveway where the retired couple sat most evenings after supper with Don and Doris, the Sandells from next door.
Then a small white dove appeared, followed by flowers, pinwheels, fresh veggies, yard signs.
The Mystery on North 76th Street, Rodney called it.
They wondered who the Good Fairies were, leaving behind hand-crafted delights.
He and Ellen quizzed their kids: Is it you?
Don and Doris asked, too.
"We became intrigued by it," Rodney said. "It became an adventure, especially with this pandemic going on. It became quite a bright spot."
The mysterious gifts always landed after dark, after the two couples had said goodbye and gone in for the night.
Their street is a busy one for walkers. Their house is right across from Kahoa Elementary, so there is plenty of traffic, too.
Passersby would see the signs — Don't Give Up, Hate Has No Home Here, a cursive hello written in bright green with a red heart exclamation point.
The art would start conversations.
Then one day this summer, a car stopped in front of their brick ranch.
The Schawang kids and their parents, Shawntay and Glenn. The Turners had known them since the triplets were babies.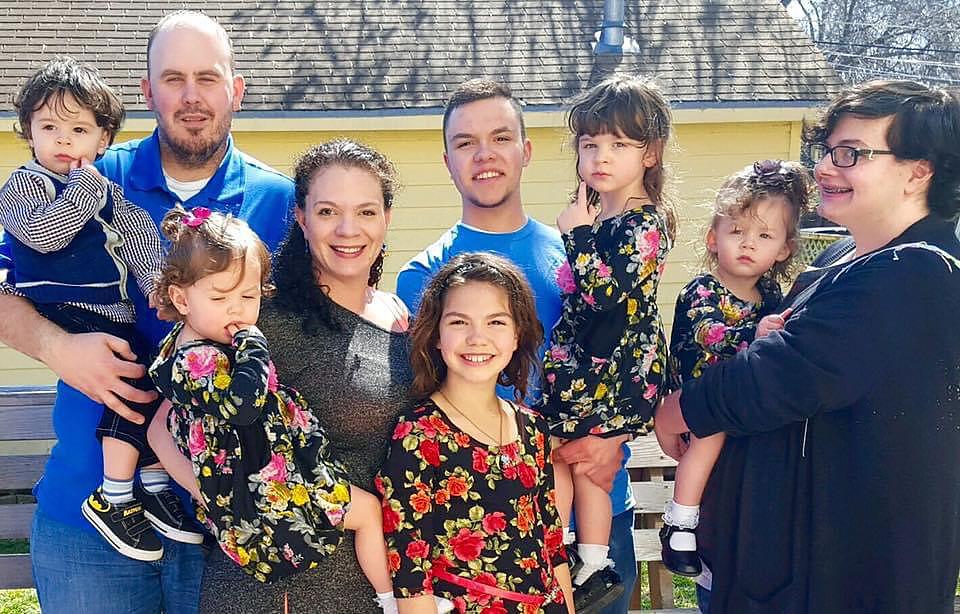 Shawntay and Glenn were always walking that trio through the neighborhood, along with their big sister Valentine, and in the early years their bigger, big sister Violet, and big brothers Jake and Sam, too.
On this day, Shawntay called out the window: Have you gotten any gifts lately?
She didn't want them to think it was weird or creepy.
That's why they solved the mystery, Shawntay says.
She and Glenn have lived in their house on Garland Street for 10 years. At first, it didn't feel like a friendly place. They didn't know anyone, neighbors were moving out.
"We were starting to take it personally. And then we had the littles."
Shawntay had three children when she and Glenn met at CenterPointe, where they both worked. Two of the big kids are in college now and one is in high school.
She and Glenn decided to have a baby together. That was Valentine. A few months later, they were unexpectedly pregnant again, this time with triplets.
"It was insane," she says. "But it was so much fun."
Jules, Maxine and Calvin are 6 now.
The family had always walked, always done crafty things, always left surprises in yards in the neighborhood, creative and inventive long before the pandemic.
"I didn't want the kids sitting and watching TV," Shawntay says. "Our whole house is DIY."
Shawntay is a stay-at-home mom. Glenn is a street outreach worker at Matt Talbot. Money is tight.
Crafts (and walks) are cheap.
They would hit the Dollar Store for supplies, and make simple flower bouquets, planting them in yards, making connections and friends as they went. They started collecting bows and beads and empty jars, glitter and nail polish and balloons.
When COVID-19 came and school went remote, they started making crafts every night. "Their activities," the kids call it.
Half the fun was delivering them.
The family normally set out for their walks later in the evening, usually after the Turners and Sandells had already turned in.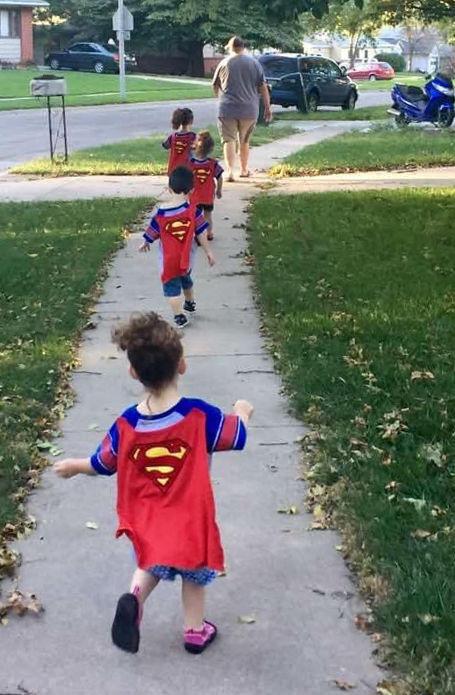 "They were always number one to get whatever they were making," Shawntay said.
The two couples are fun, she said. Warm and kind and young-hearted.
"You can hear them laughing from down the block."
She remembers when she told them that they were behind the mystery gifts.
"Their jaws just dropped. They were so excited."
The surprises didn't stop.
The little lovely crafts kept appearing.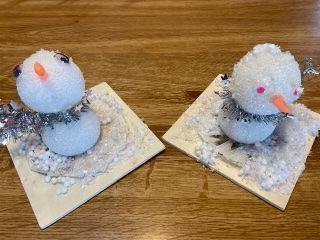 And there was more. The two couples that shared that driveway table would wake up to scooped walks when it snowed.
They tried to respond in kind, Rodney said.
They bought the Schawang family a Valentino's gift card. "So they could have a pizza night on us."
At Halloween, they bought the biggest bag of candy they could find and handed it over.
And then they thought about Christmas.
For years, Rodney and Ellen had been Santa and Mrs. Claus, although they'd packed up and put away the suits. But they had a son-in-law who could fit into one of them and they had a worn copy of "Twas the Night Before Christmas," a family heirloom.
And they had an idea. They told the Sandells next door. They shared it with Shawntay and Glenn.
They bought presents for the children who had brightened the pandemic for them.
And on Monday night, Santa Claus parked down the street from a DIY house filled with crafty and giving children. Children whose parents taught them this — that what they have, they give. That giving comes back around. That they are rich with love and friends.
On this night, Shawntay and Glenn told their littles to wipe their faces and get their shoes on, that someone from the newspaper was coming to take their picture because of all the good cheer that had spread in the neighborhood.
From down the block they heard the sound of bells.
And then there was Santa with his gifts and his book, making a house call, socially distanced as they crowded onto the front stoop.
"They just sat there wide-eyed," Shawntay said.
And in the dark, where the children couldn't see, stood two warm and kind couples, keeping a secret.
FIVE CINDY LANGE-KUBICK COLUMNS FROM 2020: