Joy Citta, the first woman to hold the ranks of sergeant, lieutenant and captain in the Lincoln Police Department, worked her last day Wednesday, capping an almost 40-year tenure as a trailblazing member of the force.
Citta is the last of a generation of women who pushed their policing careers forward despite blatant sexism in the 1970s, as police departments here and across the country finally began treating women equally, said Tom Casady, the city's public safety director.
"She not only persevered," Casady said. "She thrived."
Citta never thought she'd make a 40-year career at the Lincoln Police Department, especially after a city human resources employee denied her initial attempts to apply for a patrol officer opening because she was a woman.
When she joined the department in 1979, she focused on the work amid the turbulence of changing perceptions of officers like her.
"Most of the time you weren't thinking about it," Citta said. "Most of the time you were just doing your job."
Citta and her husband, Bob Citta, moved to Lincoln from Omaha after he was hired by LPD in 1975.
Both had worked retail jobs, and soon after he started with the force, Bob Citta told her she'd enjoy the challenge of law enforcement and the interactions with people.
But when she went to apply for the "policemen" job she saw in a newspaper ad, representatives in the county-city personnel office told her there weren't any openings for "policewomen," gender-specific investigative positions that focused on "family crimes" cases such as rape, child abuse and domestic assault. Policewomen weren't issued guns.
"So I trotted down to Bennett Martin (Library) and got a copy of the (1972) amendment to the 1964 Civil Rights Act," Citta said.
When she confronted the personnel supervisor with the amendment, he objected.
"Women are not going to be police officers," she recalls him telling her.
The Lancaster County Sheriff's Office granted her a final interview — as a dispatcher, not a deputy — and she ultimately accepted a job as an officer at the University of Nebraska-Lincoln Police Department in 1975.
Her state certificate for the position had Whiteout on the "he" and "him" portions, with typewritten text correcting it to "she" and "her."
She was issued a uniform shirt, a skirt — that had been used by the department's parking maids — and a purse with a holster in it. 
She loved the campus policing aspect, she said. But the uniform wasn't ideal, and a chase across campus led to change.
During one traffic stop, Citta and a fellow officer hiked up their skirts to catch the fleeing suspect. UNL's police chief didn't like the optics and quickly changed the uniform policy so the department's female officers received pants, she said.
After three years at UNL, Citta received a surprise while taking an LPD training class. The chief offered her a job, and Citta started Jan. 8, 1979.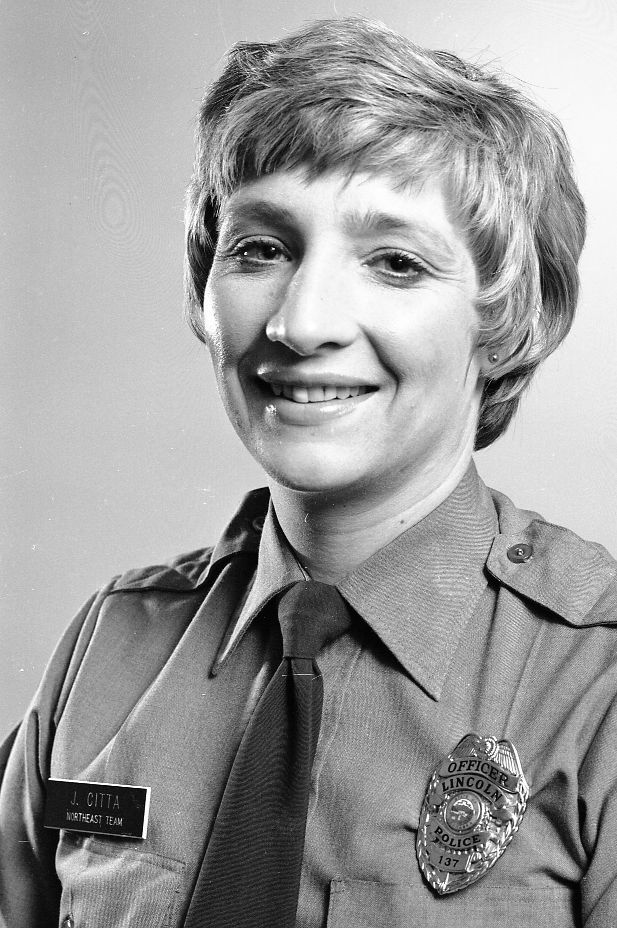 By then, the Lincoln department's first female officer, Shelley Zalman, was in her fourth year.
The idea of allowing women to serve as officers like their male counterparts had rankled many in the community, including the wives of police officers, who openly protested.
On the job, Citta enjoyed patrolling the city, but people who called police often asked for male officers, she said. 
"If you're the Lincoln Police, why are you a woman?" one person asked her after she knocked on his door. 
Citta and her husband enjoyed the mutual understanding they had of their work lives and often talked about work at home, she said.
One time, that shop talk helped clear a case.
Bob Citta told his wife about a burglary he was investigating in which unusual antique furniture was stolen. Joy Citta, who loved collecting antiques, listened with interest, and on an unrelated call a day or two later, she spotted furniture inside a man's home that matched what her husband had described.
She radioed him, and he drove over in his marked police cruiser with the burglary victim and a friend.
Joy Citta quickly convinced the man who lived there that these people wanted to see his impressive furniture.
"So I'm chatting him up, 'This is really nice furniture,'" she said. And the man invited Bob Citta inside without a warrant.
Her sharp thinking helped him identify the stolen furniture, her husband recalls. "I still to this day don't know how we put that together."
Citta's command presence amazed Casady, he said.
He remembers one time when he saw the 5-foot-4 Citta working a bar-break brawl at 14th and O streets. She ordered around a drunken man who stood at least 6-2, "leading him around like the proverbial whipped puppy."
Even as she sought promotions, she encountered concerns from some that men wouldn't listen to orders from a female superior, she said.
She fought for herself and pushed back, saying officers would recognize the ranking regardless of their sex.
She made sergeant in 1984, lieutenant in 1988 and captain in 1993.
Now roughly one in five officers is a woman, Casady said, but women are still underrepresented in the department and in law enforcement.
How Citta carried herself through all of this made her a role model for others in the department and should be considered one of her biggest accomplishments, Casady said. "Joy, probably more than anyone, has been the public face of women at LPD, longer than anyone else."
He credited Citta with spearheading efforts to build a police station at 27th and Holdrege streets while she oversaw the department's Center Team, Casady said.
Sometimes, he'd find her out at the station with a paint brush or nail gun working on a project, he said. "There wasn't anything she wouldn't do."
She's proud of her efforts to bring back the police department's academy in the early 1990s. Police recruit training, which had been done at the state training center in Grand Island, has remained here ever since.
She's also proud of the department's intern and volunteer programs she started, the grant she won for the department to add Vietnamese interpreters in 1981, and the continuation of the police union's Santa Cop program, which she and Kim Kolach started in the early 1980s.
Since 2006, she has overseen the Management Services Division, which includes shepherding the department through several successful national accreditation processes, Casady said.
And she was a finalist to lead the department in 2016, but Mayor Chris Beutler appointed then-Chief Deputy Lancaster County Sheriff Jeff Bliemeister to succeed Jim Peschong as police chief.
Bliemeister praised the relationships Citta has built within the police department and in the community as an example for others to follow.
"I only had the opportunity to work with Captain Citta for a few years, but I saw an enthusiasm for our profession and agency that is unmatched and without doubt, contributed to her success," he said.
Citta's husband Bob has already retired and works as a forensic fingerprint analyst for the police department. In her retirement, Joy Citta will continue teaching criminal justice classes at UNL, as she has for the last 10 years, she said.
The 65-year-old still stress the exciting opportunity a policing career offers as technology changes and the public demands more openness with departments.
"It's going to be very different for you than it was for me," she said.
And she'll preach a constant she saw in her career: "What I did mattered. It made a difference."