From the start of the search for Sydney Loofe, Lincoln police turned to the 24-year-old's cellphone, hoping it would send them electronic breadcrumbs they needed to find her.
The so-called digital footprint.
At news conferences, Lincoln Police Chief Jeff Bliemeister used the term to describe the work investigators were doing, first to try to find Loofe, then two persons of interest in her disappearance after a date on Nov. 15.
The police chief referenced cellphones, social media and debit or credit cards Nov. 28. "Those are all different avenues that we are looking at and should be looking at in order to identify where Sydney was, where Bailey Boswell and Aubrey Trail may be."
Bliemeister called it a valuable component of the investigation. Last Thursday, he said it led to Boswell's and Trail's arrests. Tuesday, he said it led to finding Loofe's remains in Clay County.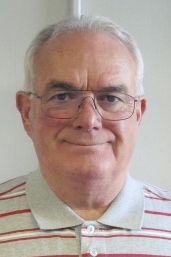 Larry Barksdale, a former Lincoln police investigator who retired in 2012 with more than 40 years experience, said Tuesday the same way shipping companies can track online purchases and trucking firms keep tabs on semitrailers, so, too, do law enforcement use digital information to help in investigations.
But, for law enforcement to get the information, a judge has to review the process and approve warrants, said Barksdale, who now teaches forensic science at the University of Nebraska-Lincoln.
He said a digital footprint includes cellphones. But it also includes information from online apps such as Facebook, Twitter and Snapchat, from credit card purchases or ATM visits, and from cameras along the state's highways, outside gas stations or inside businesses, Barksdale said.
Years ago, police used to get warrants for landline phone records to help them manually piece together dates and times and who called whom.
He said digital evidence is like police years ago finding a fingerprint. Unless there's some other explanation how it got there, it can be an important link for investigators.
But it still takes manpower to organize and digest what's important, Barksdale said.
In the Loofe case, he said, videos posted by Trail and Boswell denying their involvement in her disappearance had to be a big help. Investigators finally had their faces and words to analyze.
Barksdale said cases always come down to two things: physical evidence, including digital evidence, and people talking.
"Usually it's not just one thing. It's a lot of little pieces that all start coming together."