Committee members overseeing the financing for the city's new emergency radio system and new police and fire stations said Monday that the Lincoln City Council should solicit public input on how to spend excess funds from the three-year quarter-cent sales tax.
Monday's meeting was the committee's first since the sales tax ended Oct. 1, and it highlighted the contentious jockeying over how the expected $2.162 million surplus will be best spent.
Some city officials have proposed spending the excess funds on new fire engines and trucks to help in replacing an aging fleet. Others have proposed the surplus be reserved for future police radio system needs.
The Lincoln Firefighters Union believes it should be designated to replace items previously stripped from construction plans for the four new stations as cost-saving measures.
Lincoln Public Safety Director Tom Casady, who sits on the committee, called the deliberative process on how the city should spend extra tax revenue one of the most difficult in his 45-year career.
Several committee members said they wanted to see what trend construction costs take as work on the new stations, including a joint police and fire station, continue through 2020. They noted there isn't a rush to spend the money.
"If the city council is really interested in what the public wants to know, putting out the call for comments would be a lot better way to find a wider participation," committee member Tyler Mainquist said.
Voters in 2015 enacted the ballot measure to replace the outdated public safety radio system and build new fire stations to better serve the growing city.
Casady said he believes the four new fire stations can be built for $24 million.
Fire Station 15 at 6601 Pine Lake Road, which includes a joint police station, is expected to be completed by next spring.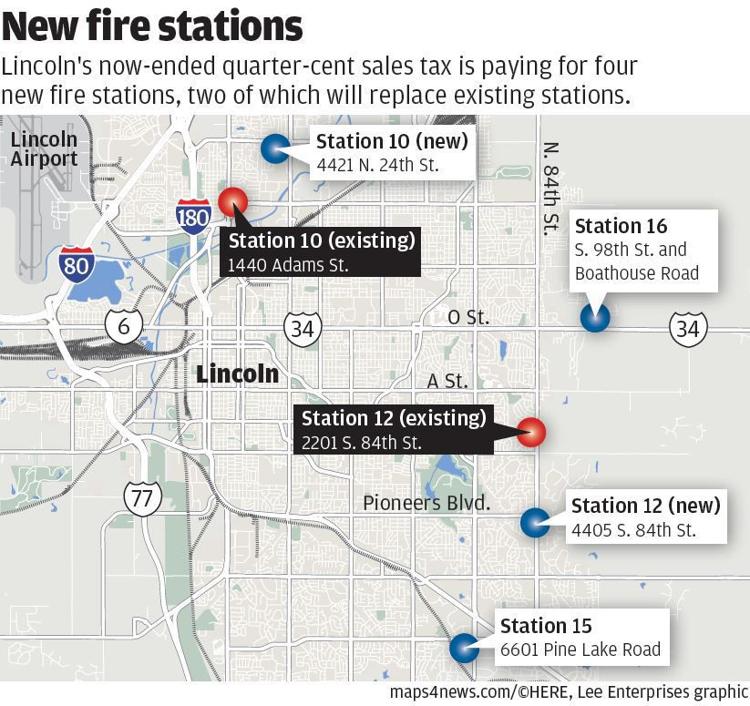 Work is progressing on Station 10 at 24th and Superior streets and Station 12 near 84th Street and Pioneers Boulevard, both of which will replace existing fire stations.
Much of the work on Fire Station 16 won't get underway until spring, Casady said.
Firefighter Union President Ron Trouba attended Monday's meeting, and at times, chimed in with the union's position on some of the previously eliminated features that could be added back into the stations under construction.
Casady mentioned that one of the union's recommendations was to add floor drains in the stations' bathrooms, work Trouba said still could be completed on the three stations that haven't had their floors poured yet.
Another union recommendation, to ensure each station had its own backup generator, could cost up to $160,000, Casady said.
And a union proposal to install fencing around the employee parking at the stations to prevent break-ins has merit, but these break-ins are rare events, Casady said.
And it would be too expensive to do right, he told the committee.
"I don't think that should be done at all if it isn't done right," he said.
Committee member Dick Campbell said he believes the committee should stick to its original proposal to hold onto any excess money to prepare for future radio system needs.
Closing in on the end of his career, Casady said it pains him that his motives in overseeing the project have been questioned.
He's not running for any political office, he said, and his only goal once he retires will be spending time with his grandchildren.
Until then, his aim is to keep these projects on-budget and deliver a value for both the taxpayers and the public safety workers using the new stations.
"I'm hopeful that as my career winds down we open up four gorgeous public safety facilities that serve this community and the police officers and firefighters very well for the next 30 to 40 years," Casady said.