And then he was gone: The disappearance of Craig Baxter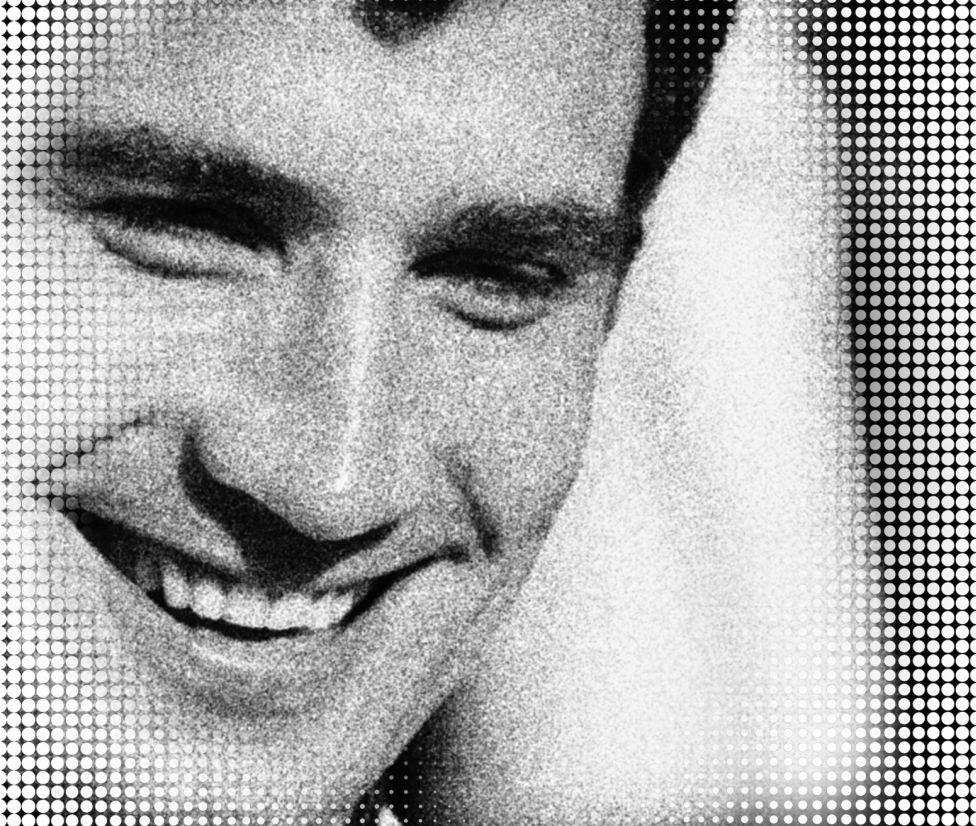 Craig Baxter woke early at his sister's house on the morning that would launch the rest of his life -- he would start his final optometry rotation in Omaha, and then he would graduate, and then he would join his father's practice in North Platte.
The 28-year-old dressed quietly, not waking his sister's family, and conservatively, like a man going to work: Blue button-down shirt, slacks, dress shoes.
He'd been working toward this for years. The North Platte St. Patrick's grad had joined his father overseas with suitcases full of used eyeglasses, helping spread the gift of sight in Kenya, Latin America, the Caribbean. Later, as a University of Nebraska-Lincoln student, he accompanied other Catholics on a service trip to help orphans and homeless children in Russia.
"He just developed this caring heart," said his father, Kim Baxter. "And he always wanted to look for someone that needed to be lifted up."
It was cold that first Monday in January, 18 degrees as the sun rose. Craig Baxter slipped out of his sister's home on Lincoln's Park Avenue and climbed into his blue BMW.
In the past 12 months, Lincoln police fielded nearly 600 reports of missing adults, and nearly three times the number of missing juveniles. 
The department designates two officers -- an investigator and a street cop -- to each case.
"They've got to be assigned out," said Sgt. Luke Wilke, who sorts through the reports at 6 most mornings, his first task of the day. "You don't want to lose anybody."
Few people are ever truly lost: The majority of those reported missing are found safe and healthy and, often, a little sheepish. And most of the cases are cleared quickly; sometimes, the missing person returns home even before an officer arrives to take the report.
Officers can spend time looking for the same person over and over; one teen, for instance, generated at least a dozen reports last year, one for each time she fled her foster home.
"But that doesn't mean you don't look for them," Wilke said.
Police clear cases of runaways and those running from warrants. They find the confused elderly who wander off or the adults determined to start from scratch in Colorado or California.
Ultimately, they close about 98 percent of Lincoln's missing persons cases.
"The vast majority are OK," Wilke said. "And the vast majority that haven't been found are homicides or suicides."
Craig Baxter was scheduled to start his 12-week clinical rotation at 1 p.m. on Jan. 4, after another appointment in Omaha. He'd been in a car accident, and the other driver was suing, and he was supposed to give an 8:30 a.m. deposition at her lawyer's office.
The lawyer's office called Craig's mother, Nancy: He hadn't showed, and his phone was going straight to voicemail.
His family asked the Omaha optometry office to let them know if he didn't show up there, either.
He didn't. By then, though, the family had already made the call to police that would, by the end of that week, mobilize thousands of volunteers -- those who knew Craig Baxter and those who'd never met the man -- and surprise the detective who'd handled thousands of missing persons reports.
But when Wilke got to work Tuesday, Craig Baxter was still a routine missing persons case, and it was still early in the investigation.
"There was a fair amount of work that had been done on it before I went in. There were several cops that had done reports on it."
He reviewed their work. Craig was from North Platte, so officers had alerted police there. They shared information with Lancaster County. Someone tried calling Craig's phone. Someone checked his Facebook page. A white collar crimes investigator would look at his financial information.
They were following protocol, looking for clues or leads or explanations but finding none.
They learned Craig had left his wallet at his sister's, but his family wasn't alarmed.
"When the investigator asked if it was unusual for him to leave his wallet, my wife almost laughed," his father said. "My son was an intelligent guy and gifted in amazing ways, but he was losing his wallet and his ID every time he turned around."
They also discovered Craig had taken a pillow and a couple of comforters when he left his sister's that morning. They wouldn't know what to make of that until later.
Wilke worked the case by day, turning it over to another investigator at night. All of the street cops were watching for signs of Craig or his BMW, too.
It's a big city, 93 square miles, but those officers should have found something, if there was anything to be found.
"My opinion was he probably was no longer in Lincoln," Wilke said. "Obviously, I turned out to be wrong."
Early in his disappearance, Craig's family did something that would separate his case from all of the other missing persons cases that week. They launched, and then actively managed, a Facebook page: Craig Baxter Missing -- URGENT PLEA FOR HELP.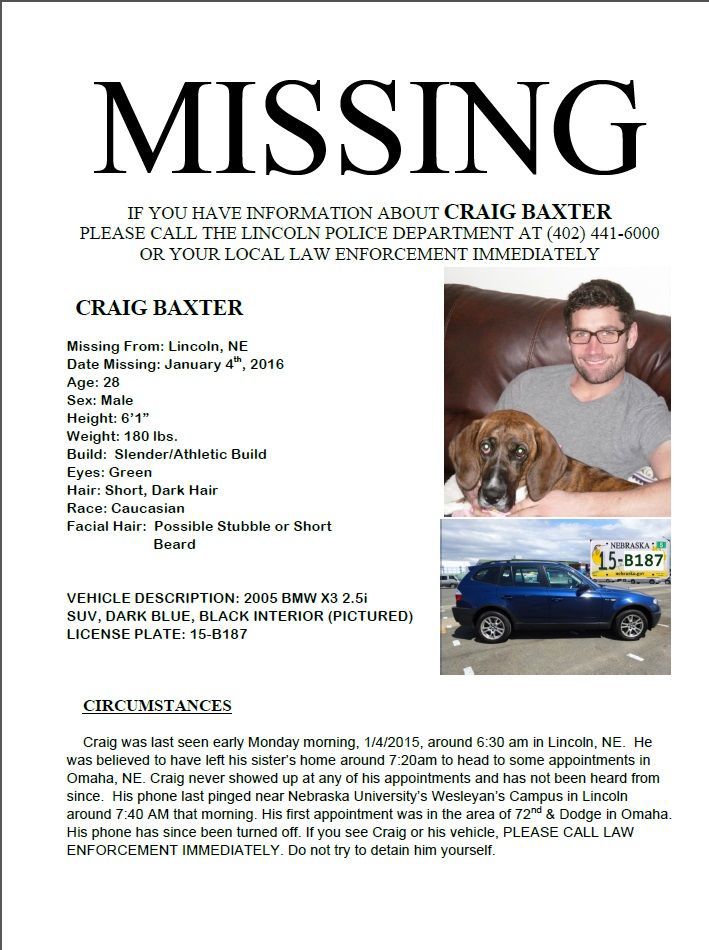 "That just exploded nationwide. It was unbelievable," Kim Baxter said. "People were sending us Facebook messages from all over the country, telling us they'd keep a look out, telling us they'd pray for us."
The page would reach 25,000 members by the end of the week, but it started small, said Craig's brother-in-law, Dave Meagher, who created it.
He shared it with his Facebook friends, who shared it with their friends, who shared it with theirs.
The first day, 2,500 people joined. The next day, 8,000 people, the next day, 8,000 more.
A ripple effect, he called it.
At first, the Craig Baxter case followed the same trajectory as other missing persons cases, and the officers assigned to it went through their checklist: Talking to family, checking the missing person's phone and Facebook, looking at bank accounts.
Investigators typically disseminate the person's description to all local law enforcement and, in cases when the missing could be at risk, feed their names to the FBI's National Crime Information Center. That plants a virtual red flag, and if a missing person is stopped anywhere in the country, Lincoln police will know.
But it didn't take long for Craig's case to become unlike any Wilke had worked.
"Most of the time you don't have many leads, if any, coming in. With the Baxter case, there were many, many leads coming in from many sources, including from outside the state."
Wilke couldn't estimate the time officers spent on Craig's case, or how it compared to time spent on an average missing persons case. Because there is no average missing persons case, he said.
"They're all different. Sometimes, you don't have anything to go on early on; you've just got this report that a person is missing. Sometimes, you know where to look for them."
In the search for Craig, the Facebook page was valuable. The more people who saw Craig's face, and photos of his SUV, the better for police.
"That was huge," Wilke said. "I think it was very helpful for the case."
And it kept the investigator's phone ringing. Someone spotted Craig at a laundromat, but video surveillance proved otherwise. Someone stood next to him in line. Someone saw him climbing into a blue Mazda. Walking down the highway. At a hair salon.
"We took every tip seriously, and we took every lead seriously. If you've got one that's real specific, something you can go out on, that's a great deal."
By Jan. 8, Wilke was reading more than a dozen reports from as many as 10 officers, who had followed up on tips that day.
But they also heard from self-professed psychics and mediums. Time-wasters. "All of their information was in conflict with each other, and none of their information was correct."
The Facebook page's members didn't just call police; they took action. They helped standardize the fliers, and they distributed them all over the country. They organized search parties, logging their coordinates on an online map to avoid duplicating efforts. They notified seed companies -- like Monsanto and Pioneer -- to share Craig's details with farmers and ranchers. They enlisted mail carriers and UPS delivery drivers covering rural routes.
They asked whether Craig's car had GPS tracking (it didn't) and they spread the word in Canada and Tennessee (where Craig attended optometry school) and they talked to hunters near Branched Oak. They looked under bridges and searched state parks and wondered if he'd boarded a bus.
"God, wrap these dear friends close and hold them near during these difficult times," wrote a window salesman from Central City. "Oh dear Jesus bring Craig home safely."
Behind all of the Facebook activity, though, was an anxious, desperate family.
Their hopes would rise and fall as investigators fielded and then eliminated leads. Their spirits were buoyed by the efforts of strangers, and the memories shared online by Craig's friends.
"I knew my son was an outgoing friendly guy, but I could not believe the stories people were posting about him: 'I met your son, he was a total stranger and he did something nice for me,'" Kim Baxter said.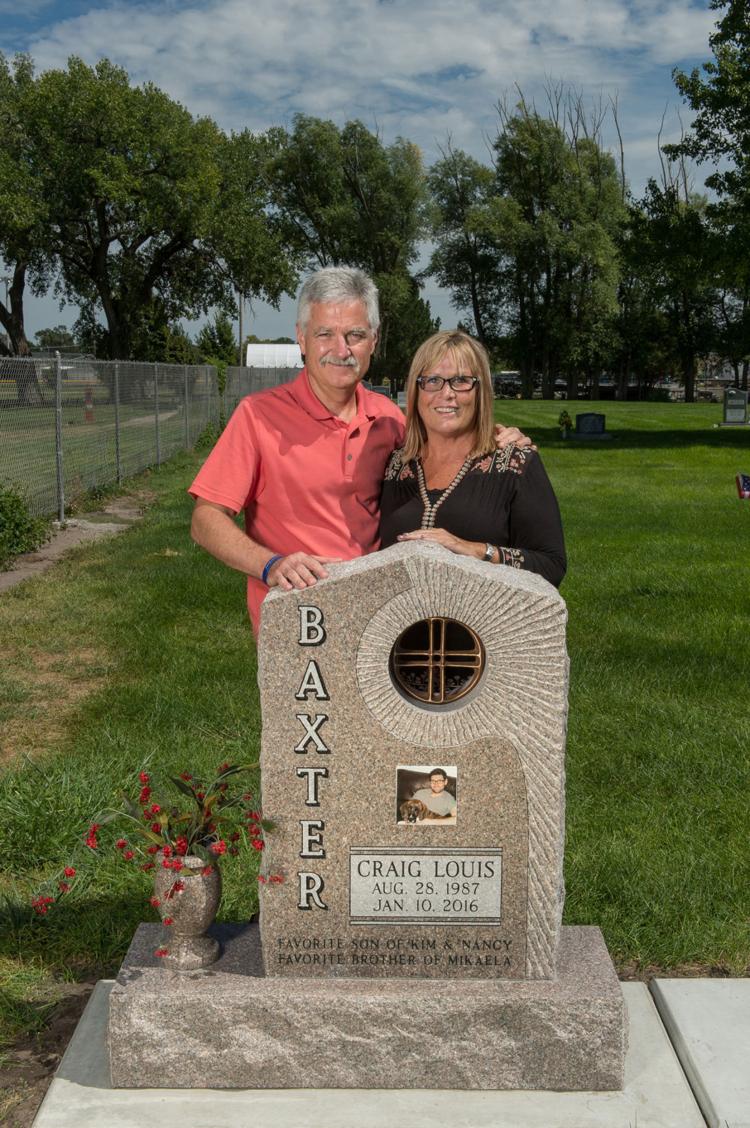 Kim and Nancy Baxter were reading the posts, and looking at the photos, and they were surprised to see their son had become so galvanizing, and that so many people cared.
"Whether it was the photos of him, or they thought he looked like a happy-go-lucky guy and they were drawn toward the case, people started following the story. They fell in love with him and really, really wanted to find him."
He also credits the time -- up to 12 hours a day -- his son-in-law and friends spent administering the Facebook page. Meagher and others were continually updating information, answering questions, monitoring discussions.
"He was thanking people," Kim Baxter said. "People see that, they think: 'This family really appreciates it.'"
The search spread from Facebook to Reddit to Twitter. Former Husker and Detroit Lions running back Ameer Abdullah posted a flier with pictures of Craig and his car, and more than 500 people retweeted it. North Platte native Danny Woodhead, who had carried a football from Chadron State to the NFL, also spread the word.
The family was talking with investigators every day, providing and receiving information, and becoming humbled by the police department's handling of their son's case.
Overall, its officers showed respect and sensitivity, Kim Baxter said. Specifically, Wilke showed an impressive dedication. "He went after it like he was looking for his own son."
Still, the family was making their own efforts to find Craig. They tried to get the Civil Air Patrol or State Patrol to look from above, but an air search would have been ineffective without even a basic idea of Craig's whereabouts.
"We didn't even have a general idea of where he might have been. You don't know how far a guy might have traveled," his father said.
The week dragged on. The police chased leads. The Facebook page grew. Still no sign of Craig.
"It was hard for a family going through that," his father said. "It's an emotional roller coaster."
The family had some reason to worry about Craig. Not an overwhelming concern, but enough to let fear, and doubt, darken that week and dictate the urgency in trying to find him.
He'd been depressed the day before he disappeared, his father said. He'd learned he would get an incomplete for the clinical rotation he'd finished in O'Neill because he hadn't submitted all the required reports.
"I could tell he was down," Kim Baxter said. "He told his sister, he shared with her that night, that he was afraid it might keep him from graduating on time."
His sister Mikaela had stayed up late that night talking to him, consoling him.
Craig had been depressed before but wasn't on medication, his father said. He'd talked negatively about his life but never made blatant threats of suicide.
Still, all of this weighed on his family after Craig vanished. Publicly, they wouldn't address it, even when Facebook users began demanding to know his state of mind. Instead, Meagher and other administrators kept the page focused on the search.
"We thought maybe he could have taken his own life," his father said. "Because he was real down."
Six days after Craig Baxter disappeared, a tenant of Tanglewood Apartments north of 44th and O wondered to his wife why a blue SUV in an open garage hadn't moved all week.
She answered: "Maybe it's the guy they're looking for?"
Despite the news coverage, and despite the Facebook page that reached all over the country, one man in the middle of Lincoln had been seeing Craig's BMW all week without having any real idea of what he was seeing.
But here, the family wants to be clear: They harbor no ill will.
"We don't blame the guy at all," Kim Baxter said. "To be honest with you, even if he'd reported it as soon as it became public, Craig was probably already gone."
That afternoon, Meagher posted a short message on Facebook: "Please cease all search efforts for the time being, I will provide an update in a little while."
Nearly 1,000 people replied with comments, most of them prayers.
They knew what the post meant.
The family pieced together what they believed happened. Craig had been up so late the night before he disappeared that he must have worried about not being rested enough for the first day of his new rotation. So he took comforters from his sister's house and headed to the Tanglewood apartments.
He and his sister had lived there a few years earlier, and they'd learned an open garage was likely vacant, a bonus parking spot.
He backed the BMW in, climbed in the back and wrapped himself in the blankets. He must have gotten cold, his father said, because he started the car and turned on the heater before he fell asleep.
And he must have thought an open garage door would be enough to keep him safe from carbon monoxide. It's not. An Iowa State study found fumes can reach lethal levels in two minutes in an open garage.
When they found Craig's body, his car's ignition was still on but its gas tank was empty, its battery dead. He was under his blankets, his skin the bright red associated with carbon monoxide poisoning. And that was the cause of death: carbon monoxide toxicity, though officials couldn't determine whether it was intentional or accidental.
His family could. Craig didn't kill himself, his father said.
"If he was going to take his own life, he wouldn't have dressed nice for the clinic, he wouldn't have taken the blankets so he could camp out, he would have closed the garage door."
On the Saturday after Craig was found, more than 1,100 people attended his funeral at St. Patrick's Catholic Church in North Platte. "We are a family of strong faith," his father said. "And without that, we would have been crushed."
In early May, Southern College of Optometry in Memphis awarded Craig's degree posthumously.
Later that month, Kim Baxter spent some time biking the coast of Ireland. He and his son had planned the trip together, after graduation. Instead, he was joined by one of Craig's classmates and his wife. It was hard, he said, his voice breaking. "But it was healing, too. It definitely felt like he was there with me."
And last weekend, his friends and family gathered in North Platte to mark what would have been his 29th birthday.
But before any of that, in the days after the discovery of their son's body, the family changed the name of the Facebook page. No longer a search operation, it became a tribute. The Craig Baxter Memorial Page.
It hasn't been updated since January, but more than 21,000 people still belong, as if they're not ready to lose Craig again.
Their family went through a nightmare, his father said. They lost something so important to them, but they made a discovery, too: There are still good people out there, ready to help a stranger in distress.
"Nothing could hurt worse, but I'm thankful for a lot of things, and a lot of it's the people in our lives who would do anything for us, and already have."