GRAND ISLAND -- This year's Nebraska State Fair will include three outdoor concerts, as well as several new attractions.
Those announcements were made Friday by Executive Director Bill Ogg at the State Fair Board's April meeting.
The outdoor concerts will take place on the track where horses train just east of the Fonner Park grandstand where temporary bleachers will be constructed. Outdoor concerts will be on Thursday, Friday and Saturday nights going into Labor Day weekend. One indoor concert will be held at the fair — on Older Nebraskans Day.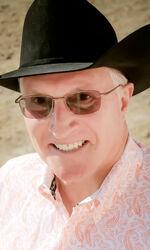 The performers have not been announced.
Sixteen teams have signed up for the fair's annual volleyball tournament, which returns to the Heartland Events Center for the first time since 2018. It will take place Saturday, Aug. 28.
A new event to the Nebraska State Fair, known as Indian relay races, will be presented by an organization called Horse Nations. Ogg, who hosted the event at his previous job, said spectators will see great athleticism displayed by both jockeys and horses. The relay races will run the Saturday and Sunday of opening weekend.
This year's fair runs from Aug. 27-Sept. 6. Officials are hoping for a more normal event after heavy rains put a damper on the 2019 fair and COVID-19 greatly reduced the number of public festivities last year.
Bullfighting, one of the few public events held a year ago, will be back at this year's fair.
A new addition will be the Nebraska State Championship Pedal Tractor Pull. Other additions will be an e-sports attraction and six events presented in cooperation with the Nebraska Sports Council — BMX, powerlifting, crossfit, cornhole, fishing and pole vaulting.
The fair will open with 4-H activities and conclude with FFA events. Open class livestock shows will also be scheduled.
While focused on this year's fair, Ogg also talked about the casino and resort being planned for the Fonner Park property that is also home to the State Fair.
Ogg attended the announcement April 9 that Elite Casino Resorts will build and operate the casino. That presentation, he said, was "very professional and "very progressive." He believes the operation will "certainly be a good partner for central Nebraska."
That said, the casino will affect the State Fair's footprint.
Ogg said he believes he and Fonner Park CEO Chris Kotulak "are developing a very good working relationship," and as a result, the "casino operation will not negatively impact our very important and prestigious Nebraska State Fair."
Board member Dawn Caldwell said Kotulak assured the board's of the Facilities Planning Committee that the architectural renderings presented at the April 9 announcement are far from final.
After the money-losing 2019 event and changes in management, the fair appears to be in a strong financial position.
The fair saw a $600,000 increase in payments from the Nebraska Lottery over the first three months of this year compared to a year ago and received $908,321 in Paycheck Protection Program funds on April 3.
Board Treasurer Boyd Strope said the financial numbers have seen a major turnaround. "It's almost fun to go to a finance meeting now," he said.
Nebraska State Fair through the years