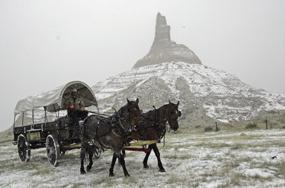 BAYARD — Erosion created Chimney Rock. And erosion will likely destroy it.
A long-familiar icon in Nebraska, gracing everything from license plates to decorative spoons, Chimney Rock catapulted into the national spotlight in April with its appearance on the back of the state's commemorative quarter.
"When I was a kid, I didn't think it would be around much longer," said Terry "Murph" Murphy, his sandy-colored hair and beard dotted with wet snow from an unseasonable storm. "It's eroded quite a bit in 30 years."
Murphy is a man frozen in time, a present-day pioneer leading a wagon train for tourists. He wears the requisite cowboy hat and spits out historic factoids and anecdotes that may or may not be entirely true.
But it's hard to stop to question, or care, as the rickety wagon bounces along on its journey to the summit of Chimney Rock, the most-cited landmark along the Oregon Trail.
The ever-present question: How long will it be there?
Historic natural formations on the back of commemorative quarters don't have a good track record.
New Hampshire's Old Man of the Mountain — a granite profile that graced license plates, police patches and highway signs — was placed on the quarter in 2000. It collapsed to the ground three years later.
Nebraska's quarter shows a covered wagon, not unlike the one being driven this day by Murphy, traveling westward, with Chimney Rock in the background. And lest anyone wonder what it is, the words "Chimney Rock" appear beneath it.
While the quarter will be seen by untold millions of people, Chimney Rock first catapulted to popularity more than a century ago when travelers on the Oregon, California and Mormon trails spotted it as they made their way across what is now Nebraska and into the western territories.
An 1830 fur caravan resulted in the first written recorded reference to Chimney Rock, and the first artistic rendering that survives dates to 1837. Of the hundreds of letters and diaries from the period, Chimney Rock is mentioned more than any other natural feature.
Fur traders said American Indians had also named the formation.
While it still attracts visitors in the 21st century, most spy it as they zip by at 65 miles per hour. The homesteaders were lucky to make a leisurely 5 mph.
Traveling from the eastern edge of Nebraska, along the banks of the Missouri River, the 450 miles west to Chimney Rock takes about seven hours in a car. By covered wagon it took about a month.
Situated in a valley of the North Platte River, Chimney Rock has changed in appearance over the years. While it currently looks like a factory chimney, or what remains of a burned-out chimney, it was also described by those headed west as an inverted funnel, a lighthouse, the trunk of a tree and even an Egyptian obelisk and a haystack with a pole on top.
But it was the name Chimney Rock that stuck.
The spire has lost about 30 feet in the past 150 years. It currently measures 325 feet from tip to base, with the spire measuring 120 feet, according to the Nebraska State Historical Society.
Gordon Howard, who along with his wife, Patty, founded the Oregon Trail Wagon Train in 1976 but have since sold it, was on the panel formed to come up with recommendations for the Nebraska quarter.
"I got a lot of garbage about it's falling down, it's falling down," said Howard, who pushed for the rock to grace the quarter. "I didn't argue with that; it is. Nothing is forever."
Made of Brule clay with layers of Arickaree sandstone and volcanic ash interlaced within it, Chimney Rock's oldest elements are about 28 million years old, said David Loope, a University of Nebraska-Lincoln geology professor.
Because the Brule is susceptible to erosion, it undermines the Arickaree resulting in changes at Chimney Rock that are episodic and unpredictable — such as rock falls, he said.
As far as when Chimney Rock will be no more, Loope wasn't about to make a prediction.
"I don't think you can just plug in a simple algebra program and say it will be gone in such a such a time," Loope said. "I guess I don't think of it as something people of the state should be worried about."
Murphy, who works for the company Howard founded, taking school groups and tourists on covered-wagon rides to the base of the rock, said he saw a lightning bolt strike the top of the spire in 1992, resulting in a 5-foot loss in height all at once.
Howard, who said he was in a nearby field cutting a cottonwood tree when the chunk fell, still wonders whether it was lightning or something else.
"It was a strange thing," he said. "The thing just exploded."
There are stories of the U.S. Army firing cannons at Chimney Rock and World War II airplanes strafing it. People still shoot at it today with rifles, Howard said. He won't say what, if it wasn't lightning, led to the chunk being obliterated 14 years ago.
"It doesn't bother me so much anymore," says the 73-year-old Howard. "As long as man is on this Earth, Chimney Rock is preserved on the quarter."
Be the first to know
Get local news delivered to your inbox!