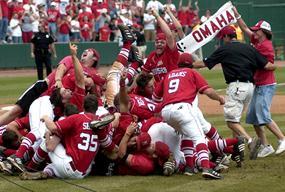 They behaved like little boys, and isn't that how it's supposed to be? They shouted and scooted about like toddlers on a playground, their hats worn backward with the knowledge Coach wouldn't yell at 'em this time. Then, they piled on top of each other. Some had their faces smooshed into the ground. Some had cleats jammed into their eyeballs. No one cared. In fact, they're hoping to do it again — soon. Photo gallery
It had been three years since this state saw a good dogpile. On Saturday, the Husker baseball team ended the drought after a 6-3 super regional-clinching win over Miami at Haymarket Park.
Nebraska's going back to the College World Series. Anyone got tickets?
"We're the first one to get to Omaha. Now, we wanna be the last one to leave," proclaimed Husker left-fielder Jesse Boyer over the victory shouts from a record crowd of 8,711.
Nearby, senior shortstop Joe Simokaitis was bragging, not about his monster third-inning home run but of the guts he displayed within the celebratory dogpile.
"I was on the bottom, face-to-face with somebody," Simokaitis said. "Was that your face, Trey?"
To which teammate Trey Adams confessed: "Yeah, that was me."
Both guys smiled. There were lots of smiles.
And there were victory laps and signs that read "0 Outs to Omaha" and "Go Big Red" chants going all the way from the ballpark to the bars on O Street.
And there were goose bumps. As he stood in left field, Boyer couldn't keep his body from shaking with Nebraska one out from victory.
"I'm thinking, 'We're going to Omaha.' It's living a dream," he said.
And there were fans on cell phones, bragging that they had met All-American third baseman Alex Gordon's dad. Not Alex, mind you. His dad.
And there were autographs. The best was had by young Cody Williamson.
The Wilber boy tracked down Simokaitis' home-run ball, which had gone so far over the left-field fence that it bounced off a restroom roof and out of the stadium.
"Hey, Joe," yelled Cody from above the first-base dugout, raising the ball to the air like a trophy.
Simokaitis looked over at Cody and asked the kid to flip him the ball. He signed it and flipped it back.
And there were baptisms. Leading the charge were pitchers Joba Chamberlain and Brian Duensing, who looked like mischievous grade-schoolers as they ran to get a bucket of water from the dugout. Soon, in predictable fashion, the water was flooding down on Mike Anderson. The third-year head coach just smiled and the crowd cheered louder.
Watching with delight was Anderson's wife, Kim. The couple had moved to Lincoln in 1994 to be part of a baseball program very few people seemed to care about.
Eleven years later, Nebraska baseball is on ESPN, a $100 game ticket, the talk at the dinner table and the lead story on the local news.
"We always knew this could be a great place for baseball," Kim said. "You have to (believe). We saw the progress in the other sports like football, and we watched how hard the kids in this state worked and played. You're going to succeed here with these kinds of kids."
The Andersons were right.
Nebraska has now made the CWS three of the past five years. The Huskers didn't win a game in their two previous visits in 2001 and 2002, but maybe next week….
No, wait. Saturday wasn't a day to talk about next week. Saturday was a day to wear your hat backward.
See, Anderson has a philosophy about wearing hats backward, some wisdom which he passed along after Saturday's game.
"You can only wear your hat backward on the Fourth of July to see the fireworks, or when you take a picture, or when you win a championship, or when you kiss a girl."
As Anderson explained this, three of his players — Simokaitis, Johnny Dorn and Ryan Bohanan — sat patiently beside him.
The bills of their caps were turned to the back.
The 59th College World Series runs Friday through June 26 or 27 at Rosenblatt Stadium in Omaha.
Nebraska will open play against the winner of the Cal State Fullerton-Arizona State series on Friday, either at 1 p.m. or 6 p.m. Both games will be carried by ESPN2.
No tickets will be available for public sale through the Nebraska ticket office, and advance reserved-seat tickets for all CWS sessions are sold out.
Approximately 1,000 reserved seats go on sale each game day beginning at 10 a.m. at Rosenblatt Stadium.
General-admission booklets, each with 10 tickets good for any game, are available at Hy-Vee, Wal-Mart and Kinko's stores in Lincoln or online at www.cwsomaha.com.
A general-admission ticket does not guarantee admission. Seating is first-come, first-served.