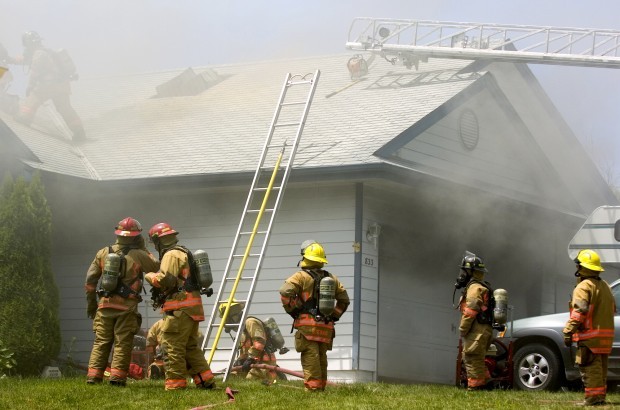 Months before the Lincoln City Council voted on a new firefighter labor contract that included a potentially pricey requirement that at least 76 firefighters be on duty at all times, the fire department compiled estimates showing the provision could cost hundreds of thousands of dollars.
But the City Council wasn't told that. It was told the "minimum staffing" requirement should not cost any extra money, since the city was already scheduling 76 firefighters per day.
Council members were shocked when the fire chief told them this summer the mandatory staffing levels would likely cost an extra $304,000 in overtime in 2010. That estimate has since been lowered.
"Fire officials off by $300,000" was the headline in the Journal Star. But a closer look shows fire officials weren't off at all.
Mayor Chris Beutler's office gave faulty projections to the City Council.
"Yes, we were off," the mayor's chief of staff, Rick Hoppe, acknowledged recently. "We missed the estimate."
Documents obtained by the Journal Star show fire officials had accurate cost estimates as early as August 2008, when they estimated it would cost about $387,000 to have 76 firefighters on duty at all times.
But that wasn't the cost estimate given to the City Council. Council members say they only remember being told the city was already scheduling 76 firefighters daily.
Council Chairman Doug Emery said he doesn't recall if the administration said the provision would be cost-neutral, but since council members were told the city was already staffing at that level, he assumed it would be.
Councilman John Spatz recalls being told the same thing, and he remembers disputing it.
"(But) everybody said I was crazy," Spatz said.
Hoppe says he believes he gave the council a memo dated Sept. 30, 2008, outlining key provisions of the labor contract, including one paragraph about minimum staffing.
The memo said "the city agreed to maintain its usual practice of staffing 76 employees per shift to protect firefighter safety and ensure enough employees are on duty for an appropriate emergency response. The cost impact should be minimal and even under a worst-case scenario should be less than $100,000."
Neither Emery nor Spatz recalled getting such a memo, but said it's possible, given the avalanche of documents they routinely receive.
The fire department began implementing the staffing requirement in August 2008, and the costs quickly began mounting.
By early 2009, overtime costs associated with the minimum staffing level began to pile up.
Based on that, Fire Chief Niles Ford put in a 2010 budget request for an extra $304,000 to cover the staffing costs.
In July, Ford informed the council, and took some heat in the ensuing media coverage.
Most people assumed fire officials had been way off. When the Journal Star began looking deeper, Ford declined to comment, saying all questions had to be answered by the mayor's office.
The mayor's office initially insisted queries go through them, but eventually relented, allowing Ford to answer questions, but only with Hoppe present.
In an interview on Wednesday, Hoppe acknowledged he had erroneously interpreted information from fire officials to come up with his $100,000 worst-case scenario estimate. He called it a misunderstanding.
Ford said he gave the mayor's office - both orally and in writing - cost estimates ranging from $100,000 to hundreds of thousands. According to documents obtained from the department, those projections indicated the staffing provision would cost from at least $127,000 (at 74 firefighters) to $776,000 (at 78 firefighters).
The city and union agreed to a staffing level of 76 -- which the department estimated would cost $387,000. And although many factors can affect that number, it was clear the staffing provision would be a costly change to the labor contract.
The fire union had pushed for minimum staffing for years, but couldn't get any traction on the issue until, ironically, two paramedics were arrested on drug charges last summer. One was accused of being under the influence of drugs while on duty and another was accused of stealing drugs from a patient.
In the aftermath of that public relations nightmare, the mayor was eager to get the fire union to agree to mandatory drug testing. The fire union saw its opportunity to make progress on its No. 1 priority. Within days, the Beutler administration agreed.
The fire union head, Dave Engler, is blunt about how he leveraged the mayor's desire for drug testing.
"I said, 'I'll give you that, but I think it's less of a safety issue than staffing is,'" Engler said.
He said the drug cases were isolated incidents, whereas running firetrucks with fewer than four firefighters is unsafe and contrary to industry standards.
"That's how negotiations work," Engler said. "You get what you can out of it. ... We never had a problem with drug testing, but clearly I'm not going to give it to them for free."
The cost of the provision was not his concern.
"They didn't give us any numbers," Engler said.
The union endorsed Beutler for mayor in part based on his assurances during the campaign that he supported the concept of minimum staffing, Engler said. But he did not make any promises, both Engler and Hoppe said.
Engler was prodding the Beutler administration about the issue just days before the paramedic drug cases became public.
"This has been on the table for years and has been given a lot of lip service from our politicians during election times with no follow through," Engler wrote in an e-mail to the city's negotiators. "I am unwilling to let this issue drop."
Although Chief Ford agrees the city should try to get four firefighters on trucks, he didn't like the idea of mandating staffing levels in the labor contract because it would tie his hands fiscally.
Minutes from a meeting of fire department chiefs show he did not hide his feelings on the subject: "Management will have the problem of the money issue with this. At the end of the year, we may very well be in the hole with overtime due to this issue."
Hoppe acknowledged Ford's misgivings: "He said that he was worried about this."
The Beutler administration now says overtime costs have been dropping since earlier in the year, and they expect the staffing requirement to cost less than $150,000 in overtime.