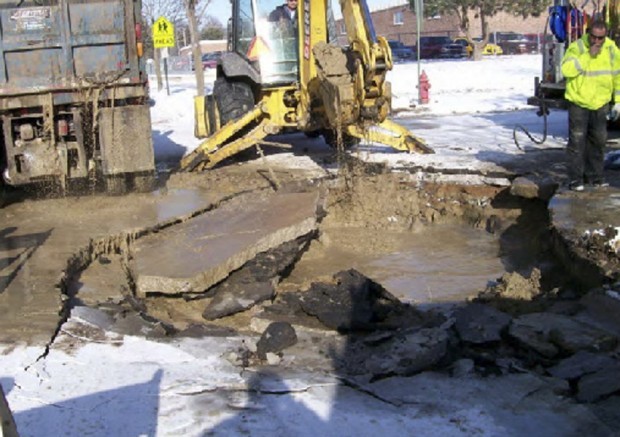 The Lincoln Water System is peering into the future -- and it's not looking so bright.
Its water mains are showing their age; 45 miles of iron pipe are past the century mark and 115 miles have been around for 80 to 100 years.
One water main, found recently on the University of Nebraska-Lincoln city campus, dates to 1888.
The city's water distribution system, which includes treatment facilities, reservoirs, mains and smaller pipes, may need $133 million -- or $5 million per year (in today's dollars) -- in improvements to meet Lincoln's projected growth over the next 25 years.
Its long-range master plan calls for building a new water treatment facility at a location other than the Platte River near Ashland, where it gets 90 percent of its water now. Possible locations include: the Missouri, Big Blue, Elkhorn and Loup rivers.
These were some of the details provided by LWS project manager Nick McElvain at the Transportation & Public Works Forum, sponsored by the Lincoln Chamber of Commerce on Wednesday.
More details will come later this year after LWS officials and a consultant complete an overdue water rate study. It most likely will show the city needs to charge more for servicing meters, lines and fire hydrants and supplying water to its customers.
A residential customer now pays a $3 per month service charge. That's not enough, said LWS chief engineer Jerry Obrist.
"That part of the (water) rate structure has not changed in 20 years," Obrist said.
LWS has used those fees, along with revenue bonds, to help maintain and improve its system, which has doubled over the past 40 to 50 years. For example, it issued $60 million in bonds to help pay for the $90 million Ashland Water Treatment Facility in the early 1990s.
McElvain said those bonds will be paid in 2012, and then LWS plans to issue new bonds to pay for much-needed improvements to its aging system. But it also will look at raising its service charge, possibly more than doubling it.
The water system is not supported by general fund tax dollars; revenue comes from water rates.
Obrist said another $3.50 a month, which he likened to the price of a Burger King sandwich, is not that much money to the average family.
The water utility's revenue stream has been hurt in the past two years by cool summer weather and timely rains, which equates to low water usage. Conservation efforts, led by the city, also have had an impact.
"The average per person use is down more than 10 percent," McElvain said, part of a 20-year downward trend.
McElvain and Obrist don't want people to stop conserving water, something that will be asked of citizens again this summer.
"Conservation efforts are paying off ... people are using water wisely," McElvain said, "and it helps delay system improvements."
Regarding a new water treatment facility, Obrist said that won't be needed for another 40 years.
He said water demands have increased on the Platte River in recent years and segments have run dry in the summer.
"There is a limit to how much (water) you can get out of the Platte system," Obrist said.