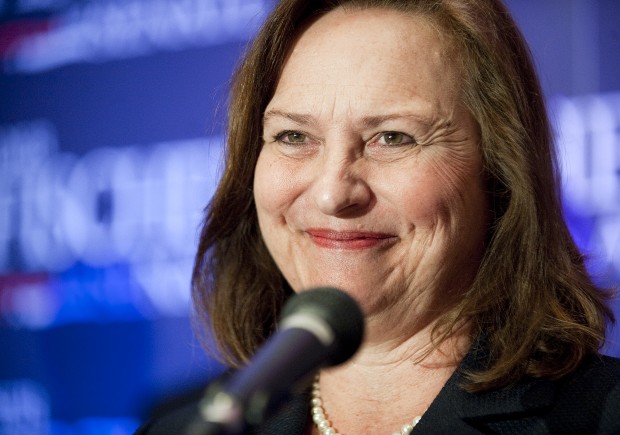 In a dramatic, come-from-behind dash to the finish line late Tuesday evening, state Sen. Deb Fischer of Valentine laid claim to the Republican Senate nomination.
Her late surge, perhaps unprecedented in modern-day Nebraska political history, upended a Senate race that appeared to be settled as recently as 10 days ago with the GOP prize within the grasp of Nebraska Attorney General Jon Bruning.
Fischer suddenly gained momentum with late endorsements from 2008 Republican vice presidential nominee Sarah Palin and Rep. Jeff Fortenberry of Lincoln, then rode the momentum of a weekend TV ad blitz mounted by Ameritrade founder Joe Ricketts and his political action committee.
The super PAC ads purchased by Ending Spending supported Fischer and roughed up Bruning with attacks on his character and ethical behavior as attorney general. Within days, his support collapsed and the race was scrambled.
Fischer will face former Democratic Sen. Bob Kerrey in a general election battle that will be played out on a national stage with the outcome conceivably determining control of the Senate.
The fast-closing drama between Bruning and Fischer left State Treasurer Don Stenberg trailing in third place. Stenberg had strong super PAC TV advertising support from the Senate Conservatives Fund and the anti-tax Club for Growth.
What lies ahead is the most expensive Senate contest in Nebraska history with both political parties and outside special interests -- no longer restrained by spending limits -- ready to pour money into the state. 
Bruning long ago had settled into the frontrunner role, touting his record as attorney general in helping lead the battle to overturn the national health care reform law and fight back against federal regulations in the state, particularly those proposed by the Environmental Protection Agency.
Fischer has been a formidable, if not widely known, presence in the Legislature for eight years. Her signature legislative achievement was a 2011 bill that will accelerate road construction with additional funding allocated from a portion of the state sales tax.
You have free articles remaining.
Stenberg was making his fourth bid for a Senate seat.
Kerrey, a former two-term U.S. senator and one-term governor, returned to the state to seek the Senate seat after a decade as president of New School University in New York City.
Democratic Sen. Ben Nelson will step down at the end of the year rather than seek re-election to a third term. 
Nebraska has been represented twice in the Senate by a woman, but neither was elected to a regular six-year term. Hazel Abel of Lincoln was elected to an abbreviated two-month term in 1954, succeeding Eva Bowring of Merriman, who had been appointed to the seat vacated by the death of Sen. Dwight Griswold.   
Fischer gave credit during a midnight telephone interview to her "great grassroots volunteers, friends and family" for their support.
"I kept my commitment" to the voters who elected her to the Legislature by staying in Lincoln for the 2012 regular session rather than resigning to campaign full-time for the Senate.
Now, she said, she is free to hit the trail.
"There's no time for a break now," Fischer said. 
In a brief statement, Stenberg said he will "wholeheartedly support the Republican nominee to defeat Bob Kerrey."
Republicans will gather for a unity news conference at GOP state headquarters in Lincoln Wednesday morning.
Kerrey will set out on a two-day swing across the state Wednesday with stops planned in 10 communities.