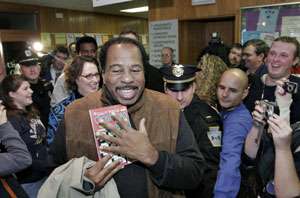 SCRANTON, Pa. — On a recent Friday evening, Roy Minelli, co-owner of Scranton staple Poor Richard's Pub, happily chats with two giddy New York City lawyers, answering every question about where Roy trashed a mirror or Toby played the claw vending machine.
It's enough to make you truly believe, "There ain't no party like a Scranton party, cause a Scranton party don't stop."
The quote comes from "The Office," NBC's hit about cubicle life in Scranton, and is emblazoned on Poor Richard's shirts, pint glasses and bottle coozies. Characters Roy and Toby are also from the show, as, too, is Poor Richard's Pub itself.
The show is filmed on a Hollywood soundstage, but the attention to detail in re-creating the world outside the office space has turned Scranton into yet another character of the show. Many near-fanatical fans have chosen to become tourists, to get up close and personal with this city of about 76,000. So much so that Scranton held an "Office" convention in late October, featuring appearances by many of the show's actors.
The show "really put Scranton on the map," says Mari Potis of the Greater Scranton Chamber of Commerce. "People have made it a point of coming here and going on a scavenger hunt of places" featured on the show.
It is a relatively easy task to hunt down the real locations mentioned on the show and compare and contrast how local businesses hold up to their fictional representations. Some — Chili's, Hooters and Benihana — don't exist in Scranton. Others, such as Alfredo's, Farley's or radio station Rock 107 are the real deal. But how about local spots most prominently featured on the show such as Poor Richard's, Pennsylvania Paper & Supply, or the Mall at Steamtown?
As it happens, all it required to determine the truth behind "The Office" was a reality tour on a lazy Scranton afternoon.
On the show, Poor Richard's has a certain charm — if you count a back alley bar with an entrance nearly blocked by a trash bin as charming.
Most notably, the crew gathered for drinks there in last season's "Cocktails" episode in which the joint looked a little cramped but cozy; a brightly lit hangout consisting of a couple of coin-operated games, a long table for big groups and a bar.
Co-owner Minelli, who says the pub is a secondary business to the bowling alley, had extensive contact with the show's producers and propmasters. Still, "The Office" got Poor Richard's wrong.
"We were on the line with them (producers) probably every day for six weeks, and we sent them hundreds of photographs, and an accurate layout of this space," Minelli says. "And they, in our opinion, duplicated it very poorly."
But the jovial owner understands the show is a Hollywood invention, and the pub couldn't be completely re-created.
The show depicted an establishment with a giant green sign outside. In reality, Poor Richard's doesn't have an exterior entrance. Tourists might be bowled over to learn the only way to get in is through South Side Bowling Lanes.
Unlike its depiction on the show, the pub is spacious, and has the history of a place that's been open for 26 years. Old paintings of seafaring vessels and other decorations hang on the walls, and there's no sign of the logo mirror that Roy broke. And that claw game that Toby spent hours on? Sorry, not here, but there is one in the bowling alley.
Pennsylvania Paper & Supply Co.
Each week, one of the first images TV audiences see is a historic brick tower owned by the 87-year-old Pennsylvania Paper & Supply Co. Along with "Welcome to Scranton" and "Mulberry Street" signs, the structure appears in the show's opening credits.
The footage for the credits was nabbed in 2004. That's when actor John Krasinski visited the company to research his role as Jim Halpert, a salesman at the Scranton branch of Dunder Mifflin, a fictional paper and office supply distributor. Scranton was chosen as the setting of the new show partially because of its believable distance for a regional office of a New York City-based business.
The tower looks exactly the same as it does on TV, although company President Douglas Fink says there are plans to add a Dunder Mifflin logo to one of the tower's black circular insets. "Our tower is obviously on the show every week so we've become a cultural landmark of sorts," Fink says.
The rest of the real paper company, however, couldn't be much more different than the television version.
In the show, the Scranton branch of Dunder Mifflin is a closed-off world of cubicles and fluorescent lighting. But the entrance to the massive Pennsylvania Paper & Supply Co. complex is friendly. From the outside, a sign painted in big, happy letters across a window welcomes visitors. Tourists enter an area that's more display showroom than phone sales.
While visitors are welcome, this is definitely a business, and people are bustling. There are desks in the main office, and offices extend down a long hallway, but Pennsylvania Paper is no cubicle hell.
Instead of a paper supply company like the fictional Dunder Mifflin, the real company is a "personal service paper company" that provides customers with things such as packaging, toilet paper and paper plates. The company has a sample table with new products available for customers to try out.
Fink adds that the attention from the show has led to a greater awareness of his business.
"Almost everybody that I talk to, especially out of the area, says, 'You're the paper company in Scranton!' It's amazing how many people actually refer to it."
And in case visitors hope to run into someone like oddball character Dwight Schrute here, they should know most salespeople are out on the road.
Last season, to show his appreciation, Michael Scott took the female Dunder Mifflin workers to the mall for a day of shopping at Victoria's Secret, eating frozen yogurt and lunching at the food court.
In the episode, audiences are treated to shots of a sprawling shopping center with a Borders bookstore, and characters mention a Gap Kids and an American Girl store. But while the real Mall at Steamtown has more than 100 retail stores, these three aren't among them.
The real mall's Victoria's Secret is like any other, with a pink glow that shines out from behind the windowed storefront.
The mall's wide-open food court with abundant natural lighting and a restaurant perimeter of various themed cuisines could also be lifted from any shopping center in America with one exception: It contains the now-famous large red-with-white lettering "Welcome to Scranton" sign shown in the opening credits. Originally along the North Expressway, this sign was taken down and replaced with a multi-colored version.
Mall management persuaded Scranton city officials to dust off the old sign for display — with the addition of mall mascot Seymour the Frog — in the food court as a photo opportunity for tourists.
The sign is just one way The Mall at Steamtown has helped Scranton embrace its new place in pop culture. Throughout the shopping center, there are many "Office" references, from giant Dwight bobblehead transparencies to Dunder Mifflin banners.
Despite the similarities between the real city and the one that is home to Dunder Mifflin, Scranton shouldn't be confused for its somewhat-distorted counterpart. As Steve Carell's Michael Scott might say, life moves a little slower in Scranton, while the version shot in California is like Scranton on speed. But as a whole, the city seems to be eating up every moment of attention that comes from being the locale for a popular show — and hoping that this Scranton party doesn't stop anytime soon.