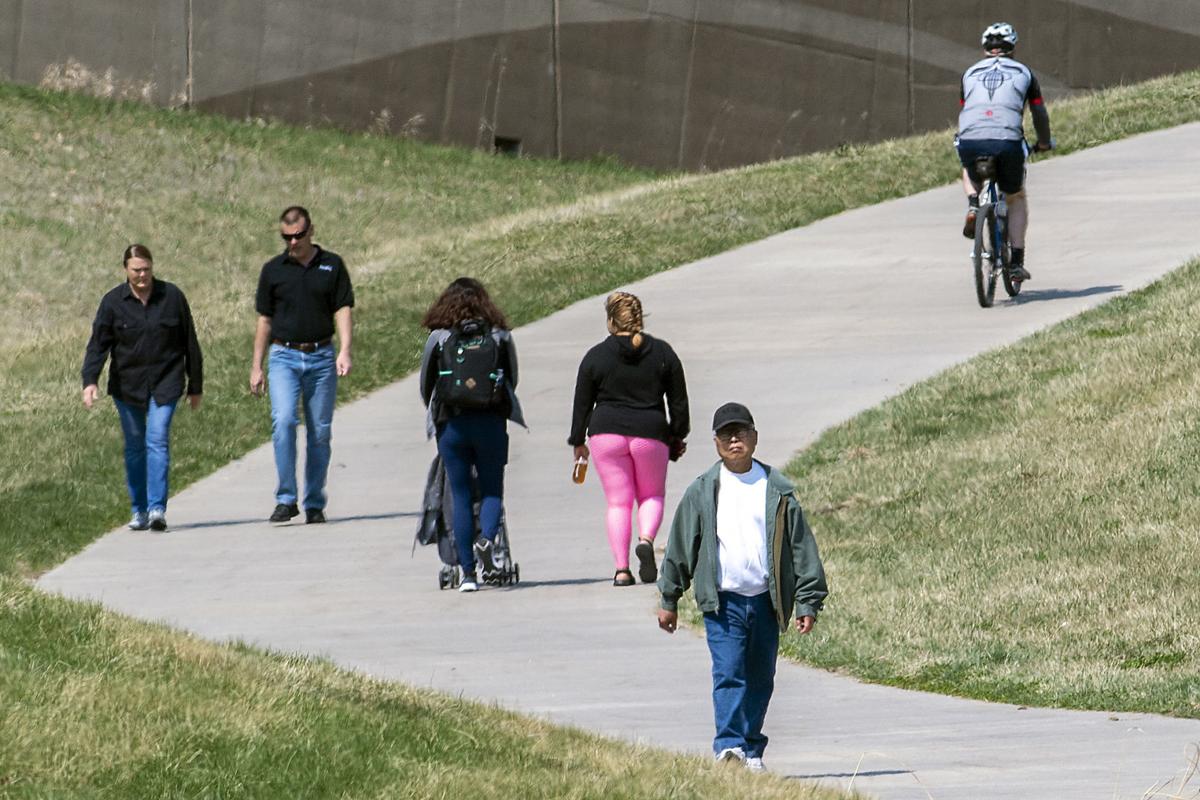 The Lincoln nonprofit that has pumped nearly $5 million into Lincoln's 130 miles of trails is thrilled to see them so full.
Hiker, bikers, runners, scooters, skaters, strollers and dog-walkers — many of them searching for an escape from coronavirus confinement.
"All of the trails are crowded," said Mary Torell, a Great Plains Trail Network board member. "You've got people that just want to get out of the house because they're going stir-crazy."
And it's not just her observation, or what other board members are seeing. The city tracks trail use at certain sites, and traffic was up in the past week compared with a similar weather week a year ago, said Kellee Van Bruggen, a city transportation planner.
On the Helen Boosalis Trail near the Rock Island junction, for example, the city counted 3,125 users over the week, a 57% increase. On the Rock Island Trail near Bishop Heights Park, 7,044 users, a 44% jump.
The Billy Wolff Trail at N Street increased to 6,201 users, an 11% climb, and use of the MoPac Trail at North 26th Street grew to 2,445, or 17%.
It's clear the system is providing relief and recreation at a time when so many other outlets are closed, Torell said.
"Our trails are our biggest asset right now," she said. "People are itching to get out."
But the trail network's board members are noticing something else, too. Many of the users appear to be new to the trails, and not all of them know their traditional rules and etiquette — or appear to be keeping their social distance.
So the nonprofit wants to issue a gentle lesson for them, and reminders for others.
"We don't want to scold people. We want to make sure people are keeping safety in mind," she said. "We, as trail creators, don't want to be responsible for having somebody come down with the virus."
So here's what they want you to know:
* Keep your distance. You can carry on a conversation from 6 feet, so there's no need to bunch up. But if you do, be kind to strangers: Get over to the right to give ample room when people are passing from behind or approaching from the front.
* Speaking of passing, trails are like highways. Stay to the right and pass on the left. And announce yourself. Ring a bell or say: "On your left."
* Clean up after yourself — and your dog.
* And speaking of dogs, keep them on leashes, then keep their leashes under control. Stretched across the trail, they can become tripwires.
* If you need to stop, move yourself and your bike off the trail.
* And the obvious: Don't text and bike. Wear a helmet. If it's getting dark, turn on a light.
Follow the guidelines, Torell said, and there should be plenty of room on the trails for all users.
"We're thrilled people are using them. They just have to be safe."
But the Great Plains Trail Network also carried its concerns to the city, which decided to resurrect a safety campaign.
Last year, the Parks and Recreation Department lined trails with safety reminders — "Be bright at night; use a light," "Make a sound to go around" — and this week, parks planner Sara Hartzell will pull those out of storage and plant them in high-use areas, she said.
Hartzell hadn't yet seen the newest trail use numbers, but she didn't need them to know they're busier. She could watch it out her window near Woods Park.
"All day long, there are tons of people out there walking along the trail. I've seen a huge increase in usage."
Photos: The scene in Lincoln