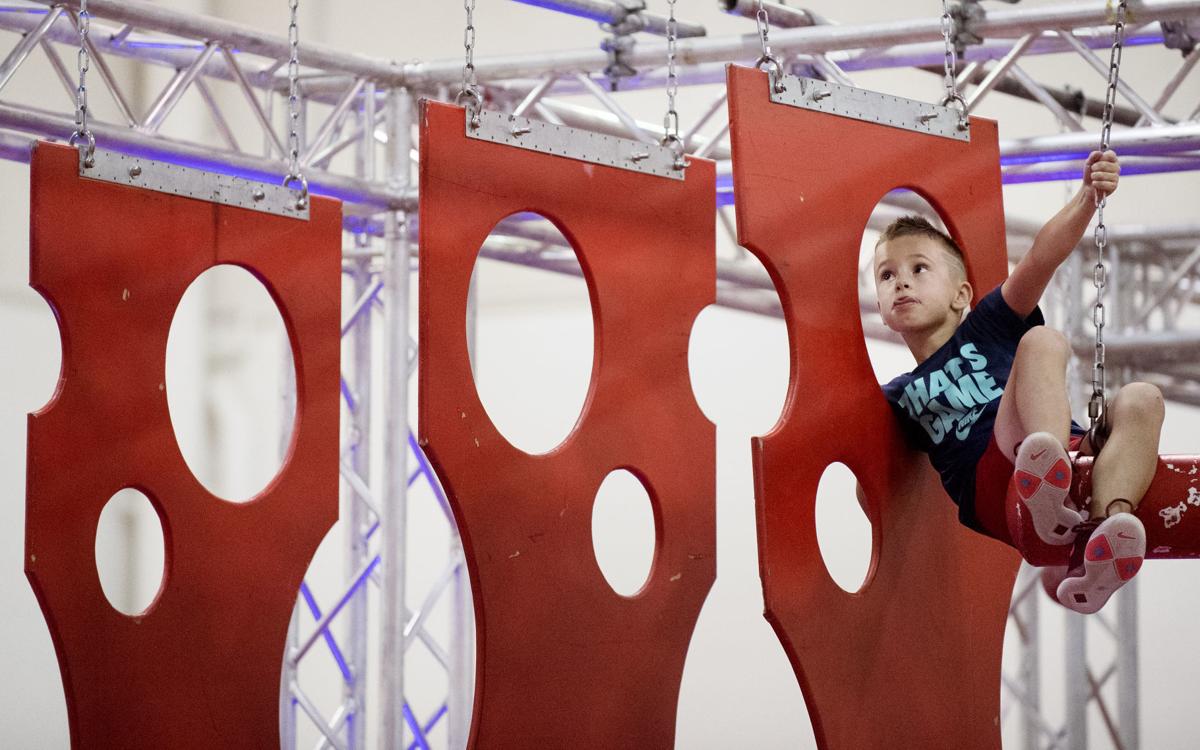 Girl Scouts were spinning, running and hanging upside-down Wednesday on a new challenge course that will be featured in the Cornhusker State Games.
The Ninja Challenge was introduced during Girl Scouts Night at Lincoln East High School and is inspired from the hit TV show "American Ninja Warrior." The night also kicked off the first of three days where the public is invited to come and try the course.
"I've watched the (television) show since I was very young," said 11-year-old Girl Scout Kierstin Rehrs. "I want to compete when I get older."
Kierstin's mother, Brie Rehrs, said her daughter has always been so busy with sports, she's too occupied to get in trouble.
"She's so athletic and very excited for this opportunity," Rehrs said.
The State Games feature 78 events. The statewide athletic competition runs July 20-29. There are more than 10,000 participants registered, said executive director Dave Mlnarik.
The Ninja Challenge is part of an ongoing partnership between the Girl Scouts and four-time "American Ninja Warrior" contestant Maggie Thorne. Girl Scouts were able to meet Thorne on Wednesday, and she will be one of the four celebrity ninja warrior contestants the public will have a chance to see at East High on Friday at 5 p.m. The opening ceremonies are set for 8 p.m. at nearby Seacrest Field.
"(This course) pushes our girls outside of their comfort zone," said Girl Scouts marketing director Melissa Breazile. "This is a great chance for them to test themselves and to see what they are capable of and try something different."
Michelle Welch works for Lincoln Public Schools as a wellness facilitator and brought her two sons to try the course. She's been working with Thorne to implement more innovative playgrounds similar to the Ninja Challenge in middle schools around the city.
"We've watched the show as long as it's been going on," Welch said. "It's so exciting, especially as a person in the wellness world. (This course) is great for kids not in sports to have something to do and be passionate about."
Girl Scouts Spirit of Nebraska also introduced a new patch Wednesday, inspired by Thorne and aimed to "celebrate one's inner and outer strength."
The Ninja Challenge competition will be Saturday.
Be the first to know
Get local news delivered to your inbox!