RAYMOND — Campers, trucks towing boats and SUVs steadily streamed down West Raymond Road on Friday morning toward a state recreation area busy-as-usual this holiday weekend.
Michael Kucera, who's been camped out at Branched Oak Lake for the past two weeks, snapped up a site for his fifth-wheel trailer on the South Shore Campground the moment he and his wife spotted it.
And he can't help but feel bad when he sees campers circling through on unsuccessful hunts for vacant spots.
"Man, you're going on three weeks late," Kucera recalls thinking.
Even amid the coronavirus pandemic, campgrounds at state parks and recreation areas have remained consistently popular this summer, according to Nebraska Game and Parks Commission officials.
It's especially true this Fourth of July weekend.
"The desire to get out in nature and do things is growing," said Bob Hanover of Game and Parks. 
He's not sure if it's fueled by cabin fever built up during quarantine, but nationally RV and camper sales have surged, and Hanover believes Nebraska may be seeing some of the boosted interest.
The commission christened 49 new hook-up campsites at Platte River State Park this year as a direct response to the growing interest in camping that's developed the last couple of years, Hanover said.
In addition to the interest in camping, there's been an increased demand for fishing permits, he said, and it's not only older men typically thought of as fishermen, he said.
"It's more families, more kids and more diverse groups," he said.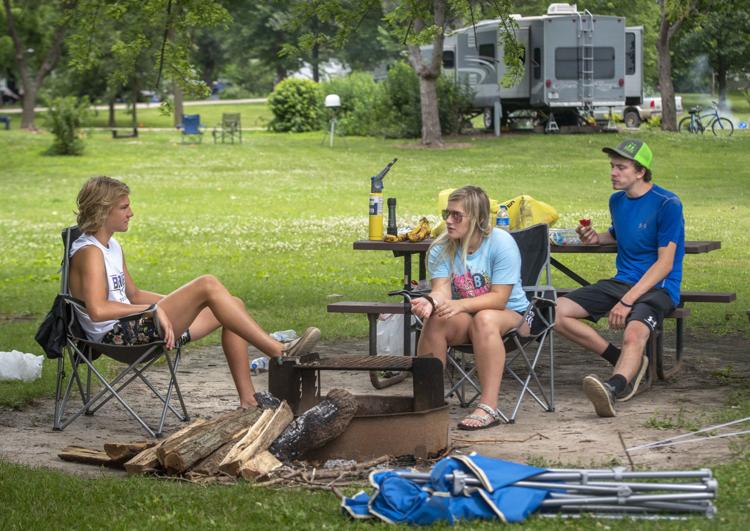 State parks and recreation areas offer plenty of potential for activities friendly to social distancing, he said. 
Families at parks across the state seem to be keeping more to just their group, Hanover said.
Wendelin Miller of Sidney, Iowa, came up to Branched Oak Lake on June 25 to keep her family's regular Fourth of July tradition alive.
The teacher spends as much of her summers camping with her family as she can, she said, and this Independence Day has a slightly different feel than others.
Her sister is recovering from being hospitalized with COVID-19, and the family has been more cautious about gathering.
Miller's family rotates between the Lincoln-area lake and camping near the Missouri River, but this year there aren't the parades or fireworks displays they had become accustomed to attending, she said.
"I think we'll just hang out on the lake and watch everyone else shoot them off," Miller said.
Kucera is used to saying hello to his campground neighbors and now people seem to be leaving a little extra space and gauging each other's comfort levels as they gather, he said.
Public health officials say such gatherings are OK as long as they're outdoors and contact is limited.
The holiday week comes as coronavirus cases are surging in other states, leading some governors to lock down again.
"Nebraska would like to remind everyone to be safe out there and not have that happen here," Hanover said.
Concerned about COVID-19?
Sign up now to get the most recent coronavirus headlines and other important local and national news sent to your email inbox daily.