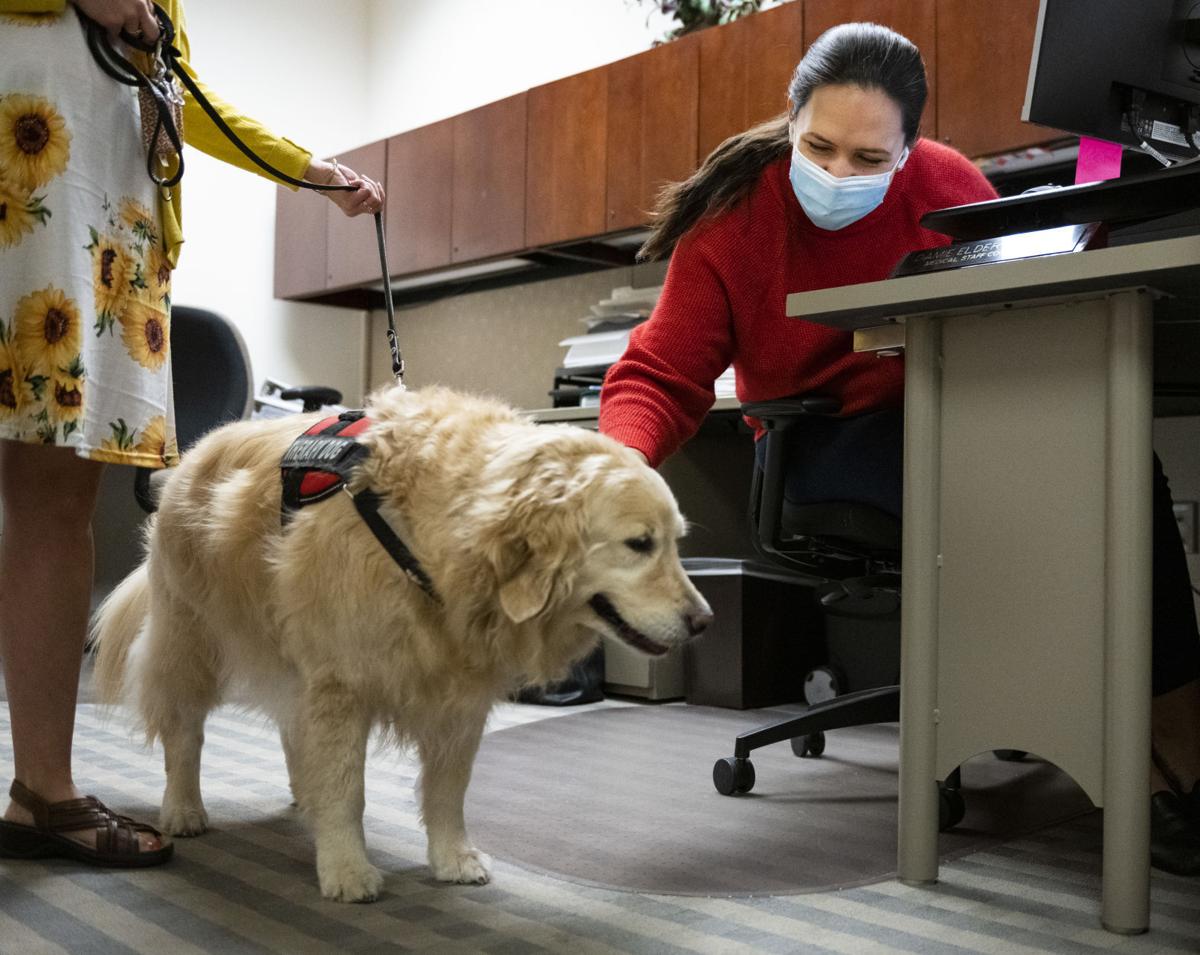 In addition to running, fetching and other traditional canine pursuits, certain pups have a higher calling: as therapy dogs.
Many people use the term "therapy dog" to include all service dogs, but there are differences, notes the American Kennel Club (AKC). Psychiatric service dogs (recognized by the Americans with Disabilities Act as service dogs, which enables them to go anywhere their handler goes) have been trained to do certain jobs that help the handler cope with a mental illness, such as post-traumatic stress disorder (PTSD), autism, schizophrenia and obsessive-compulsive disorder.
For example, a psychiatric service dog might remind a person to take prescribed medications, keep a disoriented person in a dissociative episode from wandering into a hazardous situation such as traffic, or interrupting self-harming behaviors. Other types of service dogs serve as eyes for those who are blind, balance for those with balance disorders, and more. Some therapy dogs can even be trained to sort laundry and call 911 via a specialized canine phone.
While any dog with a compatible temperament can be trained as a psychiatric service dog, petguide.com notes that Labrador retrievers, golden retrievers, standard poodles, Havanese and German shepherds are among the most suited in temperament and intelligence.
If it is simply the dog's presence that helps the person cope, then the dog does not qualify as a psychiatric service dog under the Americans with Disabilities Act. Instead, they are called emotional support dogs and are considered pets. Emotional support animals are prescribed by licensed mental health professionals for those with diagnosed psychological or emotional disorders such as anxiety disorder, major depression and panic attacks.
A third category of working dogs includes therapy dogs, who typically visit schools, hospitals, hospices, group homes and rehabilitation centers. Unlike psychiatric service dogs and emotional support dogs, people are encouraged to pet therapy dogs and enjoy interacting with them.
A recent doggie visit to the Lincoln Regional Center from Domesti-PUPS, based in Lincoln, proved to be a hit with both DHHS teammates and patients. Domesti-PUPS works with the Nebraska Department of Corrections to help train service dogs. First, the chosen puppies are sent to the Nebraska Correctional Center for Women in York, and they finish their training at the Tecumseh State Correctional Institution in Tecumseh. Dogs that aren't found to be suited to train as service dogs are adoptable through Domesti-PUPS. LRC teammates and patients alike enjoyed interacting with the playful pups, who, due to the heat, romped through a baby wading pool filled with ice and stayed in the shade when they weren't interacting with humans.
Help is available. If you or a loved one need assistance, reach out to:
• Your faith-based leader, health care professional or the student health center on campus.
• Nebraska Family Helpline: Any question, any time, call 888-866-8660.
• Rural Response Hotline: 800-464-0258.
• Disaster Distress Helpline: 1-800-985-5990 (oprime dos para Español) or text TalkWithUs to 66746.
• National Suicide Prevention Lifeline: 1-800-273-TALK (8255) for English, 1-888-628-9454 para Español.
• National Domestic Violence Hotline: 1-800-799-7233 or text LOVEIS to 22522.
• National Child Abuse Hotline: 1-800-4AChild (1-800-422-4453) or text 1-800-422-4453.
• National Sexual Assault Hotline: 1-800-656-HOPE (4673).